Strawberry Almond Cream Tart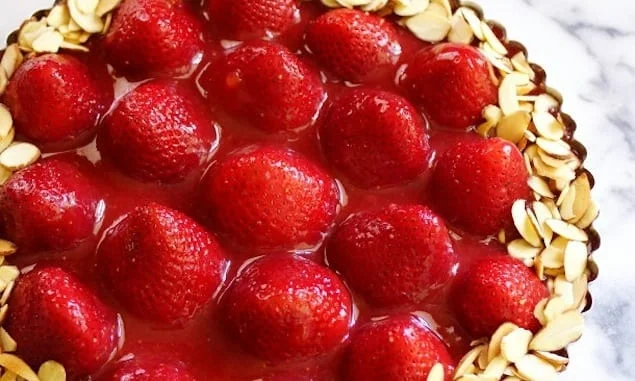 This strawberry tart with a graham cracker crust has it all going on-it's fresh, fruity, light and sweet. Make it in the morning in less than an hour, chill, and serve for dinner.
By Patty Price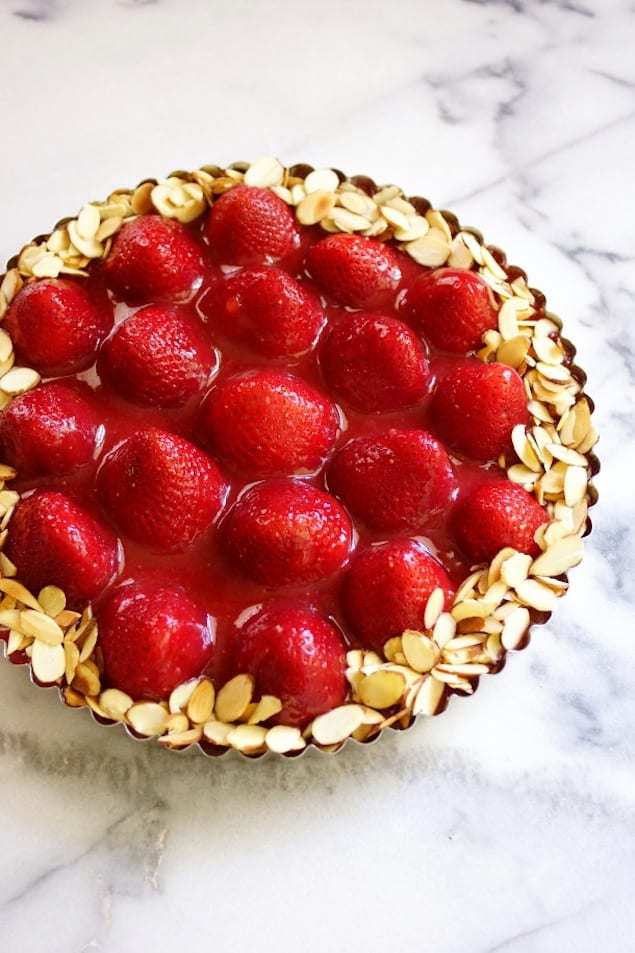 I could make a Strawberry Almond Cream Tart every week during strawberry season-that's how much I like this recipe from Cooking Light's Way to Bake cook book. This strawberry tart with a graham cracker crust has it all going on-it's fresh, fruity, light and sweet. Now is the time to make a dessert with strawberries or just plain eat strawberries while they are ripe, plentiful and lower priced in the markets.

Strawberry Almond Cream Tart
A strawberry tart with graham cracker crust has it going on-it's fresh, fruity, light and sweet. Make it in less than an hour, chill, and serve for dinner. Adapted from Cooking Light 'Way to Bake'.
Ingredients
Crust
1 package (9 sheets) honey-flavored graham crackers
2 tablespoons sugar
2 tablespoons unsalted butter, melted
4 teaspoons water
baking spray
Filling
⅔ cup or 5 ounces ⅓ less-fat cream cheese
¼ cup sugar
½ teaspoon vanilla extract
¼ teaspoon almond extract
Topping
6 cups medium strawberries, hulled and divided (2 cups for topping/glaze and 4 cups left whole for topping)
⅔ cup sugar
1 tablespoon cornstarch
1 tablespoon fresh lemon juice
⅓ cup sliced almonds, lightly toasted
Instructions
Preheat the oven to 350F.
Spray bottom of a 9" metal removable bottom tart pan
Prepare the crust
Place the graham crackers in a food processor and process until crumbly.
Add the sugar, melted butter and water, pulse until combined and moist.
Place the graham cracker in the prepared 9" tart pan, pressing into bottom and sides (about ¾ of the way up) of pan.
Bake at 350F for about 10 minutes or until lightly browned.
Cool completely on a metal rack.
Prepare the filling
Combine the cream cheese, sugar and extracts in a medium bowl, spread the cream cheese mixture over the cooled graham cracker crust.
Prepare the topping
Place 2 cups of the strawberries in the food processor and process until smooth, scraping down once or twice.
Combine the strawberry purée, sugar and cornstarch in a medium saucepan and over a medium heat bring to a boil, stirring constantly.
Reduce heat to medium low and cook for 1 minute.
Remove topping/glaze mixture from heat, cool to room temperature.
Combine remaining 4 cups of strawberries, lemon juice and a few spoonfuls of glaze/topping in a medium bowl.
Arrange the 4 cups of whole strawberries in a circular pattern on top of the cream cheese filling.
Spoon the topping/glaze around the berries, filling in the edges.
Sprinkle the toasted almonds over the edges.
Cover and chill for at least 3 hours.
Slice and serve.
Patty Price
Patty Price is a former assistant pastry chef at Bizou (currently CoCo500) who was previously recognized for her signature dessert by The New York Times. She also spent time learning classic French cooking techniques at a three-star Michelin restaurant in France which she incorporates into her personal food blog, Patty's Food. Inspired by the diversity of seasonal vegetables, fruits and herbs available locally in the San Francisco Bay Area, Patty hopes to inspire her readers to cook seasonally and try new recipes.