Strawberries, Kale and Feta Salad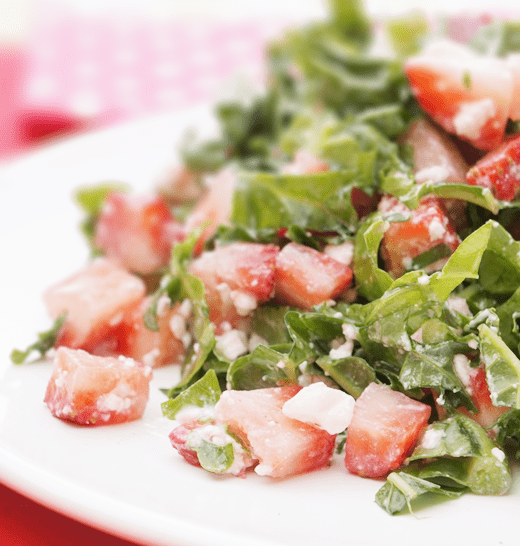 Will this salad be a hit at your next event? It most definitely will. Try it out right now.
By Ariel Rebel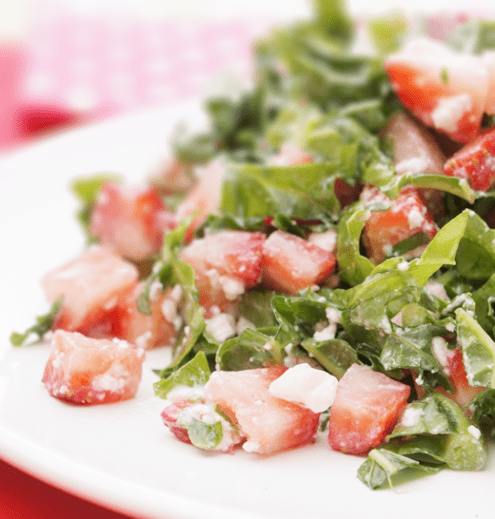 We really hope you will enjoy this simple, yet flavorful summer salad. Are you planning a picnic or a BBQ with your friends and family? This salad could be the next hit at your next event, who knows. Try it out and let me know!

Strawberries, Kale and Feta Salad
Will this salad be the next hit at your next event, who knows. Try it out!
Ingredients
1½ cup of chopped fresh Kale
1½ cup of chopped fresh strawberries
⅓ cup of Bulgarian Feta
1-2 tablespoons of chopped fresh mint
For the dressing:
¾ tablespoon of olive oil
½ tablespoon of rice vinegar
Instructions
Chop the kale and mint.
Cut your strawberries in small pieces. With your fingers, break the Bulgarian feta in small pieces.
Mix your dressing ingredients together
Mix the salad!
Ariel Rebel
Canadian food blogger, model and web designer Ariel Rebel was born in Montreal in 1985. Her love for food started at a young age by looking at her grand mother cooking pie after pie while she was trying to steal some uncooked dough from the counter. Ariel inspiration for recipes comes from her French Canadian roots mix with all her traveling memories and the countless hours she spent running around Montreal to taste all the different culinary cultures. Her passion for cooking big dinners for her friends and family never ceases to increase every year and that's what motivate her to keep learning new skills while experimenting in her kitchen at much as she can. On her blog (ZestyandSpicy.com) Ariel shares with the world her passion for flavorful and healthy recipes while blogging small pieces of her life as a model and a web entrepreneur.