This type of gnocchi, made from stale bread rather than potatoes, is a traditional dish of the Trento area, capital of the region of Trentino.
By Kathy Bechtel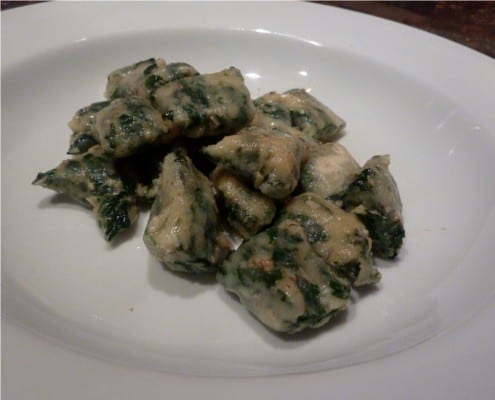 This dish was traditionally served on Fridays, when religious restrictions forbade the consumption of meat. It origins date to the time of the ecumenical Council of Trent (1545-1563), to satisfy the clergy ensconced here during the Council meetings. As the legend goes, priests and other clergy members very much enjoyed this dish, and would eat it until they choked, hence the name strangolapreti, or priest stranglers. Some versions have more spinach or kale than the one above, and are very green in color.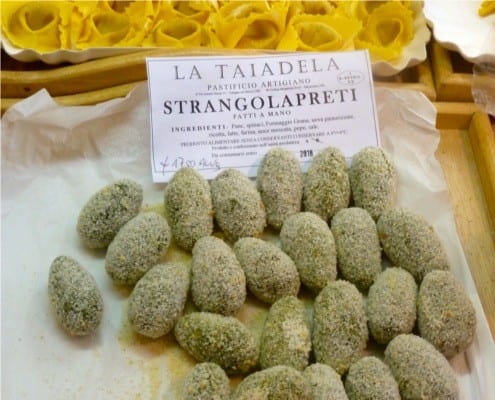 You can find similar dishes in the Trentino region, basically dumplings made from bread crumbs, greens, flour and egg; sometimes they are referred to as canderli, or gnocchi con pane. To make matters even more confusing, the name strangolapreti is used throughout Italy; sometimes referring to standard potato gnocchi (Naples), sometimes referring to a pasta similar to cavatelli (Tuscany and Basilicata).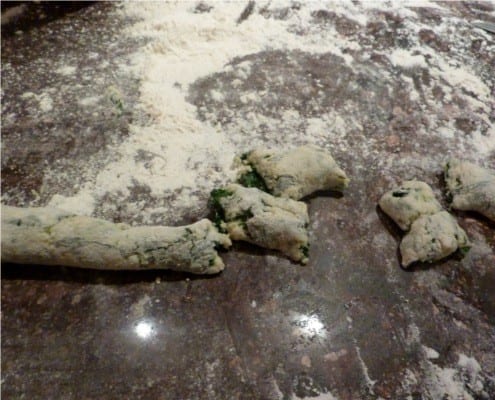 These require a bit of a delicate hand; you don't want to keep adding flour until they are easy to form into dumplings – they will be too heavy. So keep a light hand on the flour, and dust your hand and the dough well as you form the strangolapreti. I start by adding the 3/4 cup (.75 g) of flour, and increase it only if necessary.
The sage browned butter sauce is the traditional way of serving these strangolapreti.
See Also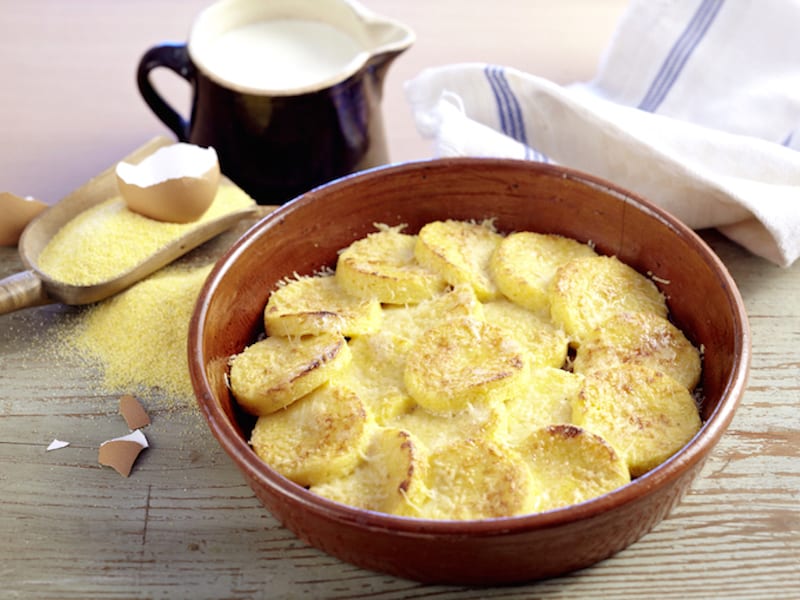 Some wonderful Trentino wines to pair with this: Lageder Lagrein Rose or the Foradori Teroldego Rotaliano.
Print
Strangolapreti: The Gnocchi "Priest Stranglers"
Gnocchi with Spinach and Breadcrumbs. A traditional dish from Trentino, where they are known as Strangolapreti, or "Priest Stranglers"
Author:

Kathy Bechtel

Prep Time:

40 mins

Cook Time:

15 mins

Total Time:

55 minutes

Yield:

4

-6

1

x
8 ounces

(

225 g

) stale bread, turned into bread crumbs in the food processor or blender

1 cup

(.

25

l) milk

16 ounces

(

450 g

) fresh spinach or swiss chard, thick stems removed

1

egg, lightly beaten

3/4 cup

to 1 cup (

75

–

100

g) white flour
A few gratings of fresh nutmeg

1 teaspoon

(

5 g

) salt

6 tablespoons

(

85 g

) butter

1

shallot, minced

6

whole sage leaves, plus 4 sage leaves finely chopped
kosher salt and freshly ground pepper
Instructions
Place the breadcrumbs in a small bowl, and cover with the milk. Combine to thoroughly moisten bread.
Bring a large pot of water to boil, and season with salt. Add the spinach and/or swiss chard, and blanch until tender, 2-3 minutes. Drain well, and immerse the blanched greens in ice water to halt the cooking. Remove from the ice water, and drain in a sieve, squeezing well to eliminate as much of the water as possible. Chop finely.
Squeeze any excess milk out of the breadcrumbs (there should not be much, if any), and place in a medium bowl. Add the spinach/chard, eggs, flour and grated nutmeg. Combine until the mixture just binds together and holds, adding more flour if necessary, but don't overdo it. It will be very wet. You want to add as little flour as possible, to keep your strangolapreti as light as possible.
When making these for the first time, it would be good to test the strangolapreti before making them all, to make sure the mixture will hold through the cooking process. Have a small pot of boiling water ready, and pinch off a small strawberry size ball of dough. Place it in the boiling water, and see if it holds together. If it remains intact, and eventually rises to the surface, you are all set! If it breaks apart, add a little more flour and try again. When you're at the right consistency, continue on to the next step.
Dust the counter with flour. Divide the dough into between 4 and 5 equally sized pieces. Coat your hands with flour, and take one of the pieces and place it on the floured countertop. Using the palms of your hands, roll the piece out into a 1/2 inch thick log, which will be about 18 inches long. Cut the log into 1-inch lengths, and place the individual strangolapreti onto a sheet pan that has been dusted with flour. Repeat with the remaining pieces of dough.
Bring a large pot of water to boil over high heat. Salt the water. Working in small batches, place the strangolapreti in the water – don't overcrowd them. Cook until the strangolapreti rise to the surface; using a slotted spoon, remove them and place on a sheet pan in a single layer.
Melt the butter in a large saute pan over medium high heat. When the butter is melted, add the shallots and chopped sage leaves. Continue to cook, watching carefully, until the butter solids begin to brown and smell nutty. Remove from heat, add the strangolapreti, and serve, garnishing with the whole sage leaves. Drizzle with remaining butter.
Kathy Bechtel
Kathy Bechtel's obsession with food and cooking began as a teenager. After years following a traditional career path as a telecommunications engineer, she left to attend culinary school and wine training, and is now combining her passions for food and wine, the outdoors, and travel as owner and Culinary Tour Director of Italiaoutdoors. In this role, Kathy leads small bicycle, skiing and walking tours that explore the authentic regional cuisines, local products and undiscovered wines of Northeastern Italy.