Gooey Butter Cake – A St Louis Staple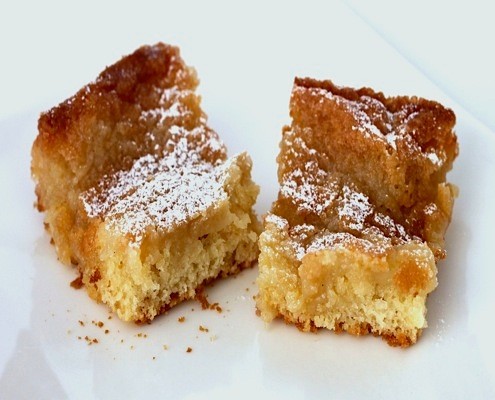 Amrita Rawat works through her fear of butter while making the classic St Louis Gooey Butter Cake.
Text And Photo By Amrita Rawat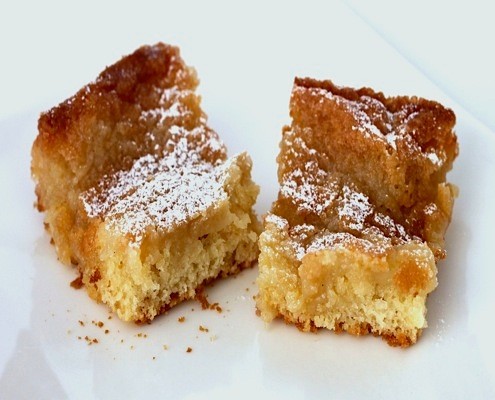 I've been living in St Louis for a while now, and when people find out I bake, they often ask me if I've made the classic St Louis butter cake yet, which can be found in every StL bakery and local grocery store. I had never heard of it before moving here. I planned to try it out someday but I really wasn't in any hurry. I often skip recipes that require butter, or I cut the content in half… that would be difficult to do when butter is included in the name of this famous cake!
I worked through my fear of butter and made this cake even though I was convinced it was going to be too sweet, too buttery, just too much. I'm happy to report that I ended up rather enjoying it. Although sweet and buttery, it simply hits the spot. The recipe is meant to be a coffee cake and not a dessert cake; tea or coffee is the ideal complement to its sweetness.
I would say a little goes a long way, but I know a few people who may or may not have polished off half the pan within 12 hours of its existence…
There are many stories about the origin of the gooey butter cake, although one undisputed fact is that it was most definitely created in St Louis. Some say the cake was an accident created by a German American baker in the 1930s. Another story goes that there are two types of butter "smears" used in a bakery–a gooey butter for Danish rolls, etc., and a deep butter for coffee cake. A baker accidentally smeared the gooey butter on top of a coffee cake and baked it… this was the result.
The recipe traditionally calls for a bottom layer of butter and yellow cake, with a top layer of eggs and cream cheese, but most bakeries now use a glycerin-based topping instead of cream cheese.
See Also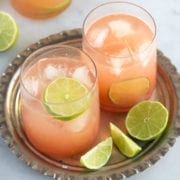 The particular recipe I chose to try contains a yeast cake base in an effort to cut down on the sweetness and a glycerin topping. This cake certainly lived up to its name… Soft, fudge-y, with an ooey gooey buttery filling oozing out of it in just the right way. The edges were perfectly chewy (my favorite part) like a brownie… the top had a delightful lightly burnt sugar taste to it. Not to mention, it's so gooey you can eat it with a spoon!
Don't think too hard about this indulgent cake, just go make it! Gooey butter cake is fun, easy and an instant crowd-pleaser. And why wouldn't it be, with a name like that?

A famous St. Louis coffee cake--a yeast cake base topped with a mixture of butter, sugar, corn syrup, and vanilla that is altogether baked into a delicious dish. Best for brunch or afternoon tea. Recipe adapted from The Smitten Kitchen.
Ingredients
For the cake:
3 tablespoons (45g) milk at room temperature
2 tablespoons(30g) warm water
1¾ (10g) teaspoons active dry yeast
6 tablespoons (109g) unsalted butter at room temperature
3 tablespoons (45g) sugar
1 teaspoon (3g) kosher salt
1 large egg
1¾ cups (174g) all-purpose flour
For the Topping:
3 tablespoons plus 1 teaspoon (70g) light corn syrup
4 teaspoons (18g) vanilla extract
12 tablespoons (218g) unsalted butter, at room temperature
1½ cups (362g) sugar
½ teaspoon (2.5g) kosher salt
1 large egg
1 cup plus 3 tablespoons (119g) all-purpose flour
Instructions
For the cake:
In a small bowl, mix the milk and the water.
Add the yeast and whisk very gently until it dissolves.
Using an electric mixer, cream butter, sugar, and salt until fluffy.
Add the egg and continue beating till incorporated.
Alternately add flour and the milk mixture, scraping down sides of the bowl well.
Mix until the batter turns into very soft dough.
Press and stretch the dough into a greased 9x13 glass or ceramic pan at least 2 inches deep.
Cover dish with plastic wrap and put in a warm place till doubled, 2-3 hours.
Make the topping:
Heat oven to 350 degrees F.
Whisk corn syrup with 2 tablespoons water and the vanilla.
Use an electric mixer and cream the butter, sugar, and salt until light and fluffy.
Beat in the egg.
Alternately add flour and corn syrup mixture, scraping down the sides of the bowls.
Spoon topping in large dollops over risen cake and use a spatula to spread it evenly.
Bake for 30-45 minutes or until golden brown but till liquid-y (jiggly in the center).
Allow to cool in the pan before sprinkling with powdered sugar for serving.
Notes
Use a ceramic or glass baking pan as a thinner metal baking pan can speed up the baking process and burn the cake. If using a metal pan, check on the cake at 30 minutes. The recipe is easily adaptable; try adding cinnamon or other spices and extracts for new flavors! Warning: This cake gets less gooey as days go by, although it's sure not to last that long. In general, it's best at room temperature or reheated!
Enjoy and happy baking!
Amrita Song
Amrita Rawat is the author of the blog Chai and Dumplings. Born in India and a lifelong resident of Atlanta, she recently moved to Saint Louis. Her love for food stems in part from its ability to bring cultures together and in part from how darn good it feels to eat a delicious meal. She loves traveling and has eaten her way through cities like Hong Kong, Paris, Budapest, Mumbai, and Shangri-la. Amrita is also a contributor to Sauce Magazine in St Louis.