A simple and flavorful stir-fry that pairs grilled shrimp with well seasoned butternut squash.
By Rinku Bhattacharya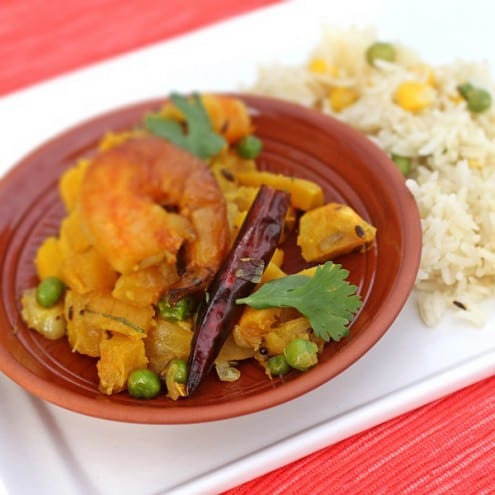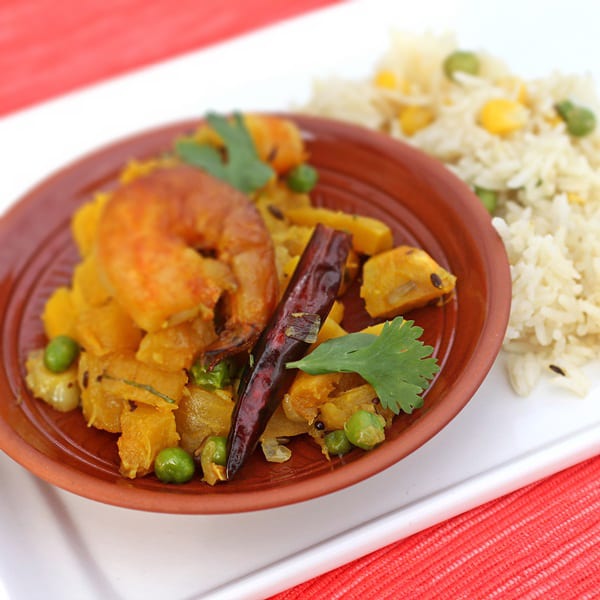 Stir Fried Butternut Squash with Grilled Shrimp
A simple and flavorful stir-fry that pairs grilled shrimp with well seasoned butternut squash.
Author:
Rinku Bhattacharya
Ingredients
½ lbs large peeled and deveined shrimp
½ teaspoon turmeric
½ teaspoon red chili powder
2 teaspoon salt
Cooking spray
1 tablespoon olive or mustard oil
½ teaspoon panch phoron (bengali 5-spice nigella, cumin, mustard, fenugreek and fennel seeds)
1-2 whole dried red chilies
1 teaspoon finely chopped ginger
1 shallot, finely chopped
2 cups peeled cubed butternut squash or pumpkin
½ frozen peas
1 tablespoon chopped cilantro
Lots of freshly ground black pepper
Instructions
Coat the shrimp with the turmeric, chili powder and half the salt.
Spread the shrimp on a baking tray, spray with cooking spray and begin to broil on low.
In the meantime, heat the oil in a cooking pot and add the whole red chilies and the 5-spice mixture.
When the mixture begins crackling, add in the ginger and shallots and stir for 1-2 minutes and add in squash with the remaining salt and begin cooking on low.
Turn the shrimp after 5-minutes and cook on the other side for 2-3 minutes and turn off the oven. The shrimp should be golden orange with light brown spots at places.
Cover and cook the squash till almost done (about 5 minutes).
Remove the cover and stir in shrimp and peas and cook on medium high heat until the peas are done and the squash is beginning to brown at spots.
Stir in cilantro and black pepper.