Stir Fried Banana Blossoms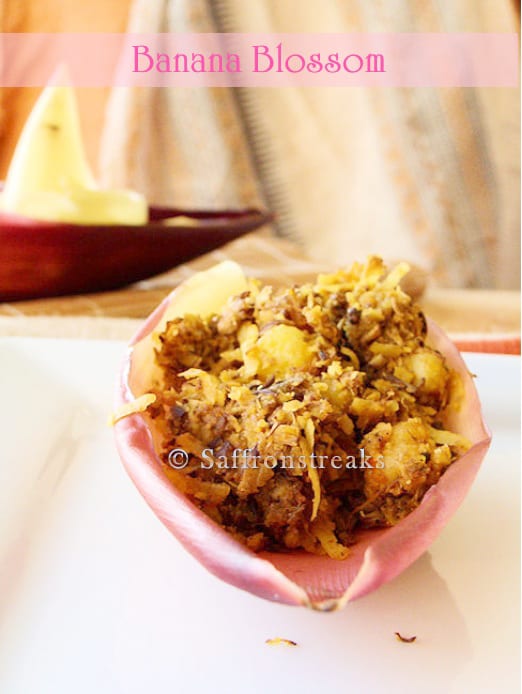 Mochar ghonto or stir fried banana blossoms is a classic bengali dish whereby the chopped blossoms are stir fried in hot oil with bay leafs, garam masala and handful of shredded coconut and chickpeas.
By Sukanya Ghosh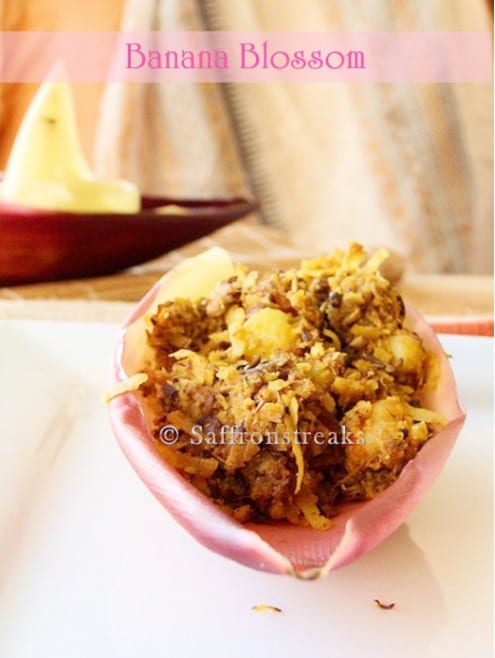 Stir Fried Banana Blossoms
Mochar ghonto or stir fried banana blossoms is a classic bengali dish whereby the chopped blossoms are stir fried in hot oil with bay leafs, garam masala and handful of shredded coconut and chickpeas.
Ingredients
1 : Banana Blossom
½ cup : Shredded coconut
½ cup : Roasted desi chickpeas or peanuts or shrimps (if you are using it)
1 : Potato (medium, peeled and cubed into small bite size)
1 or 2 Bay leaf
1 Cinnamon sticks
2-3 Green cardamom
3-4 Cloves
1 tsp : Cumin powder
A pinch of chilli powder
A pinch of turmeric powder
Salt to taste
1 tbsp : Sugar (or less according to taste)
2 tbsp : Ghee (clarified butter)
Turmeric water or lemon to remove the bitterness
Instructions
After collecting the blossoms, chop them very finely.
Cut the inner white cone into quarter and chop it very finely.
Heat the water in a deep bottom vessel and add the chopped banana blossoms.
Sprinkle some salt and turmeric water or juice of lemon and stir it.
Let it boil for few minutes until the blossoms are soft enough.
Drain it on a mesh colander and run cold water over it.
Squeeze out the water from the blossoms. It should be dry enough.
Heat ghee in a pan and throw in some cloves, bay leaf, cinnamon and cardamom.
Fry the potatoes till they start showing some brown hues.
Add the dried banana blossoms, desi chickpeas or peanuts (whichever you are using).
Stir fry them on high heat for 3 minutes. Add the shredded coconut, cumin powder, red chilli powder (if using) and saute them for a while.
Sprinkle salt and sugar to taste.
Cover, simmer on low heat till potatoes are tender.
Add few drops of ghee, check the seasonings and serve hot with steamed rice.
Notes
Oil your palms well, specially the finger tips and nails, otherwise the sap or juicy extract from the blossoms will blacken the fingers , the black marks will eventually disappear in 2-3 days. Oil the knife too if you are chopping the florets for the same reason stated above. After removing the florets, directly put them in a bowl of water as they are quick to oxidize.
Sukanya Ghosh
Sukanya writes the blog Saffronstreaks, a food and travel blog where she experiments in the kitchen spiced up with interesting food stories and gourmet travelogues. She loves to cook with fresh produce, enjoy both spicy and sweet and her many dining out experiences become cherished memories. Sukanya is from India but now lives in North Carolina, USA.