These wings are steamed before they're baked, so the skin becomes crispy and delectable under the gooey, sweet and tangy sauce.
By Christina Wojcik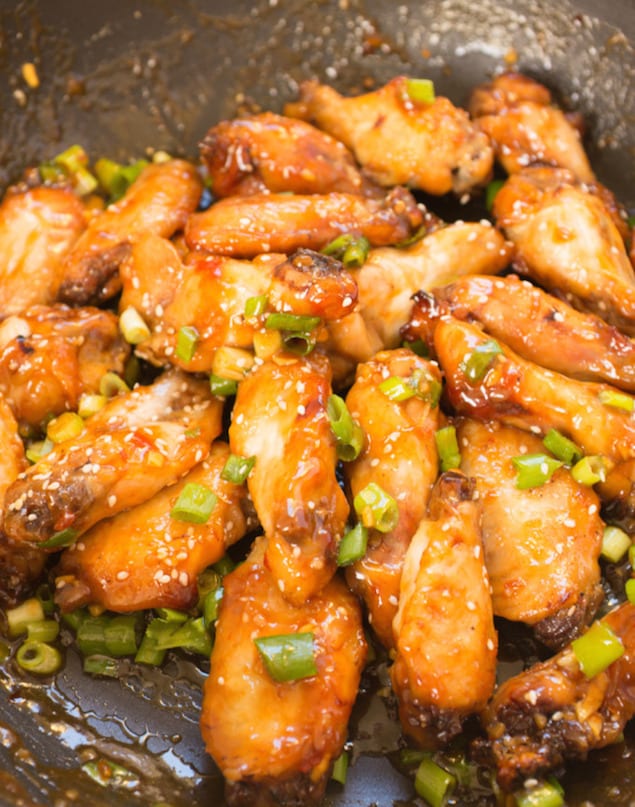 I married a Pittsburgh Steelers fan. Every Sunday, along with most Thursdays and Mondays, is dedicated to intense viewing of men hurling themselves against each other in the name of sport. Hurrah! Seriously, though, I've really gotten into football in the six years since I've become an honorary Steelers fan. And there are definitely some edible perks to the game: pumpkin beer, apple cider, and FOOTBALL FOOD.
We had sausage, peppers and onions while tailgating in the teeth-chattering cold at our first home game at Heinz Field. So delicious. We imbibe in hot dogs and nachos in the stadium seats. I'm a fan of most game day snacks (buffalo chicken dip, come to mama), but the one that gets me the most excited is probably chicken wings.
I was a late adopter to wings, because my first couple of experiences included flabby wing skin. Shudder. How gross does that sound? Because it is! You other typically non-chicken skin eaters are with me here: the only skin worth eating is crispy. These wings are steamed before they're baked (yay, not fried!), so the skin becomes crispy and delectable under the gooey, sweet and tangy sauce.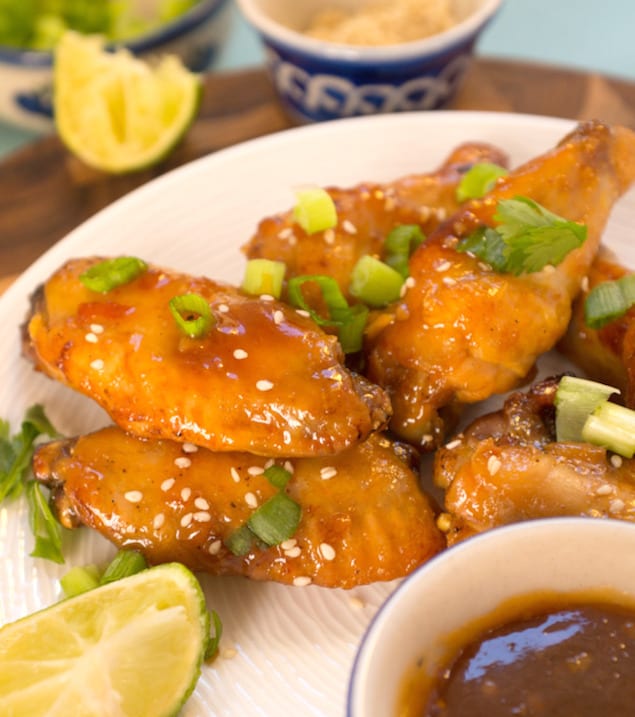 This sauce, my goodness. It has some zing from the sweet chili sauce and sriracha (the hip, spicy brother to ketchup), brown sugar to lay down some sweetness, and ginger and garlic for some deep layers of flavor. Have I convinced you? How about this: buffalo sauce can get old. Thai sticky wings really excite the same ole buffalo situation, and they don't even need a dip in blue cheese dressing.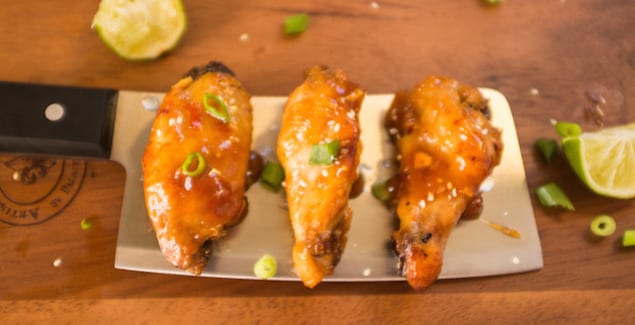 Want a quick and easy way to chop the green onions and cilantro? Use kitchen shears. Snip snip, and you're done.
My favorite method for these wings is to steam on day one, refrigerate overnight in a sealed container lined with paper towels to soak up any moisture, then bake on day two. Hurray for dinner at 6:30 p.m., not 8!
Recipe adapted from How Sweet It Is (for the ingredients) and Alton Brown (for the steaming technique). My main adaptations to the ingredients make the recipe spicier.
Sticky Sesame Chicken Wings
These wings are steamed before they're baked, so the skin becomes crispy and delectable under the gooey, sweet and tangy sauce.
Cuisine:
Thai-American Fusion
Serves:
3 people, or 24 wings
Ingredients
12 whole chicken wings or 24 split chicken wings
½ teaspoon salt
½ teaspoon pepper
½ cup sweet chili sauce
¼ cup rice vinegar
¼ cup light canned coconut milk
2½ Tablespoons light brown sugar
3 (1 teaspoon) garlic cloves, minced
1 teaspoon ginger, grated
1 Tablespoon smooth peanut butter
1 lime, juiced
½ Tablespoon soy sauce
1 teaspoon sriracha (spicy chili sauce)
1 teaspoon sesame seeds, toasted (see Notes below)
½ cup fresh cilantro, chopped
3 green onions, diced
Instructions
Using kitchen shears, a cleaver, or a knife, chop off the tips of the wings, and discard. Separate the wings at the joint, so that each whole wing is in two pieces.
Place a large pot, filled with a steamer basket and 1 inch of water in the bottom, over high heat, cover and bring to a boil.
Place the prepared wings in the steamer basket, cover the pot, then reduce the heat to medium and steam for 10 minutes.
Remove the wings from the basket, let cool slightly, then pat very dry with paper towels. Lay out the wings single layer on a cooling rack, set the rack in a sheet pan (with sides) lined with paper towels, and place in the refrigerator to dry, about 1 hour.
Preheat oven to 425 degrees F.
Pat any remaining liquid off of chicken wings, then season with salt and pepper.
Remove the paper towels from the sheet pan and replace with parchment paper or foil; leave the wings on their rack with the sheet pan below. Roast in the middle of the oven at 425 degrees for 30 minutes, turning over with tongs once.
Take wings out of oven.
Preheat oven to 375 degrees F.
In a large saucepan, combine sweet chili sauce, vinegar, coconut milk, sugar, garlic, ginger, peanut butter, lime juice, soy sauce and sriracha, whisking to combine. Bring to a boil over medium-high heat, then let simmer for 5 minutes, whisking constantly.
Add wings to the saucepan of warm sauce, and toss to fully coat. Place the wings back on their rack with tongs, leave the sheet pan below, and bake at 375 degrees for 20 minutes.
Spoon remaining sauce from saucepan on top of the wings, and sprinkle with sesame seeds, chopped cilantro and green onion.
Notes
How to toast sesame seeds: Heat seeds in the large saucepan or a skillet over medium high heat, stirring from time to time, until they become a light golden brown.
Feel free to steam the wings the day before, then place in a sealed container lined with paper towels in the refrigerator until ready to bake.
Christina Wojcik
Hello food lovers! I'm Christina, here to create delicious and beautiful things, and hopefully inspire others to do the same. I love cooking with whole foods, especially when it comes to baked confections. If you start with great ingredients, the end result will rarely disappoint…especially if one of those ingredients is chocolate. Or peanut butter. OR cheese (although maybe not all in one bowl). Throughout 2012 and 2013, I sold my baked goods at a monthly foodie event and at a local bakery, where the favorites were riffs on classic snack cakes like Homemade Pop Tarts, Homemade Hostess Cupcakes, and my favorite confection: Maple Bacon Whoopie Pies. I'd love for you to join along as I experiment whipping up sweets and savories in my Florida kitchen, on my blog at http://www.whipthisup.com.