Suet pudding is a holiday pudding made with beef or lamb fat. Try this rendition engulfed in a rich vanilla sauce.
By Rebecca Doser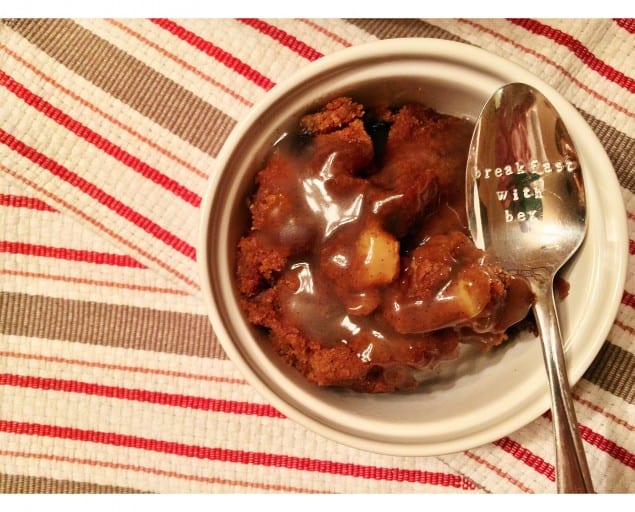 Back when my mom was a little girl, a steamed suet pudding was a delectable Christmas dessert tradition during the large family gathering at her house. Traditionally, suet, which is made with beef or lamb fat, is mixed with flour, raisins, and varying spices in order to create a steamed pudding that many associate with British cuisine. As a great antiquity, this comforting dish surprisingly did not emerge as a dessert, but rather as a means of preserving meat at the end of the season.
With a love for crisp apples, raisins, and warm Autumn spices, my eyes grew wide with excitement when my mom mentioned how long it has been since she last tasted this elegant dish. In the comfort of my own kitchen located in Penfield, NY, I decided to take on the fun challenge of slow-cooking this flavorful pudding with a light vanilla bean white sauce. My brothers and I sure did enjoy the comforting scent of home cooking during our mid-semester break away from our hectic college/teaching lifestyles.
The slow cooking of this pudding brings out the most sensual autumn spices and flavors, making you want to curl up by the fireplace with a warm cup of coffee or tea and a nice book.
In order to prepare this scrumptious comfort dish, I experimented with some ingredients differing from the traditional suet pudding. I used a butter-flavored vegetable shortening, which is much lower in fat content as compared to suet itself. In order to intensify the scents and flavors of the pudding while it slow cooked throughout the afternoon, I also added two specific spices: cloves and cardamom. They definitely contributed to engulfing the kitchen with quite the delightful aroma!
Once the pudding was almost cooked to perfection, I prepared a light white sauce engulfed with rich vanilla bean flavor. Slower is better when it comes to perfecting this sauce. I did not want a super heavy, thick sauce to accompany the tasteful, rich pudding so I made sure to whisk the sauce slowly on low-heat.
This savory fall treat is truly a soothing seasonal delight.
Print
Steamed Suet Pudding with Vanilla Bean White Sauce
This steamed suet pudding engulfed with crisp apples, raisins, and warm Autumn spices is nothing short of a mouth-watering dessert with a light vanilla bean white sauce on top.
Author:

Rebecca Doser

Yield:

1

2

1

x
Category:

Dessert
Steamed Suet Pudding
3 cups

all-purpose flour

1 tsp

. baking soda

¼ tsp

. cloves

¼ tsp

. cardamom

1 cup

butter-flavored vegetable shortening

1 ½ cups

buttermilk

½ cup

molasses

2 tsp

. cinnamon

1 cup

raisins

1 cup

apple, peeled and chopped
Vanilla Bean White Sauce
1 cup

sugar

1 ½ cups

water

1

vanilla bean, cut open and seeded

2 tbsp

. cornstarch
Instructions
In medium bowl combine all dry ingredients. In a large mixer bowl combine shortening and molasses on low power. Add in dry ingredients and buttermilk a little bit at a time on low-med. power until well mixed. Stir in raisins and chopped apple.
Pour into a greased 9-inch cake pan and seal with aluminum foil.
Place pan on a rack in a steamer pan filled with boiling water. Cover and cook over medium heat at a low boil for approximately 2 ½ – 3 hours or until toothpick inserted in center comes out clean. Add boiling water in the steamer every 45 minutes to keep water just below rack.
Once fully cooked, remove the foil and let stand for 3-5 minutes. Meanwhile, prepare the white sauce.
In a small saucepan, pour in sugar and water and stir over medium heat. Place both the vanilla bean and seeds in the pan and stir until all sugar is dissolved. Then add in the cornstarch.
Cook for about 5 minutes, while stirring. The sauce should reach a light gel-like consistency.
Spoon the steamed suet pudding into a small ramekin and drizzle the white sauce over it to serve.
Rebecca Doser
Rebecca Doser, a resident of Penfield, NY, is the face behind Breakfastwithbex. This English Major at St. Lawrence University has a passion for journalism, punny captions and creating delicious breakfast dishes, which she shares on her Instagram account (@breakfastwithbex) and blog (breakfastwithbex.com).