Also known as "screwpine," Pandan is most often used to flavor rice dishes and puddings, but it is also used as a delicate flavoring for pastries.
By Marissa Sertich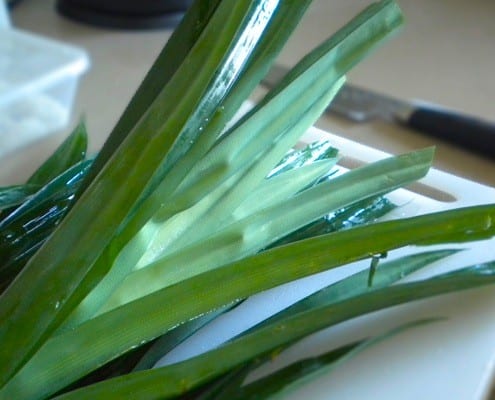 I wanted to stick my entire face into the pot to breathe in the pandan's sweet steam. Subtly floral and slightly grassy, it is considered the vanilla bean of Southeast Asia, yet in the United States the name is tragically unknown. Although, I'd seen the pale, green pastries in all of the bakeries during my travels throughout Singapore, this was the first experimentation of my own – I was infusing coconut milk with pandan for steamed cakes.
Also known as "screwpine," Pandan is most often used to flavor rice dishes and puddings, but it is also used as a delicate flavoring for pastries. Pandan chiffon cakes can be found in most all Singaporean bakeries. While the majority of the cakes come in familiar angel food cake-like rings, varieties in more cosmopolitan areas of town surprise diners with elegant and imaginative presentations. Even the world class, Raffles Hotel, known for creating the signature "Singapore Sling," cocktail, carries several versions of the pandan cake.
My fascination with pandan does not just stem with its exquisite flavor. In Singapore, practically every grocery store carries fresh pandan leaves, as well as several varieties of extract. While so many Asian dishes and ingredients have managed to migrate west, many remain domestically bound and wait to be re-discovered my the hungry palettes of travelers.
The newness of the pandan's gentle flavor has sparked my imagination as a pastry cook. I already have pandan-coconut milk steeping the refrigerator, pandan vodka in the works, and pandan ice cream is on the back burner.
In the U.S., many Asian supermarkets carry pandan extract, but beware of its concentrated potency. The flavor of the fresh leaves is more desirable, but they are incredibly difficult to find.
Print
Steamed Pandan Cakes
Pandan cakes are a simple application of asian steaming techniques that showcase the subtle flavor of the Southeast Asian screwpine.
Author:

Karen Tan

Prep Time:

10 mins

Cook Time:

10 mins

Total Time:

20 minutes

Yield:

8

1

x
3

eggs

150g

sugar

150g

all-pupose flour

1/2 tsp

baking powder

100g

coconut milk

2 tsp

pandan extract
Instructions
Using an electric mixer, whip together the eggs and sugar on high speed for at least five minutes, or until they become extremely light an fluffy.
In a separate bowl mix together the flour, coconut milk, baking powder and pandan flavoring.
Using a rubber spatula, fold the flour mixture into the eggs and sugar to create a smooth batter.
Fill muffin cups 3/4 full and place the muffin cups into a steamer or steam basket.
Steam at high heat for 8-10 minutes until the cakes spring back to the touch.
Cool and serve.
Marissa Sertich
Marissa Sertich Velie is a New York based pastry chef and graduate of the Culinary Institute of America. She passionately documents her adventures of baking and eating her way through the fascinating (and sometimes nutty) underbelly of the American pie. Velie has a Master's degree in Food Studies from NYU.