You will not be able to toss this dough to impress your girlfriend or your girlfriend's kid; just shelve that dream right now. But you will impress them with a truly delicious crust.
By Jennifer Abbott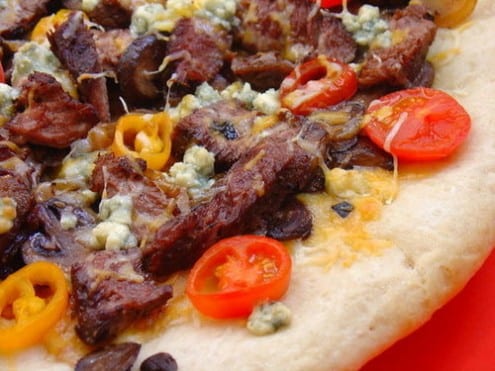 Steak Pizza with Blue Cheese
You will not be able to toss this dough to impress your girlfriend or your girlfriend's kid; just shelve that dream right now. But you will impress them with a truly delicious crust.
Ingredients
dough for one 12"- to 13" pizza, parbaked at 475 for 6 minutes, or one prepared pizza crust
1 large onion, sliced thin
2 Tablespoons olive oil, divided
salt and pepper to taste
pinch sugar
8 oz. thinly sliced mushrooms
2 teaspoons Worcestershire sauce
10 ounces leftover grilled steak, sliced thinly across the grain
1 cup shredded monterey jack cheese
12 cherry tomatoes (or two regular tomatoes), thinly sliced and drained on paper towels (I used red and yellow tomatoes)
¼ cup blue cheese crumbles
Instructions
Preheat oven to 475.
Heat a medium cast-iron or other heavy skillet over medium-high heat. Add the olive oil and the onion, and saute for about 4 minutes, until the onion starts to soften. Season with salt and pepper, add a pinch of sugar, and reduce the heat to medium. Stir and cook for 10 to 15 minutes, until the onions are very soft and golden brown. Remove to a bowl and set aside.
To the same skillet, add another Tablespoon of oil and heat over medium-high heat. Add the mushrooms and saute for about 5 minutes, until they become soft and start to give off their liquid (don't worry if they get extra-dry in the first few minutes of sauteeing; they'll become juicy very soon). Season with salt and pepper and the Worcestershire sauce, and continue stirring until the mushrooms are soft and brown and the liquid is evaporated, about 5 more minutes. Set aside.
Meanwhile, cover the steak in a small dish and set it in the preheating oven to warm up. Set aside.
When the oven is hot and the crust is parbaked, assemble your pizza: Scatter ½ the monterey jack on the naked crust, then top with the onions and mushrooms. Top that with the steak, evenly distributed, the tomatoes, the rest of the monterey jack, and finally the blue cheese; make sure the blue cheese is evenly distributed. Return to the oven for 5 to 10 minutes, until the crust is cooked through and the topping are brown and melty and you just can't wait any longer.
Jennifer Abbott
Jennifer Abbott is a writer, music teacher, Southern food enthusiast, and soup aficionado. She lives in New Orleans and blogs about cooking and dining at Food Orleans.