Here is a fantastic recipe for Valentine's – a reasonably healthy dessert with flavours that will surely cleanse your palate.
By Reena Pastakia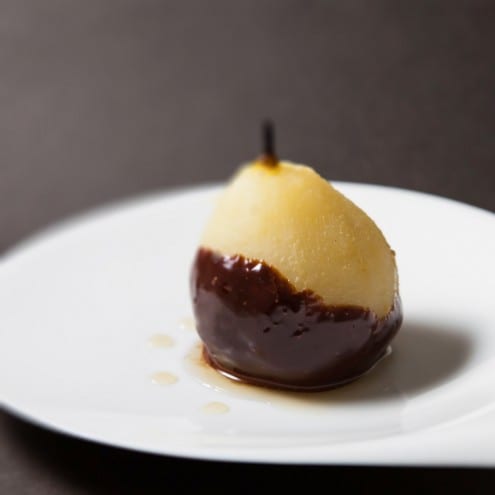 Star Anise and Vanilla Poached Pears
Here is a fantastic recipe for Valentine's - a reasonably healthy dessert with flavours that will surely cleanse your palate.
Ingredients
4 firm rocha pears
375 millilitres sweet white wine
3 star anise
1 vanilla pod
1 lemon - halved
100 grams 70% dark chocolate
150 grams double cream
Vanilla ice cream to serve (optional)
Instructions
Peel the pears, leaving the fruit whole and the stalk in place.
Core each pear by pushing the corer two-thirds of the way up and then using a small spoon to scoop out the core.
Place the wine, star anise, vanilla pod and lemon halves in a medium sized pan.
Now add the pears and cover the pan. Let them cook on a low heat for 20 minutes. You will find that there isn't enough liquid to cover the pears and so you should turn the pears every five minutes. It's a good excuse to lift up the lid and inhale the amazing aromas.
Leave the pears in the pan to cool and marinade until you are ready to serve. The longer you leave the pears in the pan the softer they will become and so I wouldn't leave them for longer than 8 hours as they will lose their shape.
When you are ready to serve the pears, pre-heat the oven to 200 degrees centigrade.
While the oven is heating, gently lift the pears from the pan and leave them to sit on a few sheets of kitchen paper to soak up any excess liquid. This is important as any excess syrup will burn in the oven.
Strain the remaining syrup into a smaller pan and then heat gently to create a thick syrup. This may take in the region of thirty minutes.
Line a baking tray with baking parchment and then place the pears on the tray and roast for 15 minutes.
Meanwhile place the chocolate and double cream in a bowl over a pan of simmering water. Don't let the water touch the bowl. By keeping the bowl away from the water you are using indirect heat to melt the chocolate and this will reduce the chances of the chocolate burning. Stir constantly until a thick, glossy ganache has formed. At first it will look like dirty milk but keep stirring and you will see results! Once you are sure that all of the chocolate has melted, remove the bowl from the pan and set to one side.
When the pears have finished roasting, remove them from the oven and leave to rest for 5 minutes.
Carefully hold each pear by its stalk and half-coat the pears in the chocolate ganache. Please don't be tempted to drown the pears in the ganache as all of the lovely flavours will be smothered and it will be as subtle as a brick to the head.
Place each pear on an individual serving plate.
Drizzle with the reduced wine syrup and serve with vanilla ice cream.