Candied and boozed up, these late summer treats are a snap to put together.
By Alisha Randell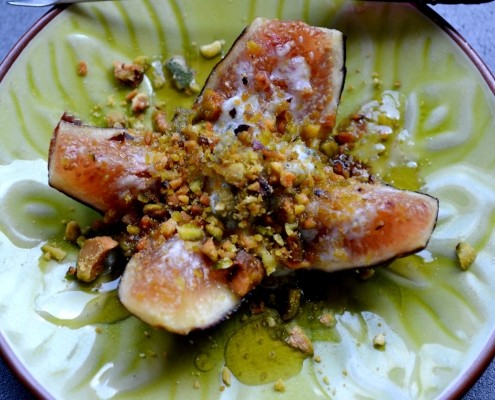 In the States California produces nearly all of the fresh fig population with a season spanning May through January. Along with many dried varieties available year round.
Figs have long been used for medicinal purposes through out history and in many cultures. They are high in nutrients with no cholesterol, fat or salt. Also being a good source of both soluble and insoluble fiber, making them quite an excellent snack.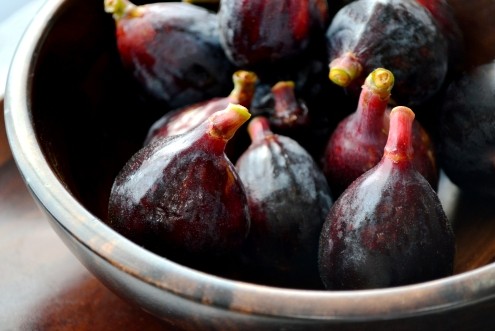 The fruit as we know it is actually a false fruit and are the inverted flowers of the Ficus Carica tree or common fig tree. Once the fresh fig is cut open, the meaty strings are the flowers containing an individual seed. These individual sections are the true fruit.
They are also the only fruit to be fully ripened on the tree until semi dried. The dried variety is allowed to fully ripen and naturally fall off of the tree until dried.
We've used a creamy variety of blue cheese here known as Stagnola Blu. This cheese has a creamy buttery texture with a slightly nutty and sharp palate, making it a perfect partner for the sweet fleshy interior of the fig. However any similar soft cheese will work well here.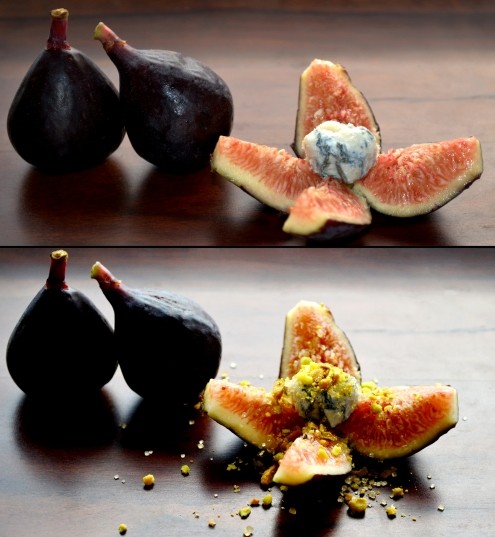 Stagnola Blu Stuffed Black Figs
These stuffed figs are a quick and easy appetizer or lovely after dinner treat.
Ingredients
1 lbs (453.5 g)fresh organic black figs, or other variety
4 oz (113.5 g) Stagnola Blu, or other creamy blue cheese
4 oz (113.5 g)raw sugar crystals, halved
2 oz (60 ml) pistachio nutmeat, ground
8 oz (240 ml) plum brandy, halved
2 oz (60 ml)water, halved
Instructions
With a sharp pairing knife remove the upper stem of each fig, then cut cross wise to nearly the bottom of each fig.
Allow figs to fall open into a flower and place a small amount of cheese into the center of each fig.
Sprinkle with ½ of the sugar and the ground pistachios.
Press each fig back into shape and place into a baking dish, stacking them closely together.
Drizzle pan with ½ of the plum brandy and ½ of the water.
Bake uncovered in a pre- heated oven at 325 degrees (f) 162.78 (c) for 5-8 minutes, or until softened and juices begin to flow but cheese is still firm.
In the meantime prepare a syrup using remaining sugar, plum brandy and water by placing in a small sauce pan.
Bring the syrup mixture to a boil over medium/high heat, then reduce heat and simmer for 8-10 minutes or until slightly thickened.
Arrange prepared figs as desired and drizzle with plum brandy syrup, then serve immediately.
Notes
If using dry figs, place liquids in a pan and bake loosely covered in oven for 8-10 minutes prior to stuffing. Allow to cool to touch then stuff before serving and drizzle with syrup.
Alisha Randell
Alisha Randell is a former Executive Chef turned Private Chef and Culinary Instructor. She is the Co-Creator/Author of The Ardent Epicure blog "An Ode to the Pleasures of Food". Growing up with a dad as a culinary guide, whom was as well an executive chef, food and seeing food as an art form has been a lifelong passion and exploration.