Sriracha and Honey Glazed Roasted Brussels Sprouts
Crispy brussels sprouts with almonds and a sweet and spicy glaze. Top with fresh cilantro and you have a superb side dish on your hands.
By Taylor Kadlec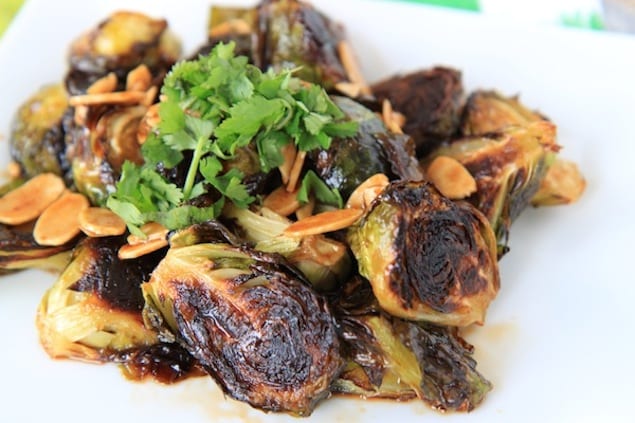 These aren't just any brussels sprouts. Oh no. These are crispy roasted brussels sprouts tossed with sliced almonds in a warm sweet and spicy glaze made of Sriracha, honey, and soy sauce, and THEN topped with fresh chopped cilantro. Holy cow, these are not just any brussels sprouts. No siree, they are not.
The inspiration for these came from a new (to me) brewery near my hometown, which I ate at this weekend. That's how I ended up at the brewery and that is how fate led me to the brewery's fried brussels sprouts with a spicy Sriracha glaze. Of course I had to recreate them the first chance I got.
I didn't fry the brussels, but the roasting still got them nice and crispy and I totally nailed the glaze. So yes, these are STOP THE PRESSES good. They're also ruin-your-dinner good, which seems like a strange thing to do with brussels sprouts but it happened. I couldn't stop eating them! They're also super simple and only have one more step than if you were to roast veggies. If you're a fan of brussels sprouts in even the slightest way, you simply must try these.

Sriracha and Honey Glazed Roasted Brussels Sprouts
Crispy brussels sprouts with almonds and a sweet and spicy glaze. Top with fresh cilantro and you have a superb side dish on your hands.
Ingredients
1 lb brussels sprouts, halved
1 tbsp olive oil
For the Sriracha honey glaze:
1-2 tsp Sriracha (depending on how spicy you like it)
4 tsp soy sauce
1 tbsp honey
1 tbsp olive oil
¼ cup sliced almonds
3 tbsp chopped cilantro
Instructions
Preheat oven to 425 degrees F.
Toss brussels sprouts in olive oil and place on baking sheet. I line mine with aluminum foil.
Roast in oven for 30-35 minutes, tossing after about 20 minutes.
When brussels sprouts are done cooking, combine Sriracha, soy sauce, honey, and olive oil in small saucepan over medium heat.
Bring to a simmer, stirring constantly. Once it is simmering, remove from heat add brussels sprouts and almonds and toss well to combine.
Serve topped with cilantro.
Taylor Kadlec
Taylor Kadlec is a lover of all things food including baking, cooking, and of course, eating. She is a self-taught baker and cook, and she shares her kitchen adventures on her blog Greens & Chocolate, where healthy cooking meets sinful indulgence.