Squash, Onion Jam and Chickpea Toasties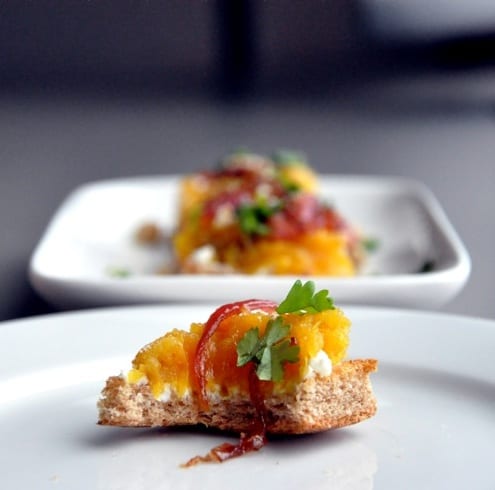 Shuchi Mittal shows us how to make these delicious squash, onion jam and chickpea toasties. The perfect side dish.
By Shuchi Mittal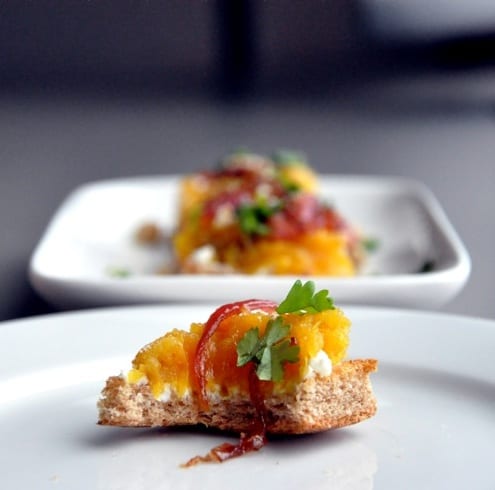 I recently went to ABC kitchen in NYC. One of my favorite places for fresh, wholesome, creative little plates. They had on their menu that day these scrumptious squash toasts- trust me, I never thought squash could taste so good! While I devoured them with all my might, I couldn't wait to get back home and try them – with a little twist of course.
So here is my version – a tad lighter, slightly and shamelessly Indianized. You'd either love 'em or hate 'em. There is no in between.

Squash, Onion Jam and Chickpea Toasties
ABS Kitchen's squash toasts with a curried twist!
Ingredients
For the curried chickpeas:
¾ cup boiled chickpeas
1 teaspoon olive oil
1 teaspoon coriander powder
½ teaspoon cumin powder
½ teaspoon dry mango powder
½ teaspoon paprika
Salt & pepper to taste
For the squash & onion jam:
1 small acorn squash (approx 1 pound), skinned and cubed
2 tablespoons olive oil
1 medium onion, sliced lengthwise
½ cup white vinegar
3 tablespoons maple syrup
Salt & pepper
Others:
Baguette or brown bread
Butter
Fresh Ricotta
Chopped coriander for garnish
Instructions
Prepare the chickpeas:
Heat the oil in a pan. Add all spices and roast for a minute. Add the chickpeas, mix well and reduce heat to cook for 5-6 minutes. Remove from heat and cool.
Prepare the squash & onion jam:
Add 1 tablespoon oil and some salt and pepper to the squash pieces. Bake for 15-20 minutes in a 450 F pre-heated oven, or till the squash is fully cooked. I like mine with a slightly browned skin so I leave it in there for a few more minutes.
Remove from the oven, add the curried chickpeas and mash coarsely with a fork. Make sure you leave a few chunks in there for texture.
Fry the onions in the remaining oil till golden brown. Add the vinegar and maple syrup and let the mixture cook on medium flame till the liquid has all been soaked. Increase the heat slightly and let the onions caramelize. Be patient, this will take at least 20-22 minutes from start to end.
Once done, add to the prepared squash mixture while still hot. Keep some aside for garnishing.
Put it all together:
Cut the baguette or bread into 1 inch pieces. Butter slightly and bake at 350 F for a few minutes till the bread is crisp.
Remove from the oven, put ½ teaspoon of fresh ricotta and top with the squash mixture.
Garnish with some leftover onion jam, fresh coriander and crushed dried chickpeas- for that slight crunch!
Shuchi Mittal
Shuchi cooks with the heart of a poet. Banker turned chef, she runs the 29. Private Kitchen in NYC focusing on social tasting events, dining experiences and small-scale private events. Using simple & wholesome ingredients, she likes to re-invent homemade Indian flavors into modern tapas & small plates. Her dream? To cook, feed, write, and eventually open her own communal dining cafe - with a published recipe book on the stands.