This gorgeous salad from Radhika Penagonda is just as delicious as it looks.
By Radhika Penagonda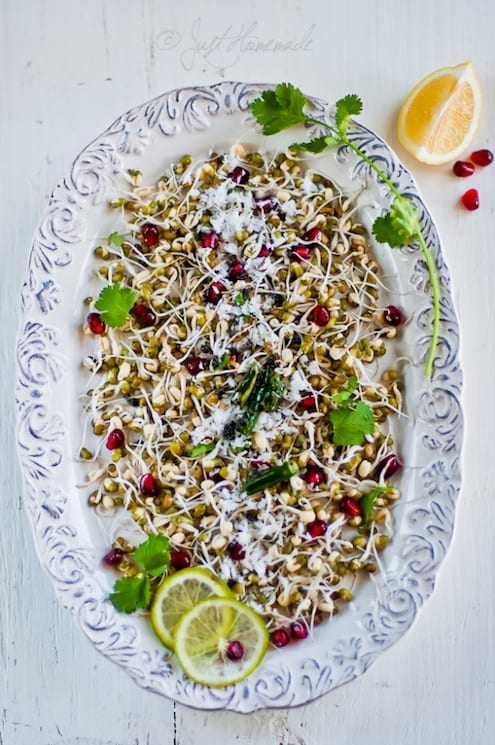 Lunchtime - Sprouted Mung and Pomegranate Salad
This gorgeous salad from Radhika Penagonda is just as delicious as it looks.
Author:
Radhika Penagonda
Ingredients
¼ cup mung beans / green gram
¼ cup pomegranate arils
1-2 tbsp freshly grated coconut
a quarter lemon
few stems of cilantro
1 tbsp sultana raisins ~ optional
himalayan pink salt or sea salt
water for soaking
cheese cloth or soft cotton cloth or paper towel for sprouting
For the seasoning:
2 tsp peanut oil or any neutral oil
1 tsp mustard seeds
a pinch of hing / asafoetida
2 green chillies, broken in half ~ optional
Instructions
Sprouting
Wash the green grams well and soak overnight in plenty of water. Next morning, drain the water, give it a good rinse and wrap soaked mung beans in wet paper towels or soft cotton/cheese cloth. Place it in a big enough bowl, cover with a lid and let sit in a draft free warm spot for a day or two until well sprouted or about 1 cm. In winter, just pop it into the oven and let it sit there for a day or two, no preheating required.
Salad
For the seasoning, heat oil in a small kadai or skillet. When the oil is really hot and shimmering, add the mustard seeds. Oil is hot enough when the mustard seeds start spluttering as soon as you add them. Now add hing and green chillies and sauté until the chillies turn a pale white. Switch off and keep aside.
If using pink salt, grind coarse salt in a mortar and pestle for it to dissolve easily.
In a mixing bowl, toss in mung sprouts, pomegranate arils, grated coconut and sultana raisins optionally. Add the tempering, garnish with chopped cilantro, sprinkle some pink salt, squeeze some lemon juice and toss well to mix. Then, go grab your fork!
Tastes best served fresh immediately after preparing.
Notes
Sprouted green gram stays well for up to 4-5 days when refrigerated
Because Pink salt is expensive, I buy from a reputable brand sourced by fair means from TJ Maxx or Marshalls at bargain prices and tend to use it occasionally.
Radhika Penagonda
Radhika Penagonda is a vegetarian food blogger, ardent photographer and enthusiastic cook who loves to explore new ingredients and believes strongly in eating with our eyes first. Passionate about home-made food prepared from natural ingredients, minimally processed and close to nature, she shares through her blog how home style or not 100% vegetarian food can be lip smacking tasty and simply delicious.