Spring Soup: Cream of Asparagus and Spinach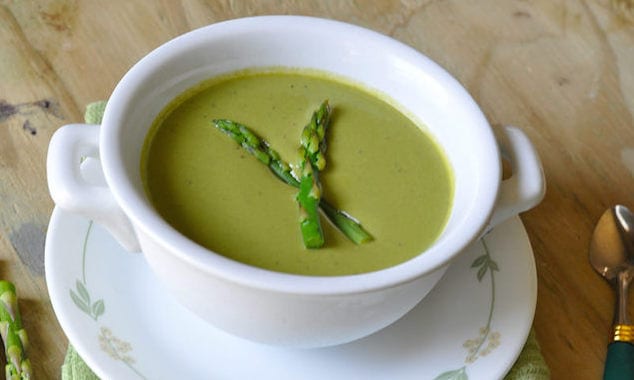 Enjoy spring with a vibrant green soup using iconic produce of the season. Easily omit the cream and substitute with coconut milk, if desired.
By Swathi Iyer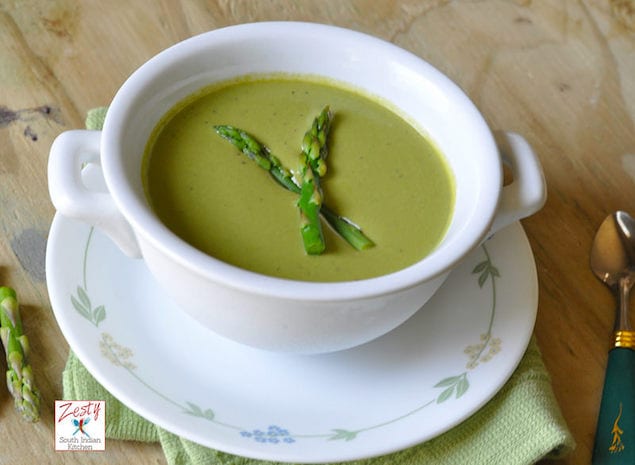 Spring is here and it is time to tend to our gardens. While we wait for our own spinach and asparagus to sprout in our plot, I found a bunch of asparagus from my local market and decided to try this delicious cream of asparagus and spinach soup.
I wanted to make the dish a little more nutritious so added a bunch of spinach also. I used heavy cream and butter sauté if you want you can make it vegan by substituting with coconut oil and coconut milk.
If you don't want to add spinach you can add green peas. That makes a delicious soup too. It is a fun way to welcome spring with bright green soup.

Spring Soup: Cream of Asparagus and Spinach
Enjoy spring with a vibrant green soup using iconic produce of the season. Easily omit the cream and substitute with coconut milk, if desired.
Ingredients
1 bunch asparagus (chopped and cut it into pieces, remove the thick ends at the bottom)
Half of one onion
1 cup chopped spinach
1 inch ginger
1 tablespoon butter/olive oil
½ cup heavy cream
3 cups of homemade vegetable stock
½ teaspoon salt or to taste
½ teaspoon freshly ground pepper
Instructions
In a sauce pot heat butter and add chopped onion and fry until it becomes translucent.
To this add chopped asparagus ( make sure to remove the thick bottom part, set aside few tips for garnishing the soup) and sauté for about 4 minutes to this add chopped spinach and ginger piece and sauté for 3 minutes.
Then add vegetable stock, salt and cook for about 10 minutes or until asparagus become soft and tender.
When it is cold enough touch using immersion blender or blender grind them into fine puree. If you want you can strain and remove any thick pieces.
Bring back the soup to heat and add pepper and heavy cream and bring it to rolling boiling.
Blanch the set aside tips of asparagus for 3 minutes in boiled water. Drain and garnish the soup with it.
Swathi Iyer
Swathi ( Ambujom Saraswathy) loves to explore cuisines from all over the world, and write about the ones that she and her family enjoyed on her blog Zesty South Indian kitchen. She loves to gives an Indian touch to several of the world cuisine, and has weakness for freshly baked bread. She is also a mom to two wonderful young kids who gives a up or down vote to the food she creates.