An early heatwave brings a fresh crop of green sprouts to Jessie Chien's local Chinese wet market. What better recipe to solve an abundance of scallions than the simple and crowd-pleasing scallion pancake?
By Jessie Chien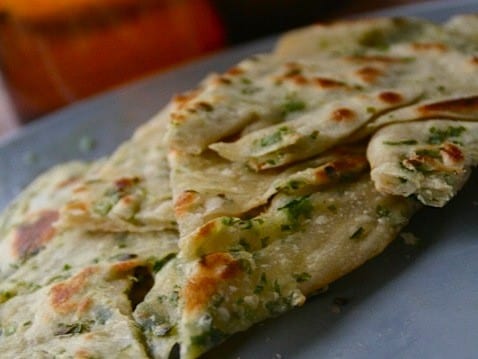 Green onions, or scallions, are a year-round staple at the wet markets here in China, but vary from season to season in their size, shape, onion flavor and even green-ness. There are usually a few varieties of scallions out on display, ranging from small wispy mild miniature scallion onions to larger, tougher and leafier ones more akin to a leek than any scallion I've ever seen in the West. An typical Spring heatwave here in Souther China has brought about piles of greener and more fragrant scallions than the previous months' offerings. Unable to resist, I needed to find something to do with such a lovely, but more importantly abundant, ingredient.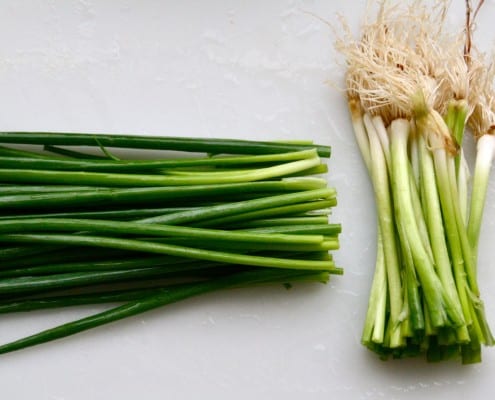 I'm starting to realize the popularity of most Chinese dishes stems not simply from good taste and generations of kitchen tricks, but also from available resources. So, in line with tradition and tastiness, what better way to feature scallions than in the form of a savory, flaky fried pancake! These pancakes will appease even the pickiest of proclaimed Chinese food haters. Though a tasty and globally appealing appetizer today, the scallion pancake has humble, simple roots. After all, flour, water, salt and scallions are not exactly food for the Gods (My Gods, maybe- but not the traditional Chinese ones).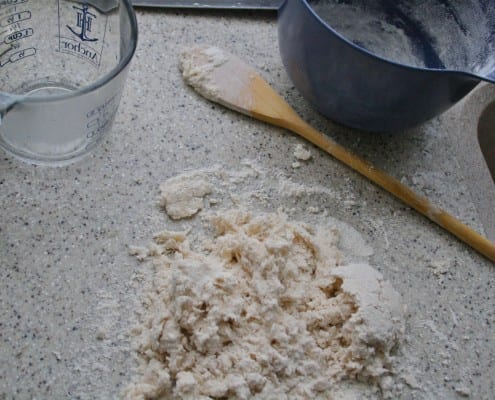 By doing a bit of research, I came to find that what I originally assumed to be a painstakingly difficult process couldn't be any easier. Kenji over at Serious Eats had already paved the way and tested the waters (literally) with this article. I thought back to all the best scallion pancakes I have eaten, which were always crispy on the outside- golden brown and fried in a nutty vegetable oil, and flaky and chewy in the middle. Scallion pancakes have the unnatural ability to be dense yet fluffy at the same time- and if you've ever eaten one you'll know exactly what I mean.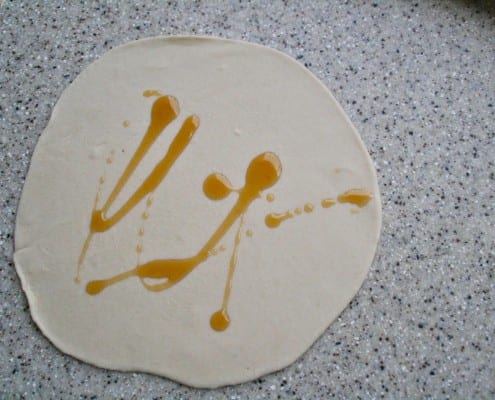 See Also
This recipe requires mild attention to detail, in a process easier than that of other layered pastries I've tried in the past. There isn't an emphasis on the temperature of the fat particles rolled in (like cold butter in flaky pie crusts), nor the counting and reiteration of layer upon layer (like baklava). After all, you're creating a flat pancake, not a puffed croissant. The process is a bit slippery and messy, and through a bit of trial and error, you'll get the technique for a perfectly round pancake down, pat. It's an easy, tasty fare that highlights a simple ingredient, a perfect start to Spring scallion fever.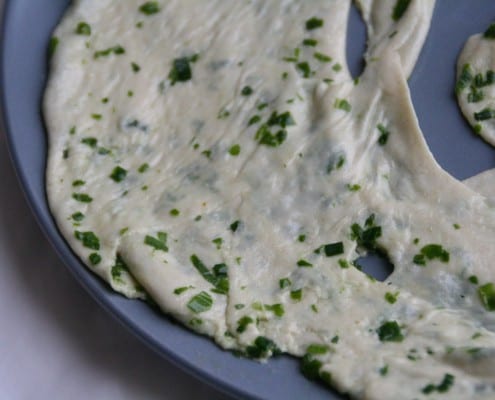 Ingredients
1 cup (120g) AP flour (plus more for dusting)
½ cup (120mL) Boiling Water
up to ¼ cup (60mL) toasted sesame oil
1½ cup (about 2 bunches) scallions, thinly sliced, greens only
2 tsp. kosher salt
vegetable or canola oil, for cooking
Instructions
Place flour in a large bowl and add boiling water in increments while mixing with a wooden spoon. The dough should not look wet or sticky; if it does, don't pour any more water in.
Turn the shaggy flour mixture onto a floured surface. Knead for about 5 minutes, until satiny and smooth.
Transfer to a clean bowl. Cover with plastic wrap or a dish towel and let rest for 30 minutes your oven (the oven should be off).
Divide the dough into half, and roll each half into a smooth ball. Cover one ball with a towel or plastic wrap. Working with the other ball, roll into a disc approximately 8 or 9 inches in diameter on a floured surface. Drizzle a small amount of sesame oil on top and brush evenly.
Roll up into a cigar-like log, then twist the log into a snail-like spiral. Tuck the end of the spiral tightly underneath, pinching slightly if necessary. Flatten this snail gently with the palm of your hand. Then re-roll into a thin 8 or 9 inch disc again.
Brush another drizzle of sesame oil onto the disc. Sprinkle ¾ cups scallion greens and about 1 tsp. salt, leaving about a ½ inch rim free around the edges. Roll up again, using slightly more caution this time to make sure the scallions don't all come oozing out of the edges. Additionally, the scallions in the dough might tear the thin dough as you roll it into a log, but as long as you don't have a gaping hole, it is quite all right. Twist into a spiral, tucking the ends underneath as you did before.
Very carefully, use a rolling pin to roll out the dough with the scallions into a thin 7-inch disc. The scallions will want to tear the dough again, but simply pat them back in and patch any larger holes with your fingers. It will be rather oily, so there is no need for a floured surface.
(Now, repeat with the other ball of dough so you have two pancakes)
In a nonstick skillet, heat about 1 Tbsp. oil over medium heat. Set the pancake in the oil to cook, shaking the pan periodically until the one side is golden brown- about two minutes. Carefully flip, using tongs or a spatula if you need help. There will still be some oil in the pan, so take caution. Cook on the other side the same way, for about another two minutes or until golden brown as well.
Transfer to a cooling rack lined with a paper towel to cool.
After a couple of minutes (not too long, just enough for the oil to dry a little), cut into 6 wedges. Serve immediately- the pancakes are the best when hot and fresh.
Notes
For cooking oil, the Chinese like to use peanut oil as well, which will give your sesame pancakes a slightly nuttier, fried flavor.
Jessie Chien Bryson
Jessie Chien Bryson grew up spending sunny California Thanksgivings eating 20lb. free-range turkeys along with sides of Chow Mein, which is what she thinks cemented her insatiable interest of food cultures and sustainable methods as an adult. She recently spent two years in Guangzhou, China, where the locals were said to eat anything with four legs but a table and anything that flies but a plane. She's now on the other side of the world in Dar es Salaam, Tanzania, where she keeps a diary of food, travel, and expat adventures at www.jessbopeep.com