Spring Dreams – Kale, Apple, and Almond Salad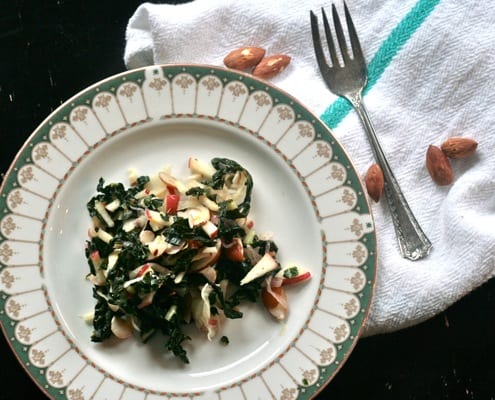 Wintery months can still be apt for a nice hearty salad – and kale fits the bill just fine. For a dinner party, this dish is perfect, as it can be prepped and made the night before.
By Jessie Chien Bryson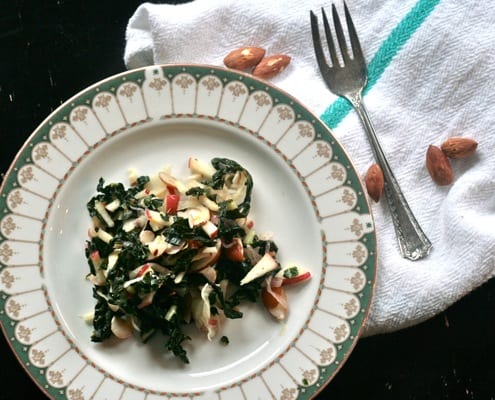 I checked my calendar today. Yup, still winter. In fact, only one month in. Sigh.
See, I'm already dreaming of the first of Spring's bounty, marked by fiddlehead ferns, garlic scapes, and the brightest of berries. Already imagining what my vegetable drawer looks like without the brainy-heads of cauliflower and broccoli. Dreaming of fresh crudites and lively salads, galore.
But wait-a-minute, the winters' got it's fair share of offerings, too. Apples up the wa-zoo. Leafy greens abound. There's kale, perhaps this decade's MVP of greens. Cooked kale, braised kale, kale chips, kale shakes, we've pretty much exhausted the superfood for what it's worth. I'm not quite sick of kale yet, though, so I've been using it as a salad base in these times of wintery distress. A bit of freshness add a healthy dose of brightness to the usual mix of roasted potatoes and crock-pot wonders that come out of the kitchen in the winter.
Don't be alarmed at the prep time for this salad; the chopping and compiling is actually a breeze. The salad only takes longer because the kale is left to marinate in lemon juice for several hours, making the otherwise tough leafy green citrusy, soft, and more delightfully consumable. I advise allowing the kale to marinate for at least three hours, although I've made this for a dinner party where I prepped a large batch the night before, letting the kale sit overnight.
This menu gets its regular spot on my dinner table, not only because it's so tasty and seasonal, but for its health benefits and ease of prep as well. And while I enjoy this wonderfully, wintery, wistfully-spring kale salad, I'll also continue to dream of Spring.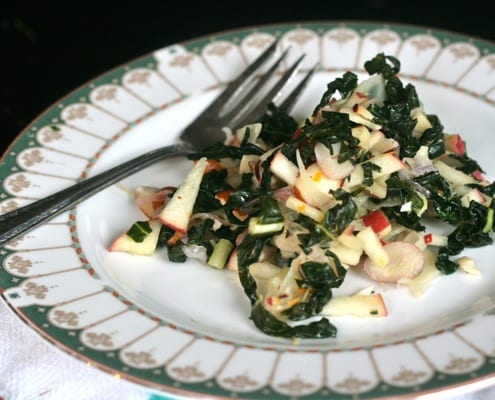 Wintery months can still be apt for a nice hearty salad - and kale fits the bill just fine. For a dinner party, this dish is perfect, as it can be prepped and made the night before.
Author:
Jessie Chien Bryson
Ingredients
1 bunch kale
½ red onion
1 lemon
1-2 Tbsp. kosher salt
1 apple - gala or fuji work best, but any kind is ok.
1 bulb fennel
¼ cup slivered almonds
olive oil
fresh ground pepper
Instructions
Rinse kale thoroughly and remove the tough stems and ribs. Cut kale leaves into thin, ⅛-inch ribbons. Thinly slice red onion (preferably using a mandoline). Toss with kale in a large bowl, and squeeze the juice of an entire lemon. Add a liberal dose of salt. Cover bowl, and set in the refrigerator for at least 3 hours (or more, even leaving it overnight will be fine).
Take the kale out of the fridge and toss with your hands. Squeeze excess liquid from kale and transfer to another bowl. Slice apples and fennel into thin matchsticks (again, using a mandoline works best). Dress salad with extra-virgin olive oil, and some fresh pepper. Taste, and salt again if necessary. Add almonds and toss.
Serve immediately, or cover and chill in fridge until ready to serve.
Jessie Chien Bryson
Jessie Chien Bryson grew up spending sunny California Thanksgivings eating 20lb. free-range turkeys along with sides of Chow Mein, which is what she thinks cemented her insatiable interest of food cultures and sustainable methods as an adult. She recently spent two years in Guangzhou, China, where the locals were said to eat anything with four legs but a table and anything that flies but a plane. She's now on the other side of the world in Dar es Salaam, Tanzania, where she keeps a diary of food, travel, and expat adventures at www.jessbopeep.com