SPONSORED POST: From Dijon Originale mustard to Cornichons, Maille has a rich heritage starting in 1747 that honors tradition. Check out these easy one-pan brunch recipes that pack great flavor, thanks to Maille. PLUS, be sure to enter for a chance to win their epic brunch makeover giveaway.
Maille Brunch Makeover Giveaway!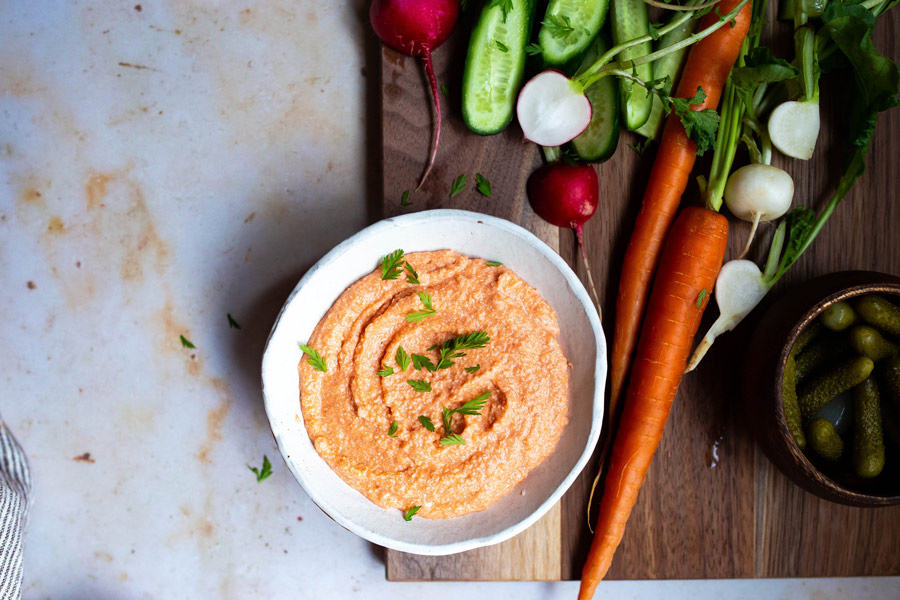 File this one under easy Easter brunch ideas, folks! One of my favorite ways to celebrate at home with guests is by making a beautiful board everyone can gather around (and you know I love my paleo appetizers). Seasonal vegetables are a must and so is a killer dip to really showcase the season's finest! For this Spring brunch crudité board, I've made a delicious dairy-free smoked salmon dip that's so easy to whip up and a real crowd pleaser. The secret ingredient is definitely the Maille Dijon Originale Mustard to give it a delicious tang and an extra something special. Oh! And stay tuned for a Maille giveaway at the top and bottom of the post.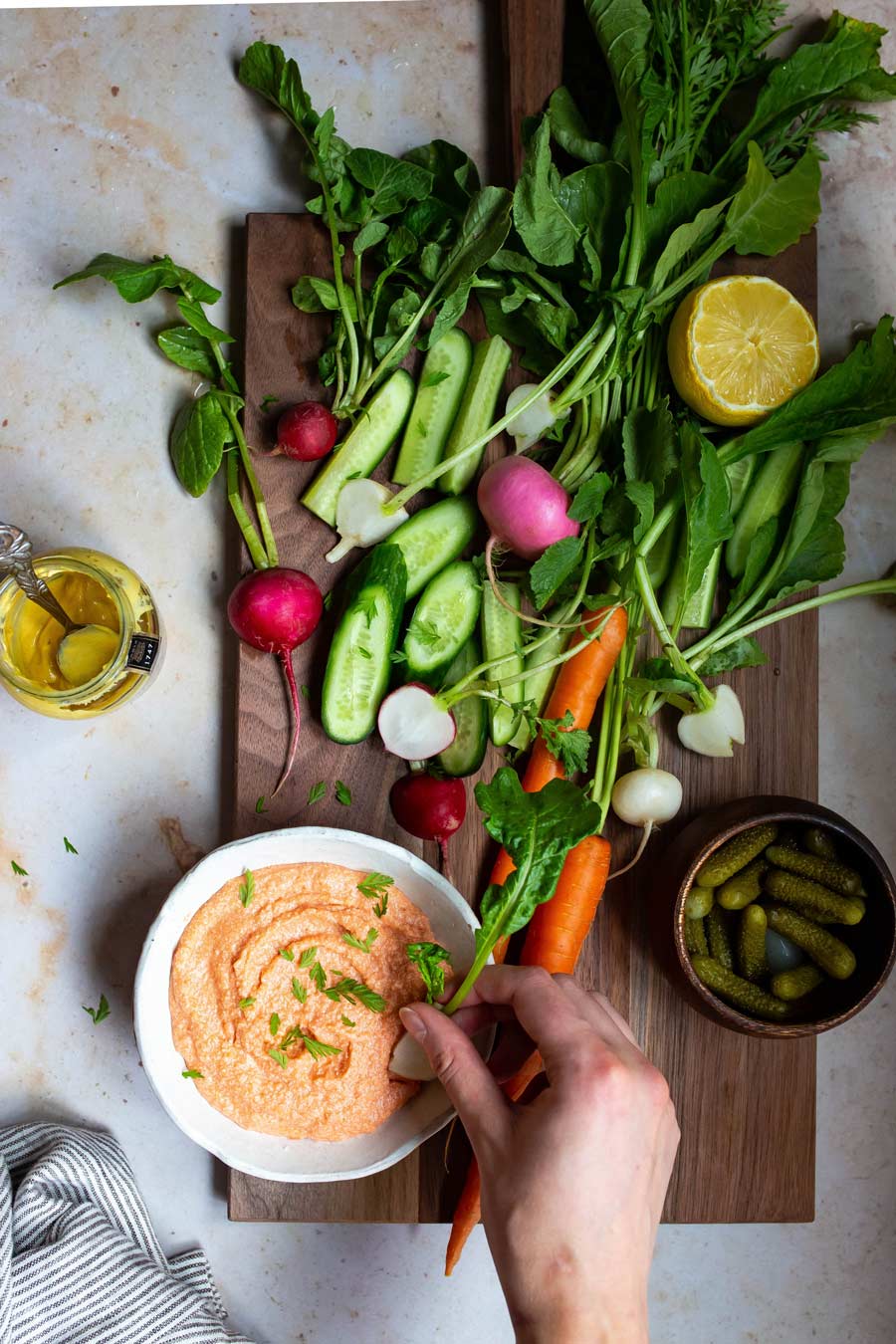 Of course, mustard and lemon together go so very well with smoked salmon! I love dipping carrots, colorful radishes, and mini cucumbers in this fabulous dip for a perfect way to kick off the season.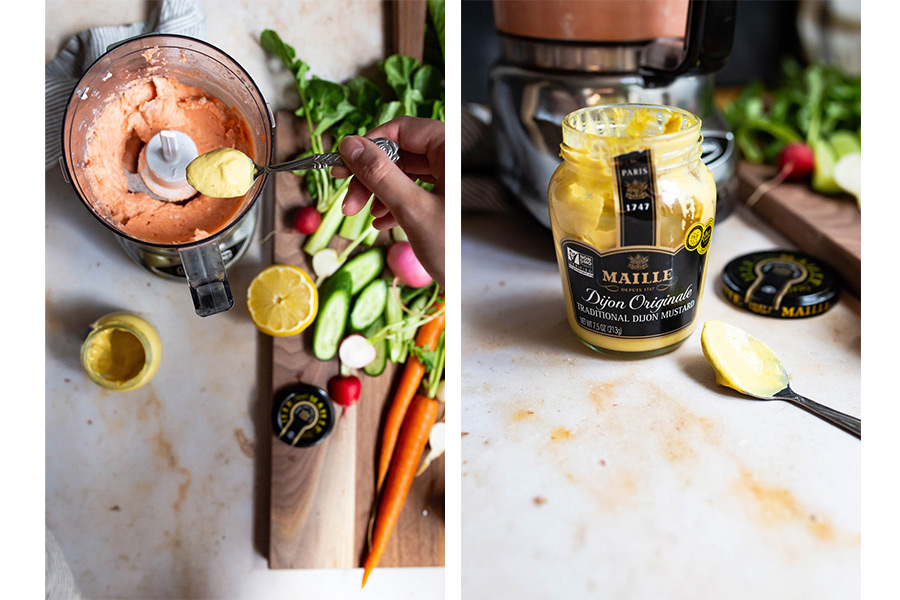 If you've ever tried smoked salmon, you know it's got so much flavor on its own and it happens to be one of my favorite breakfasts. Not only is it convenient since it doesn't require cooking, but it also really jazzes anything up you choose to pair it with. SO FANCY for like, 0 effort – that's what I'm about. This recipe normally calls for dairy, so to make a smoked salmon dip without cream cheese takes a little creativity, but it's not hard at all. Some coconut cream and lemon do the job nicely. The addition of the Maille Dijon Originale Mustard also gives it more of the oomph you might expect and all the flavors come together beautifully.
Make this in just a few minutes and win at spring brunches this year! Enjoy!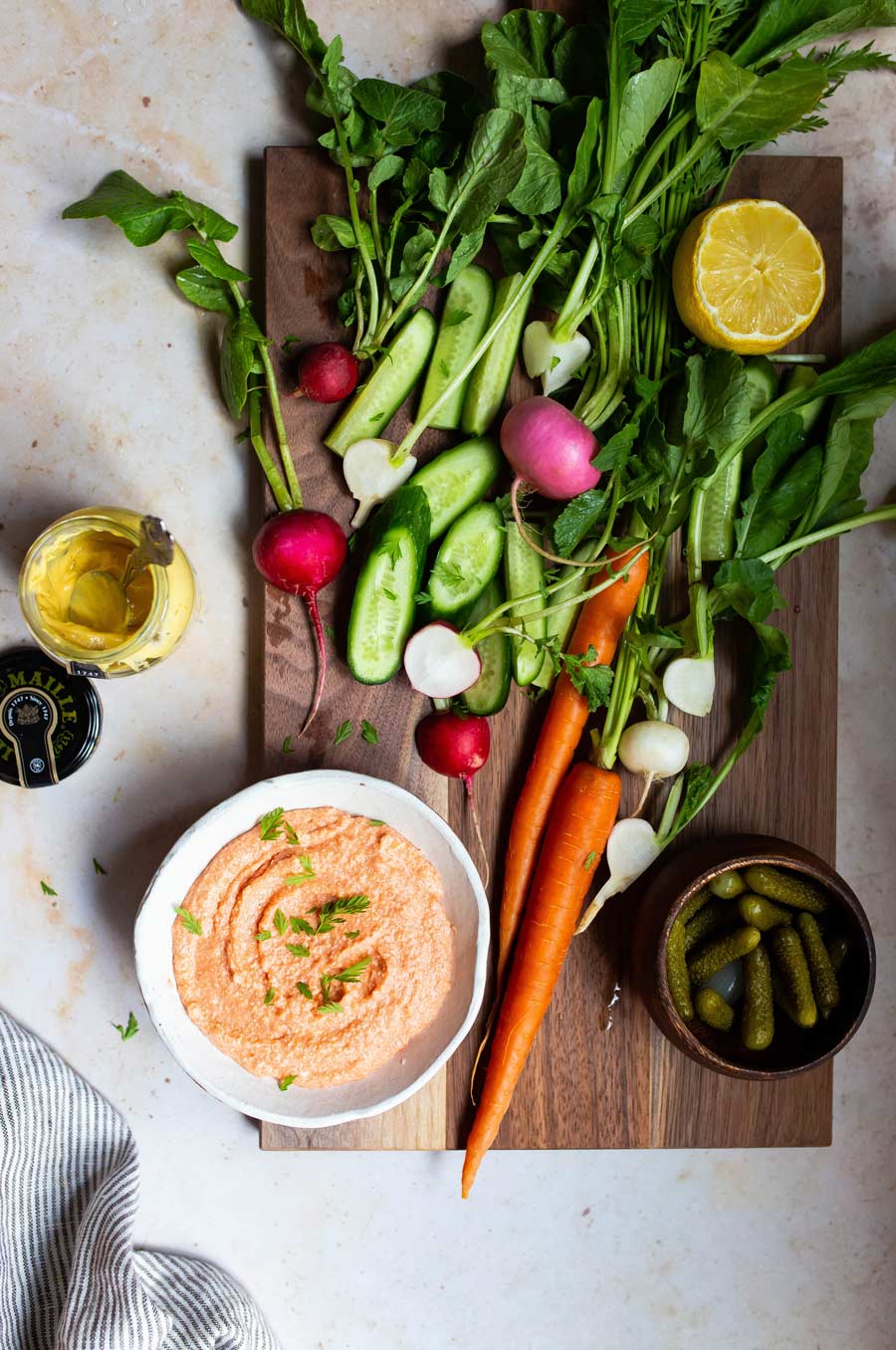 Maille Brunch Makeover Giveaway!


Spring Brunch Crudité Board and Smoked Salmon Dip
Recipe Type:
Appetizer, Brunch
Ingredients
2.5 oz. wild smoked salmon
½ cup coconut cream (canned, unsweetened)*
1 tsp dill chopped
2 tsp Maille Dijon Originale Mustard
2 tsp fresh lemon juice
Sea salt to taste
Crudité board (fresh cut veggies)
radishes
carrots
Maille Cornichons
mini cucumbers
Instructions
Pulse all ingredients (except crudité board veggies) in a food processor until smooth. Season to taste! Garnish with more dill or carrot top greens.
Spoon into a small serving bowl to dip and serve with your veggies.
Notes
*For the coconut cream, you can either use a can of full-fat coconut cream or refrigerate a can of full-fat coconut milk and let the cream rise to the top, overnight preferably. Then just scoop out that top cream!