Spinach and tortellini soup is one of the easiest, coziest and heartiest soups you can make on a cold day. Plus, bulk it up with extra protein if you have leftover chicken on hand.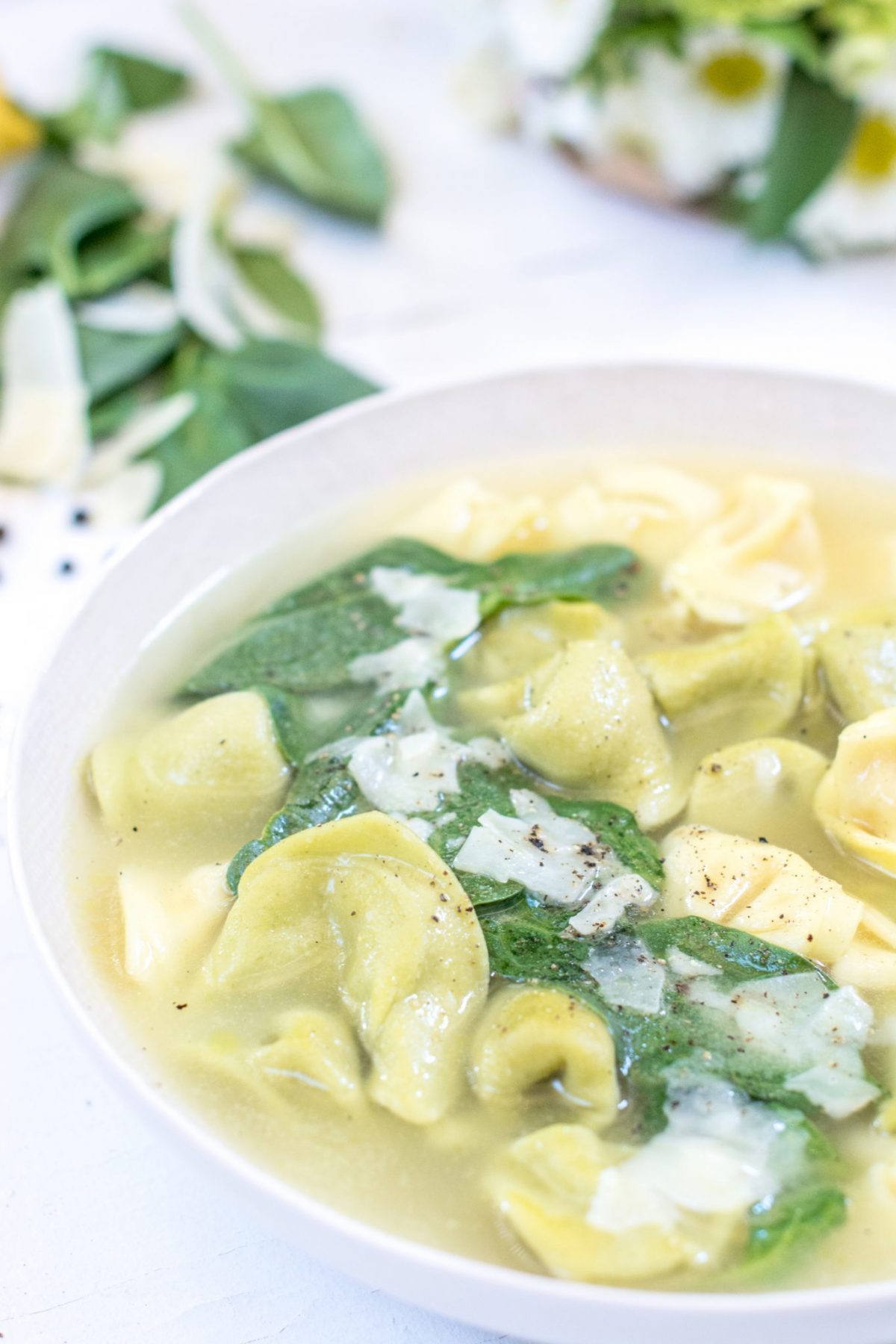 I don't know about you, but with cold winter temperatures, I pull out my soup favorite recipes and keep them handy for the duration of the season. I love soups, from the broth-based to the heavy cream-based, they are comforting on so many levels.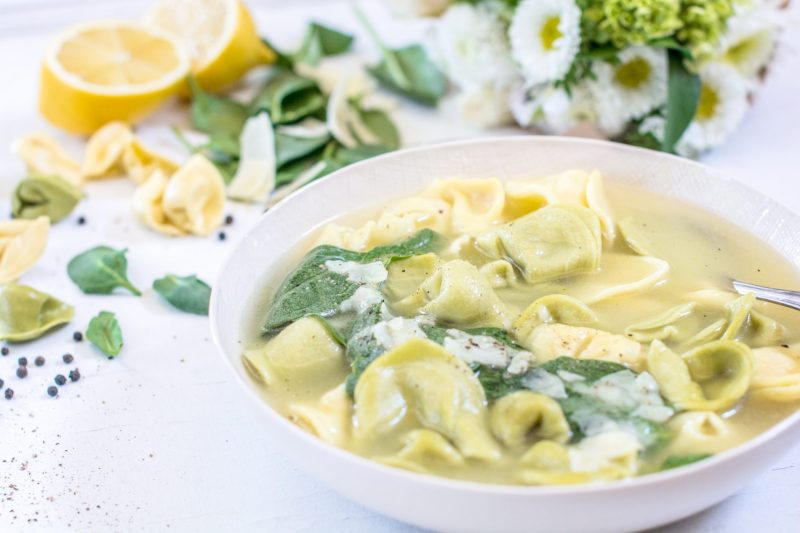 A few years ago, I was at a friend's house and she was making this soup for lunch. I was hooked. It's so dead easy to make and taste oh so cozy. Thankfully she was kind enough to share the recipe with me.
Do you need a quick soup that doesn't require hours to make, well, this is THAT soup. A broth based soup, with a punch of vitamins from the added spinach and those gorgeous, cheesy stuffed Tortellini in there begging for attention, all make for a healthy and cozy choice for dinner or light lunch. If you absolutely have a must-eat-meat eater in your family, then add in some shredded rotisserie chicken and now you have a hearty, healthy and cozy choice for that dinner or kind of light lunch. Win-win.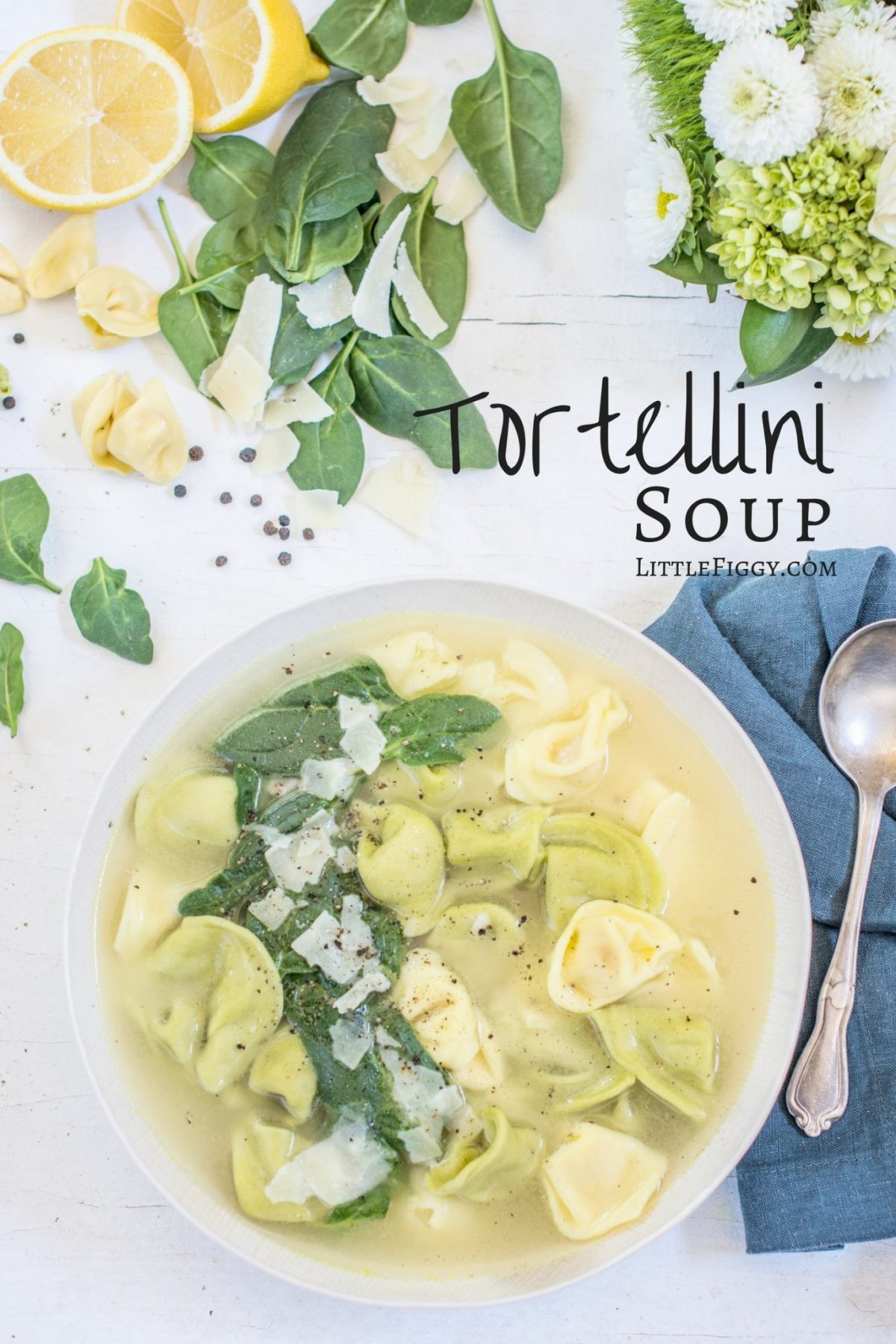 If you are making this recipe with the shredded chicken, then you can make it in the slow cooker on low for 4 hrs, but do wait until the last 20 – 30 minutes of the cooking time to add in the Tortellini pasta … that's so it doesn't go into an oblivious mushy mess, then wait until you turn off the heat to add in the spinach and watch it go from I'm not really sure about this … to … Oh do I need to add in more? … I'm a one spinach bag kind of girl if you're asking.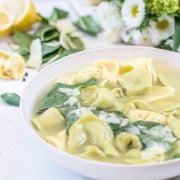 Spinach and Tortellini Soup
Stacey M Doyle
Ingredients
1

pkg

@ 9 or 10 oz, Fresh Cheese Tortellini Pasta, or you can use your favorite flavored Tortellini pasta. (find them in the refrigerated section)

8

cups

Vegetable or Chicken Broth

1

bag Fresh Spinach

washed and dried

Juice of 1 - 2 Lemons

Freshly grated Parmesan Cheese

to garnish

Pepper

to taste
Optional:
1 - 2

cups

Rotisserie Chicken

shredded
Instructions
In a large saucepan or dutch oven, bring the Broth to a boil, then add in the fresh Tortellini Pasta, cooking according to directions. (If using the Chicken, now's the time to add it in, cook for about 5 - 8 minutes to heat the meat through).

Once Tortellini is done, remove pan from heat and add in the fresh Spinach, and stir until it starts to wilt.

Squeeze in the Lemon juice, check the taste, add more if needed.

Season to taste with Pepper and Salt if desired.

Garnish with freshly grated Parmesan Cheese.
Stacey M Doyle
A Southern girl with a taste for travel, Stacey takes inspiration from her global pantry and cooks with a sense of adventure. Now she's raising her three young children to appreciate a wide world of food, even if she doesn't always tell them exactly what they're eating. Stacey is the food photographer, writer and creator of Little Figgy Food. She's also addicted to coffee. Addicted to olives. Fairly obsessed with dark chocolate.