Sawsan Abu Farha shows us the process of making these beautiful spinach pastry triangles.
By Sawsan Abu Farha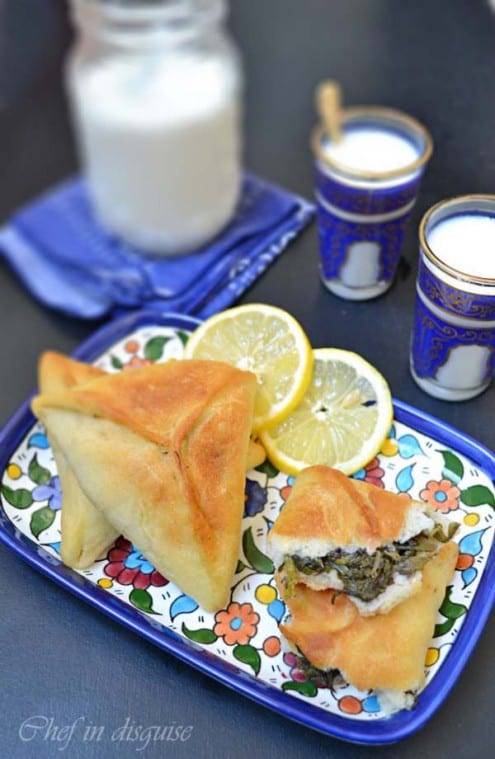 Print
Fatayer Sabanekh – Spinach Pastry Triangle
Here I will show you the process of making these beautiful spinach pastry triangles.
Author:

Sawsan Abu Farha

Prep Time:

30 mins

Cook Time:

15 mins

Total Time:

45 minutes

Yield:

4

1

x
Dough:
4 1/2 cups

of all-purpose flour

1/2 cup

of yogurt

1/4 cup

(

4 tablespoons

) olive oil
pinch of salt

one

sachet (

2 1/2 teaspoons

) dried yeast

1 teaspoon

sugar

1 cup

warm water (divided into

1/4 cup

for proofing the yeast and 3/4 for kneading the dough)
Spinach filling:
1

kg fresh spinach (or

500 g

frozen spinach with the water squeezed out)

1

medium onion finely chopped

1

green onion finely chopped

2 tablespoons

olive oil

1/2 teaspoon

black pepper

2 teaspoon

salt

1 tablespoon

sumac (optional)

2

–

4

tablespoons lemon juice or

1/2 teaspoon

citric acid
Instructions
To make the dough:
Proof the yeast with 1/4 cup of warm water and 1 teaspoon of sugar. (proofing the yeast means mixing it with sugar and water and waiting for it to foam and bubble. Foaming means that the yeast is active and good to work with and this should take 10-15 minutes at most)
While waiting for the yeast to proof, add the salt to the flour then add the olive oil and rub it into the flour with your finger tips.
Add the yogurt and again rub it into the flour.
When the yeast has bubbled, add it to the flour mixture, and mix
Gradually add in the water, you may need a little more of less as different flours absorb water differently. You need to add water and knead the dough until it is smooth and round.
Brush a bowl with a little oil, place the dough in it and drizzle some more oil to keep it from drying
Let the dough rise in warm place covered with a moist towel until it doubles in size. This should take about one hour depending on how warm or cold the weather is.
Prepare the stuffing:
If using frozen spinach: Defrost and thaw out the spinach. Place it in a colander and squeeze out as much juice as possible. You want it to be very dry.
If using fresh spinach: chop the spinach then place it in a pot and wilt for 2-5 minutes over medium low heat. Allow the spinach to cool then squeeze out as much juice as possible. You want the spinach to be very dry.
Chop the onions very fine and add them to the spinach.
Add the olive oil, lemon juice, salt, pepper and sumac. Add the spices and lemon juice immediately before stuffing the pastry. If you do it too early the stuffing will be too wet. If the stuffing is too wet, it will open up the turnovers.
Cut the dough into egg sized pieces.
Roll out each piece into a circle
Add 1-2 tablespoons of stuffing
Pinch 2 ends first and then the third to form a pyramid.(If you have a little trouble with sealing the dough, dip your finger tips in flour.)
Place the fatayer on a greased cookie sheets and make sure all the fatayer are sealed well .
Bake them on the middle rack of a preheated oven at 270 C. for about 10 to 15 minutes or until the bottoms are golden.
Turn on the broiler until the tops are golden
Cool the fatayer on a wire rack
Notes
Can I add other greens to the spinach pastry stuffing? Yes, you can replace part of the spinach with oregano, collard green or kale.
Lemon juice or citric acid traditionally these spinach fatayer were made with lemon juice and consumed immediately. The problem with using lemon juice if that it makes the filling wet and this can cause the pastry triangles to open during baking or to turn slightly soggy if you store them for a couple of days. To get the tart taste without the extra fluid you can use citric acid. Citric acid is a week organic acid that is used to add a tart or sour taste to food and it is used to acidify milk in cheese making.
Tart or mild the use of sumac, citric acid or lemon juice is meant to add a tart taste to the spinach filling. You can make these spinach triangles without them and enjoy a mild fatayer. If you choose to use them, the amount is up to your taste. The amounts in the recipe are suggestions. Add them little by little and adjust the amounts according to your taste.
Shapes: You can shape these fatayer or pastry in any shape you like. Any form that encloses the filling is fine.
The size: you can make these triangles small if you plan on serving them to guests or at a party. You can also make them big if you like. It is up to your taste.
Sawsan Abu Farha
Passionate food explorer Sawsan Abu Farha lives in Jordan and enjoys mixing east and west in her kitchen aiming to get the best of both worlds.Juggling work, motherhood, blogging and a passion for food and food photography, she shares her journey in her blog "Chef in disguise".