Spinach and Bacon Baked Eggs
This is a sturdy dish that takes well to variations.
By Sarah Schiffman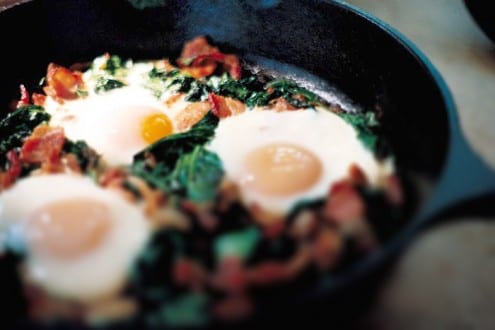 I've been making these eggs for a few years and it's become a staple in our household. It's a sturdy dish that takes well to variations.
Spinach and Bacon Baked Eggs
This is a sturdy dish that takes well to variations.
Ingredients
4 strips of good thick cut bacon
2 small shallots, chopped
1 large bunch fresh spinach
4 eggs
crushed red pepper to taste
Instructions
Preheat oven to 400 degrees F. Cook bacon in a heavy oven proof skillet over medium high heat until fully cooked and crispy. Remove bacon from skillet, leaving most of the grease in the pan, and set aside to cool. Chop bacon into bite sized pieces.
Add shallots to the skillet containing the bacon grease and cook over medium heat until fragrant and translucent but not browned. Add spinach to skillet and cook until wilted. Remove pan from heat and stir in the bacon. Using the back of a wooden spoon or a spatula create four little "nests" in the spinach mixture. Crack an egg into each indentation and place skillet in the oven until the egg whites are fully cooked and yolk is at desired consistency. I like mine a little runny. Remove from oven, season with crushed red pepper, and serve with a good hunk of bread.
Sarah Schiffman
Sarah Schiffman is the author of the food and photography blog Pearl and Pine. Her recipes focus on fresh seasonal ingredients and she loves to share the stories and pictures that accompany each dish.