Spicy Watermelon and Feta Salad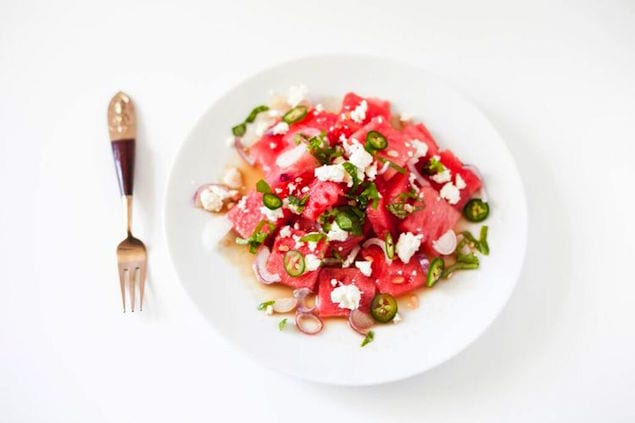 Salty feta, spicy jalapeño and a flavorful dressing coat this watermelon salad to create a juicy, savory summer side.
By Carlene Thomas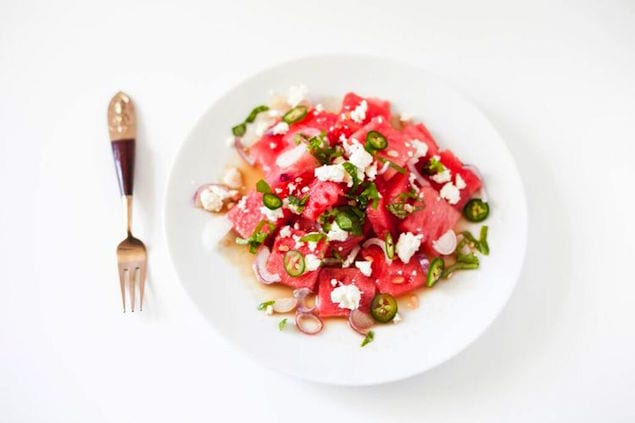 Some girls are happy to get flowers. I get psyched about a good watermelon. There is nothing more summery to me than getting a road side stand watermelon, cutting it open and being able to smell it from across the house.
While you have access to a fantastic watermelon, buy as many as you can and eat them daily. Our favorite side dish du jour right now is this salad: healthy, crisp, summery watermelon, feta and jalapeño in a light dressing. It's sweet, acidic, salty, crisp all in one dish. Which makes it perfect. This is the perfect high volume, low calorie dish for a party. Or for yourself.
It's hydrating, full of fiber..there's cheese. What's not to love?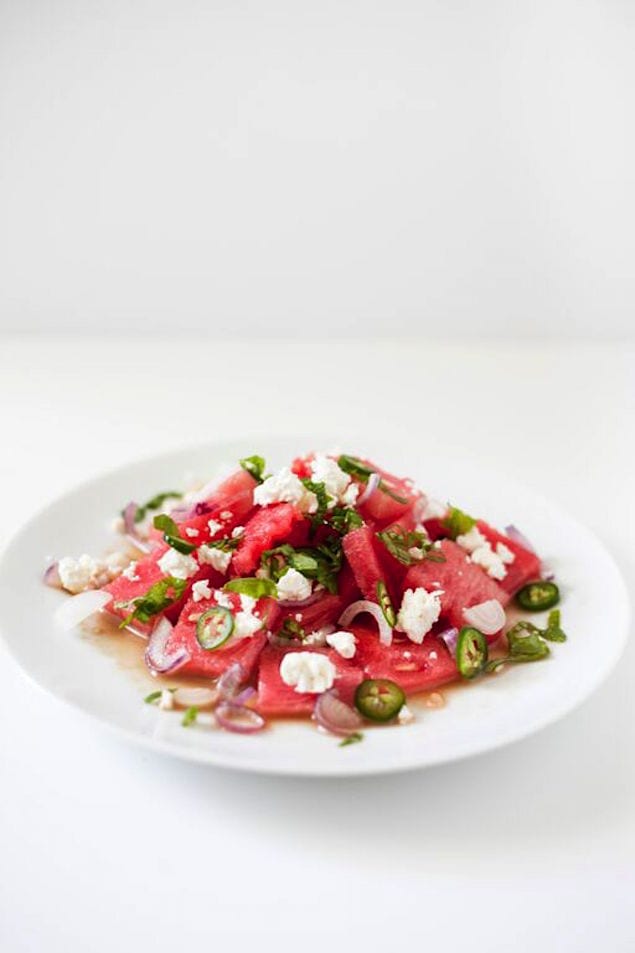 Spicy Watermelon and Feta Salad
Salty feta, spicy jalapeño and a flavorful dressing coat this watermelon salad to create a juicy, savory summer side.
Ingredients
feta cheese, crumbled to taste over the top (for 2 people I did maybe ¼ cup)
watermelon (sugar baby variety is best- no seeds!) , 1-1/4 inch thick cut from the middle of the watermelon (we cut into squares then sliced them into 4 shingles each)
red onion (1 very small or ¼ reg)
basil 3 leaves torn or cut
jalapeno ¼ - ½ thinly sliced
/// dressing ///
Worcestershire sauce, 2 tsp
cider vinegar 1 T
vegetable/canola oil 1 T
garlic clove 1 small, minced
honey/brown sugar 2 tsp
lime juice 1 T
Instructions
To make the dressing, add dressing ingredients to a cup/bowl and whisk vigorously or use an immersion blender. Add a layer of dressing to the plate and add cubed watermelon, onion, feta, basil and jalapeño.
Carlene Thomas
Healthy, curated living from a dietitian nutritionist and recipe developer.