This spicy peanut tofu is loaded with flavor and baked to have the most delicious crispy edges we have ever seen. It you don't already love tofu, this recipe will get you there.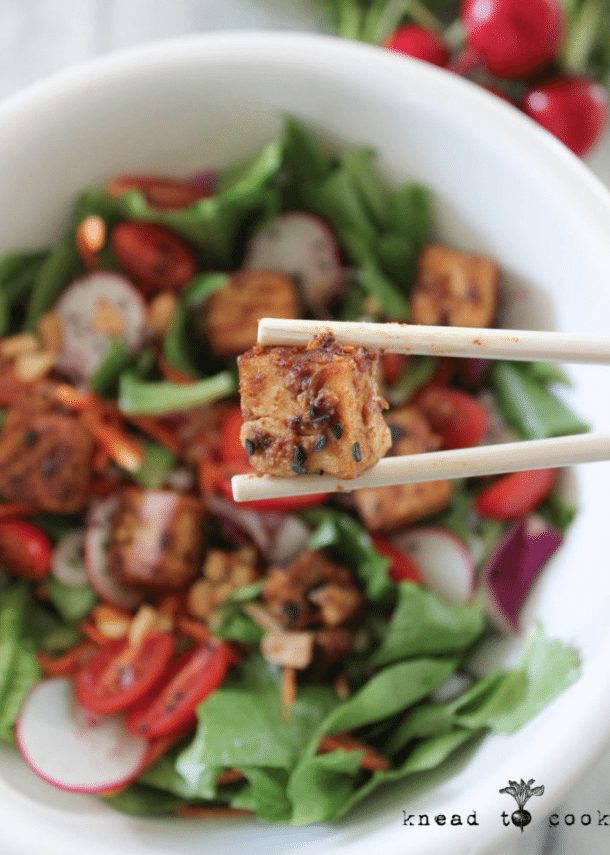 I feel like life is moving at warp speed. Craziness. What happened to lazy summer days?
So if you follow me on any of my social media… you know I have a big puffy heart love affair with tofu. I used to hate tofu. It was gross. Flavorless. And pretty much the only food that they can fry and it still tasted gross. Until I created this recipe and my entire world changed. In fact, it has a cult following on Instagram. I kid you not! Fast forward several months and my love affair has grown. First, it's a wonderful source of protein. It's incredibly versatile, taking on whatever flavors you throw at it. This has been a recipe I go to pretty often and once you taste it… you'll see why.
I adapted this from several different friends (two of which own restaurants) and I really hope you give it a try.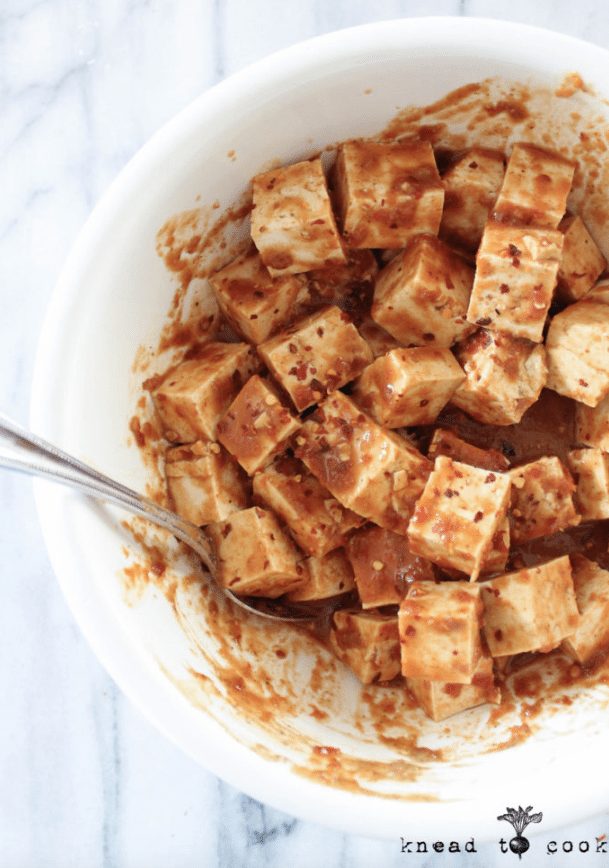 See Also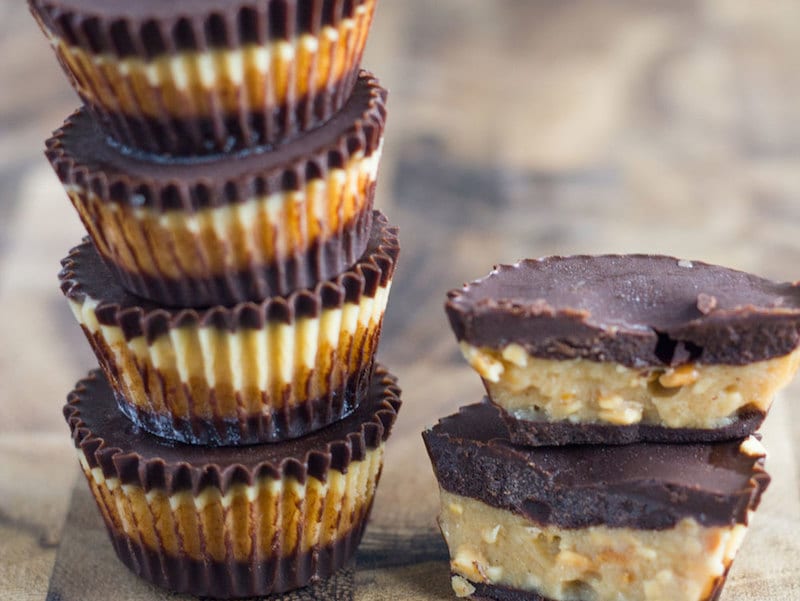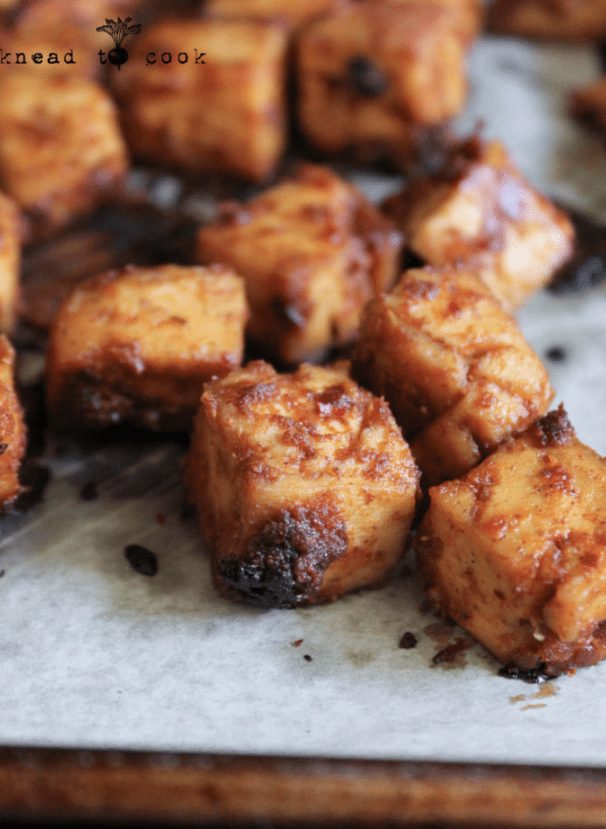 Print
Spicy Peanut Tofu
Author:

Robin Runner

Category:

Main
1

block (14 oz of extra firm tofu (make sure you are buying extra firm))

2

tbl of toasted sesame oil

1/4 cup

of liquid aminos

1/4 cup

of maple syrup

3

tbl of chili garlic sauce

3

tbl of peanut butter

2

tbl rice wine vinegar

1

inch nub of fresh ginger (peeled and minced)

2

garlic cloves (minced)

1 tsp

of red pepper flakes
Toppings:
1 tsp

black sesame seeds
Chopped peanuts
Instructions
First begin by pressing the water out of your tofu. You can either use a tofu press or drain and wrap your tofu in a clean, dry towel. Place that on a plate and place a heavy pan (cast iron etc.) on top. Then add a heavy can of tomatoes etc. on top for extra weight. Press for at least 30-45 minutes. Then remove the towel and slice into cubes.
While pressing, add all of your ingredients through red pepper flakes into a mason jar or your blender and shake/blend until well incorporated. Once the tofu is done, place it and the marinade in a container with a lid. Let the tofu marinade for at least 1 hour or up to 3 days. The longer it marinades the more flavor it will absorb.
You can cook this one of two ways… either in a fry pan with a bit of oil cooking until crispy or you can bake.
If baking, line your baking sheet with parchment paper or a Silpat liner. Add your tofu, trying to reserve some marinade for coating later. Preheat your oven to 375 degrees and bake for 35-40 minutes or until golden, crunchy edges develop. I did toss midway through the baking time. Top with sesame seeds when cooking is complete. Remove and serve immediately or at room temperature. Leftovers store perfectly in the fridge in an airtight container. I love pairing this tofu up with a big mixed green salad, steamed veggies or for tacos. You can also go the classic avenue and serve with rice or cook in a stir fry. Enjoy!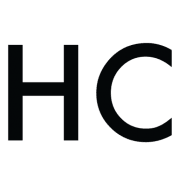 Robin Runner
Robin Runner is the blogger behind www.kneadtocook.com. She grew up around two of her greatest inspirations, her Italian grandmother and her aunt. Both believed in farm to table foods, purity in nature and love as the main ingredient for anything on their menu. Today, Robin is a strong advocate of farming and buying local ingredients, as well as composting to help repurpose food scraps into rich soil for our garden.