Sip something fun this summer and relax with Portugal's Casal Garcia wines. Fun enough for a gathering and versatile enough to pair with easy patio meals.
Sprinkled with aleppo pepper, salt and a squeeze of lime juice, cool slices of watermelon just went to a whole new savory summer level when paired with wine.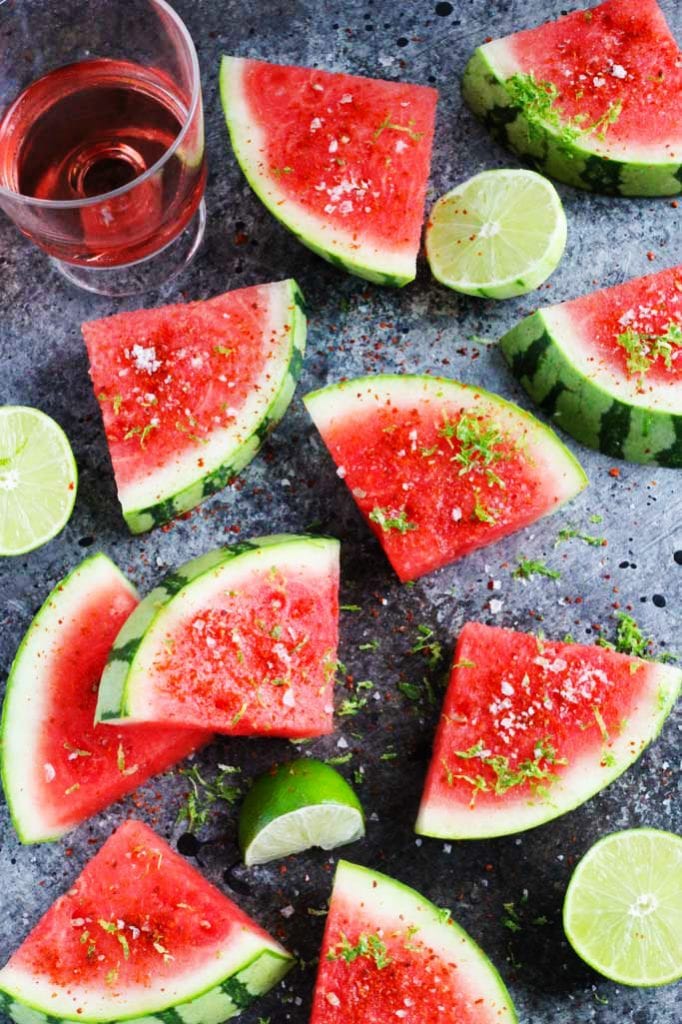 There are some days that you just want a super simple snack to pair with that yummy bottle of wine that you have in the fridge. It's summer, it's hot out, and you want to sit on the back patio with an ice cold glass of rosé. You know what pairs fantastically with pink wine? Watermelon with Aleppo Pepper and Lime.
It's sweet, like Taylor. Spicy, like Beyoncé. Tangy, like Khloé. And salty, like Kanye.
In Mexico, a popular street snack is fruit with chile powder and lime, or fruta con chile y limon. There are lots of options, but the most common you'll see are mango, jicama, oranges, coconut, pineapple and watermelon.
Today, I'm spicing up some super refreshing watermelon with one of my favorite new spices – Aleppo pepper. Grown in Syria and Turkey, aleppo is fruity, with aromas of cumin, a bit of saltiness and a moderate amount of heat. I found it a specialty spice store here in Portland, but you can also find it easily online. If you're in a pinch and looking for a substitute, try sprinkling on some crushed red pepper or paprika (or a combination of the two).
The most important thing to keep in mind when making this dish? Make sure your watermelon is ice cold. Sometimes I even like to pop it in the freezer for a few minutes before eating it. Other than that, this recipe is toss and go.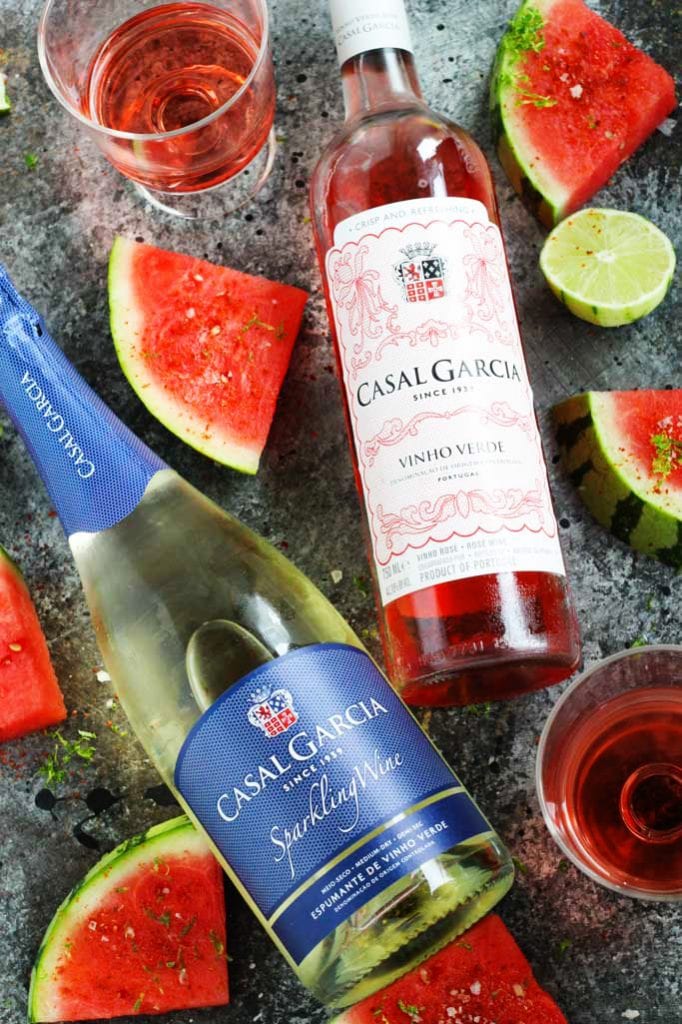 For everyday snacking, I like to just cut the watermelon into wedges. However, if you're looking to dress things up a bit, it's fun to cube the watermelon and skewer it. You can either sprinkle the spices on, or set out separate ramekins with the salt, lime zest, and Aleppo pepper, allowing your guests to customize their skewers with the seasonings of their choosing.
Either way you serve it, be sure to have some chilled wine to go alongside. One of my all time favorite wines for pairing with watermelon is rosé – They compliment each other so perfectly. And one of my favorite rosés? Casal Garcia. I was first introduced to it at happy hour at one of my favorite restaurants here in Portland, Radar. It's got a slight bit of effervescence, and big, vibrant flavors of berries and melon. I can't get enough of it. Plus, it's often on sale for under $10 a bottle. That's my sweet spot for patio sippers.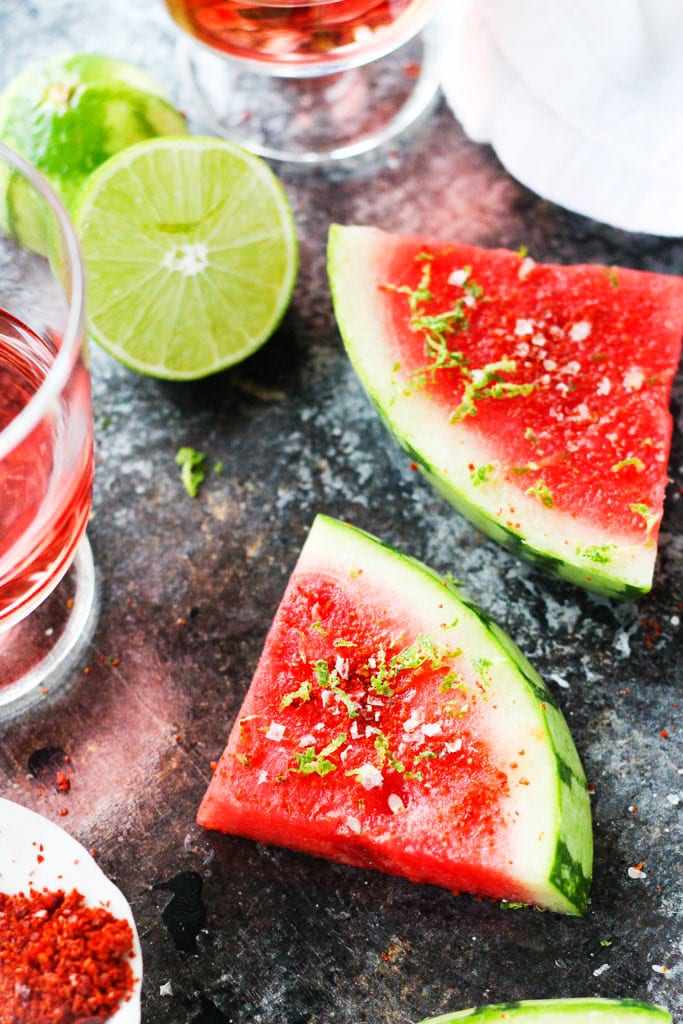 Celebrate summer with a refreshing poke bowl video recipe that pairs perfectly with Casal Garcia's crisp wines.
Print
Author:

Erin Rebecca

Category:

Appetizer, Side
1

3-pound seedless watermelon, cut into wedges

1½ tsp

. flaky sea salt

1½ tsp

. Aleppo pepper*
Zest and juice of 1 lime
Instructions
Arrange the watermelon wedges on a platter and drizzle with lime juice. Sprinkle with Aleppo pepper, lime zest and sea salt.
Serve immediately or refrigerate until ready to serve.
WINE PAIRING
Rosé is great for pairing with spicy foods, and often has aromas of watermelon, making it a natural companion for this dish. Serve with Casal Garcia.
Notes
*If you can't find Aleppo pepper, you can substitute red pepper flakes or chili powder
Erin Rebecca
I'm Erin - a self-taught weeknight cook. I occasionally like to delve into the more complicated recipes, like homemade pasta, Cioppino, and boeuf bourguignon. But for the most part, I work full-time, come home, pour a glass of vino and start cooking away.