Spicy Grilled Shrimp Cocktail with Avocado and Mango Dip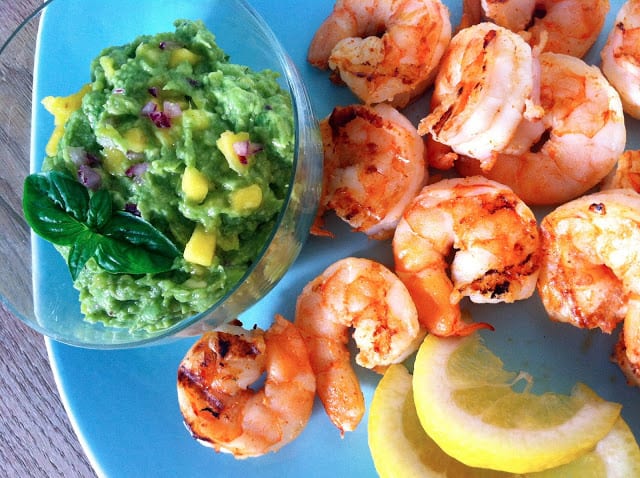 Not only were these light and fresh bites addictive, they were also easily transportable from cooler to our cobalt blue table.
By Kara and Marni Powers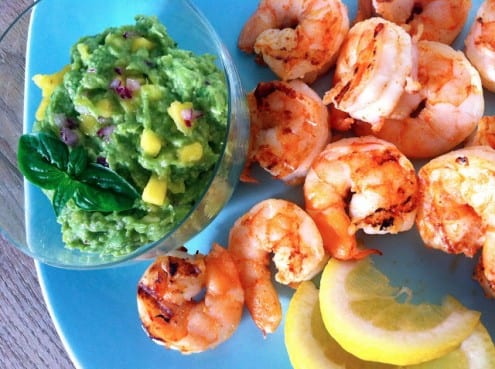 While many enjoy indulging in lobster or cracking crab legs, we love the slightly sweet, tender shrimp and find any reason to incorporate it into a dish.
Spicy Grilled Shrimp Cocktail with Avocado and Mango Dip
Not only were these light and fresh bites addictive, they were also easily transportable from cooler to our cobalt blue table.
Author:
Kara and Marni Powers
Ingredients
Spicy Grilled Shrimp
2 lbs raw medium-sized shrimp, shelled and deveined
2 T EVOO
2 T fresh lemon juice
1 T paprika
1 t cayenne pepper
1 t garlic powder
1 t salt
1 t pepper
Avocado and Mango Dip
2 ripe avocados, peeled and pitted
1 T EVOO
2½ T fresh lemon juice
½ c chopped fresh basil
½ t ground cumin
1 mango, peeled, pitted, and finely chopped
¼ c red onion, finely chopped
salt and pepper throughout
Instructions
Preheat the grill to medium.
In a bowl, toss the shrimp with EVOO, lemon juice, paprika, cayenne pepper, garlic powder, salt and pepper. With tongs, place the shrimp on the grill and cook for 2-3 minutes on each side, until the shrimp are pink with grill marks. Remove from heat onto a platter.
In a bowl, add the avocado and EVOO and mash together with a fork until smooth. Add the lemon juice, ground cumin, and stir. Add the mango, onion, basil and season generously with salt and pepper. Serve alongside the shrimp and enjoy!
Kara and Marni Powers
Kara and Marni Powers are twin sister cooks, dining and blogging their way through Boston's North End and beyond. They see the act of cooking and entertaining as a form of creative expression, an art that encourages the mixing of flavors, spices, techniques and stories. Their interest in cooking dates back to their Greek grandmother's open-arms approach, letting them taste her savory creations like her famous spanakopita. Kara and Marni's fascination with food and culture continued during their travels abroad in Europe where they saw firsthand the limitlessness of cooking.