Easily grilled and basted in thirty minutes, this Indonesian-style red chili chicken can be skewered or whole and served with a cool vegetable salad.
By Sylvia Fountaine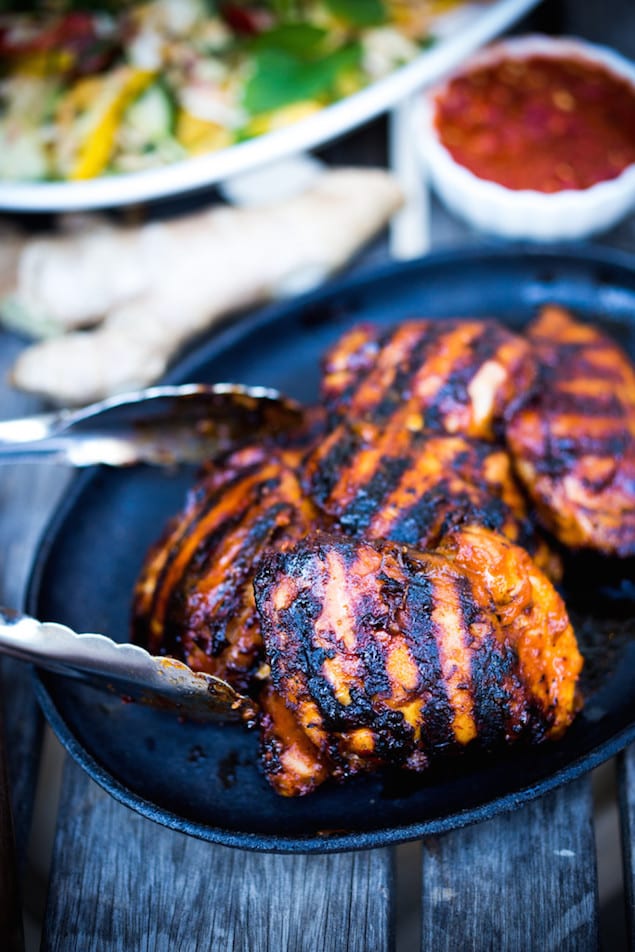 This Indonesian Style, Spicy Grilled Sambal Chicken is full of great flavor while remaining juicy and tender. Fast and simple to make, it comes together in less than 30 minutes – and lately, it's been on our plates a lot. I love this best served over Thai Vegetable Crunch Salad, a healthy vegan, GF salad made with shredded summer vegetables, mint, Thai basil, scallions and a light peanut dressing. The combination of spicy, sweet, salty, tangy Grilled Sambal Chicken, paired with the cool crunchy Thai Peanut Salad is so delicious! Whether it's tossed into salad, folded into tacos, served over rice or with a bowl of grilled veggies, it's very versatile recipe I think you will love.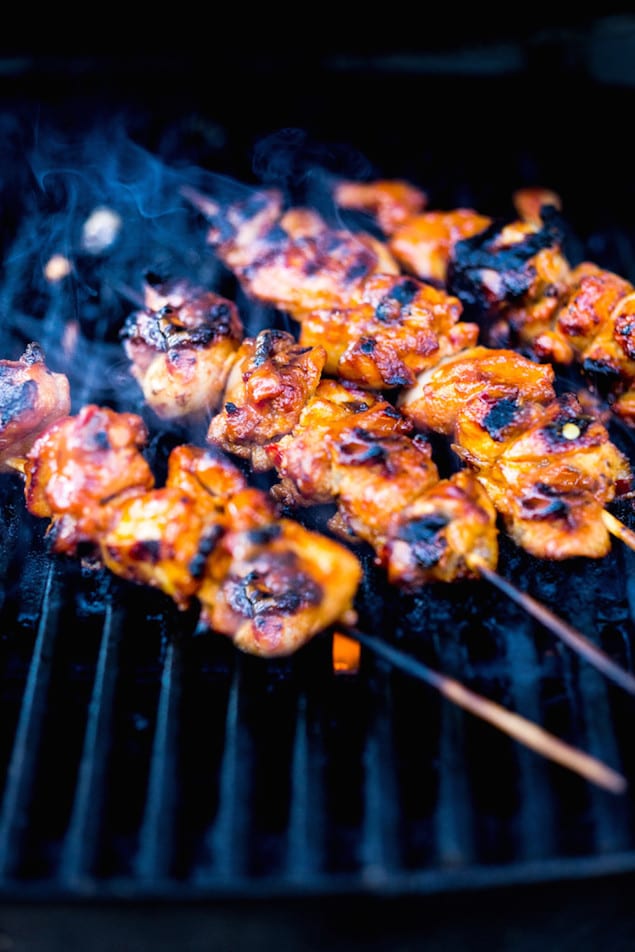 The Sambal chicken can be quickly be grilled in whole pieces, or if you have more time, cut the chicken into bite-sized pieces, then skewer.
Sambal Olek, an Indonesian style red chile paste is available at most grocery stores and it's the secret to this great flavor. I will often double the recipe, because the refrigerated leftover chicken keeps really well and tastes incredibly good, cold….perfect for quick lunches or to-go meals.
See Also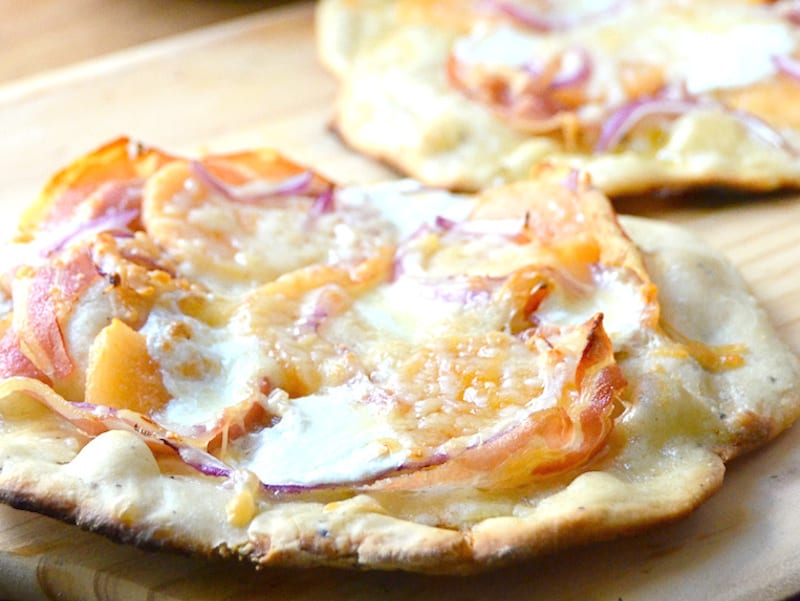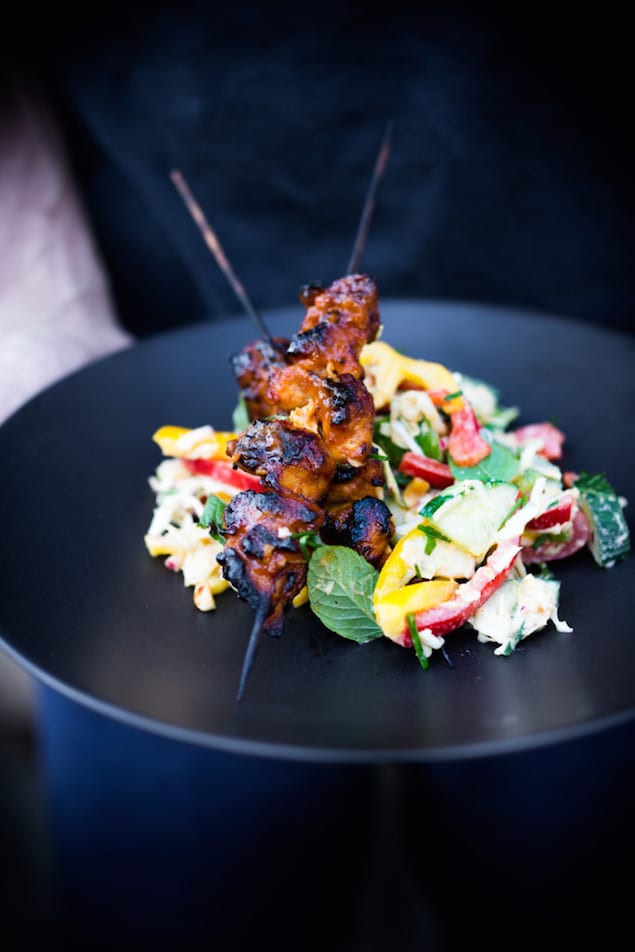 Be sure to use bone-less, skin-less thigh meat, to ensure the juiciest chicken possible. I've also used this flavorful marinade on tofu, then grilled it with great results –just make sure to grease the grill extra well first, and use a metal spatula to flip.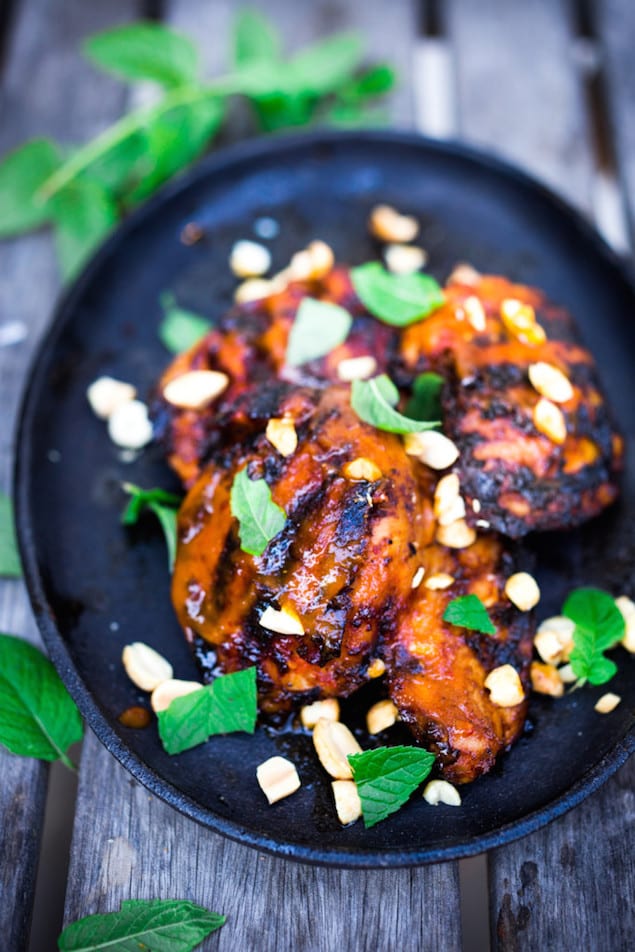 Spicy Grilled Sambal Chicken
Easily grilled and basted in thirty minutes, this Indonesian-style red chili chicken can be skewered or whole and served with a cool vegetable salad.
Ingredients
2 - 2 ½ lbs Chicken ( bone-less, skin-less chicken thighs)
3 garlic cloves
1 ½ Tablespoons sliced fresh Ginger
¼ C sriracha sauce
¼ C fish sauce
½ C brown sugar
¼ C rice wine vinegar
⅛ C vegetable oil
1 Tablespoon Soy sauce or Bragg's liquid Amino
¼ C Sambal Olek ( red chili paste) plus 1 -2 T more for extra spicy.
8-10 Pre-soaked Skewers ( optional)
Garnish Options: crushed roasted Peanuts, fresh mint leaves, sliced scallions
Instructions
Cut chicken into bite size pieces ( to skewer) or leave whole and place them in a gallon zip lock bag or bowl.
Place the rest of the ingredients, except Sambal Olek ( or red chili paste) in a blender, and blend until smooth. Stir in chili paste, to combine. Pour marinade over the chicken and marinate for 15 minutes or overnight.
Pre -heat the grill to med-high.
Skewer chicken ( or leave whole)
Pour the left over marinade into a small pot, bring to a simmer, and simmer on low for 5-10 mins, until thickened and reduced. You will use it to baste the chicken.
Place chicken on a hot, preheated, greased grill. Cover. Cook 5 minutes or longer until deep grill marks appear. Turn over, baste, cover. Once you've got a good sear on both sides, and both sides are basted, turn heat to low, or move to upper rack and continue cooking through.
Serve with Thai Crunch Salad, or garnish with fresh mint, scallions and crushes roasted peanuts.
Sylvia Fountaine
Caterer and chef of Feast Catering Co., my blog Feasting at Home is where I share wholesome, seasonal recipes we cook at home.