Fried paneer sauteed with caramalized onions, bell peppers, soy and chili sauce.
By Suchitra Vaidyaram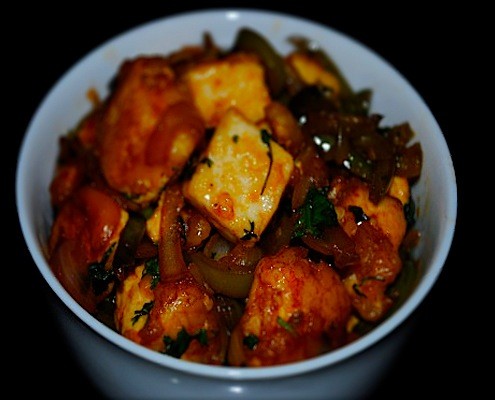 I still remember the day when I first had this dish with tears in my eyes and water from my nose. oh yes, I pride myself for my tolerance to high spice level and I was down on my knees when I ordered this dish from a local restaurant near my house. The flavor was fantastic but boy the spice was way too high. They weren't kidding when they said it's really hot. I thought how spicy can it be? Tears were literally pouring down my cheeks and my mouth was on fire. I finished the dish, though ;)  After a disastrous introduction to the dish, I decided to recreate this recipe at home and kept the spice level under control to enjoy the flavors of paneer. Trust me, it's really tasty and you can whip up this starter easily within half an hour!
The good part is you can never go wrong with this dish- It's got all the right ingredients and even if you vary the spice levels, you would still manage to get a flavorful starter. You can be creative with this dish and add ingredients that would work well with paneer.

Fried paneer sauteed with caramalized onions, bell peppers, soy and chilli sauce.
Author:
Suchitra Vaidyaram
Recipe Type:
Entree, side dish, appetiser
Ingredients
400 grams paneer/Indian cottage cheese
Corn flour - 2 tbsp
All purpose flour - 2 tbsp
dash of cooking soda/baking soda
Water to mix the above ingredients
2 green bell peppers (sliced)
2 large sized onions (sliced)
3-4 green chillies (slit)
1 tbsp soy sauce
2 tsp green chilli sauce
2 tsp tomato sauce
Salt according to taste
Chopped coriander
Crushed pepper (3/4 tsp)
Crushed garlic (1 tsp)
Instructions
Make a thick batter with corn flour, all purpose flour, dash of salt and cooking soda
Dunk the paneer cubes in batter and ensure that the batter coats all the paneer cubes evenly. Deep fry the paneer cubes coated in the batter and set it aside.
In a separate wok, add oil and saute onions with crushed garlic and green chillies.
As the onions start caramelizing add the green bell peppers and cook for a few minutes till they are tender.
Add soy sauce, green chilli sauce, tomato sauce, pepper and adjust salt according to taste. Mix them well.
Add the fried paneer cubes and stir well till everything blends in together.
Add chopped coriander for garnishing and serve hot!
Notes
You can do a healthier version by not deep frying the paneer and just roasting them in a pan (with a little bit of oil)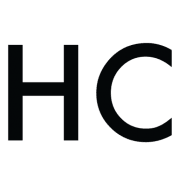 Suchitra Vaidyaram
Suchitra is passionate about cooking flavorful food and loves fusion cooking. She records her recipes on the blog Flavors, which focuses on simple and easy to cook recipes.