A gluten-free whiskey brings the smoky flavors of fall to a delicious caramel apple sauce. Sweet, smoky, tart and with a hint of orange to bring all the spices together. Try it with all of your favorite desserts or ice cream.
By Rina Anastasiou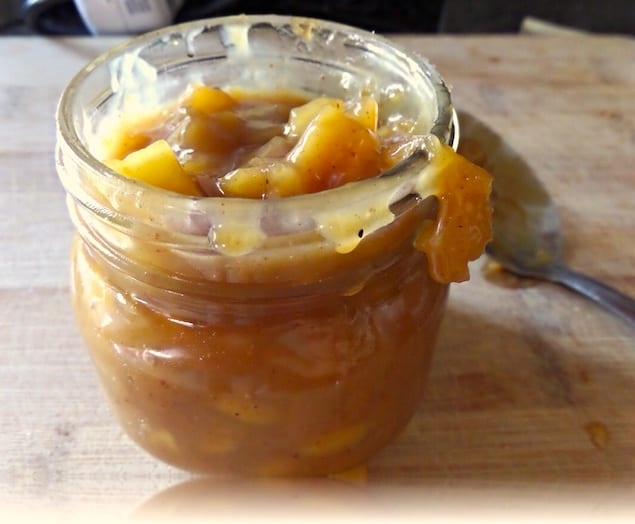 Recently I discovered that Johnnie Walker is gluten free and I got excited! Just to make it clear though,I am not alcoholic,nor like the whiskey in general! I just love it in sauces, sweet or savory. It gives that depth of flavor and that smokiness that I love in fall! So,I decided to make this caramel sauce… Is not your ordinary caramel sauce though! It is sweet,smokey,tart with a hint of orange and the perfect marriage of the spices! I fell in love with this sauce!
Print
Spiced Whiskey and Apple Caramel Sauce: Gluten-Free
Gluten-free whiskey gives smoky flavors to caramel apple sauce perfect with pie or ice cream. Sweet-tart with a hint of orange to bring the spices together.
Author:

Rita Anastasiou

Category:

Condiment, Dessert, Sauce
5

peeled-diced Fiji apples

3 tablespoons

lemon juice

1

cup250 grams packed brown sugar

1 tablespoon

cinnamon

1 teaspoon

ground nutmeg

1/4 teaspoon

cayenne pepper

1 teaspoon

fresh ginger (you can use powder as well)

1/2 cup

/125 ml whiskey ( Johnnie Walker)
zest and juice from half orange

2 tablespoons

cornstarch

1 tablespoon

butter

2 tablespoons

heavy cream
Instructions
Dice apples and toss with lemon juice in a medium-large bowl.
In separate bowl combine brown sugar,cinnamon adenine pepper,nutmeg,ginger,orange zest and cornstarch. Set aside.
Heat over medium-high heat a medium-large saucepan, add the butter and let it melt. Transfer the apples and let for 8 minutes.
Some of the apples will break down,but you'll still have some chunks
Add the whiskey and orange juice. Let the alcohol evaporate for 2 minutes and add the dry ingredients. Whisk to combine and incorporate well.
Add the heavy cream,carefully and stir constantly until the mixture thickens.
Remove from the heat and let sit 5 minutes before transferring to your jars.
Rita Anastasiou
A Greek foodie and dessert-aholic, Rita lives in the crazy rhythms of Las Vegas with her daughter and husband. A graduate of the Academy of Tourism and Culinary Arts of Greece, she has worked as a cook for five years, but she hasn't stop there. At her blog, Gluten Free Home Bakery, she shares gluten free recipes from Greece and beyond.