PARTNER POST: Reinvent potato recipes to be fresher and lighter in the new year. Make it your resolution to try these dishes as nutritious packed lunch ideas.
Skip traditional french fries and make baked potato wedges crusted in a parmesan and spice mixture. Serve with a sweet and tangy campfire sauce for a delicious appetizer.
By Rachael Dart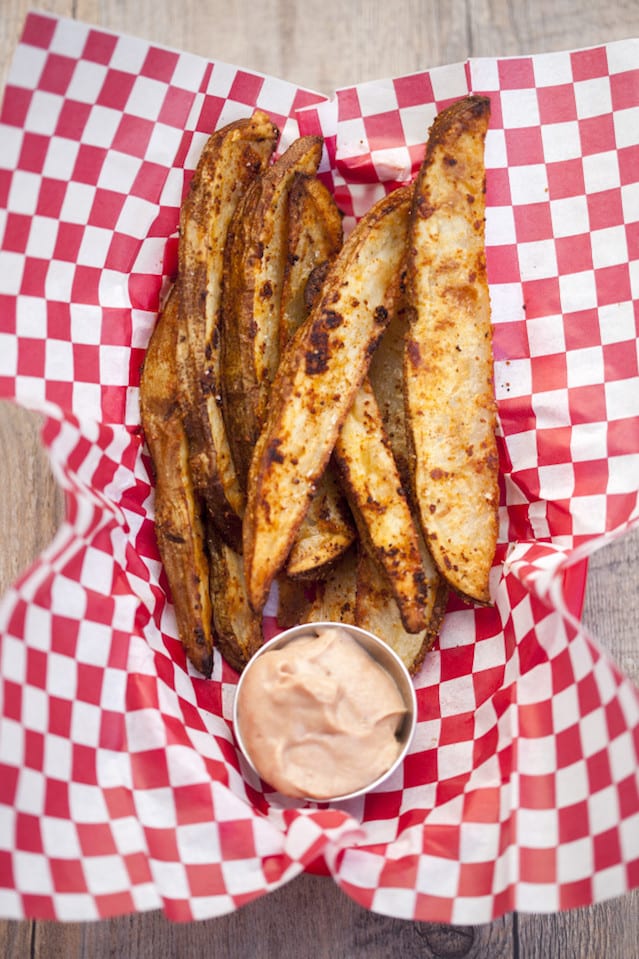 I'm a huge fan of french fries, but they aren't the best thing in the world for you after they've been deep fried, so when the US Potato Board asked me to make a potato recipe with the theme "Renewed Health: Fresher, Lighter, Natural," I knew I had to make my healthy french fry dreams come true in the most delicious way!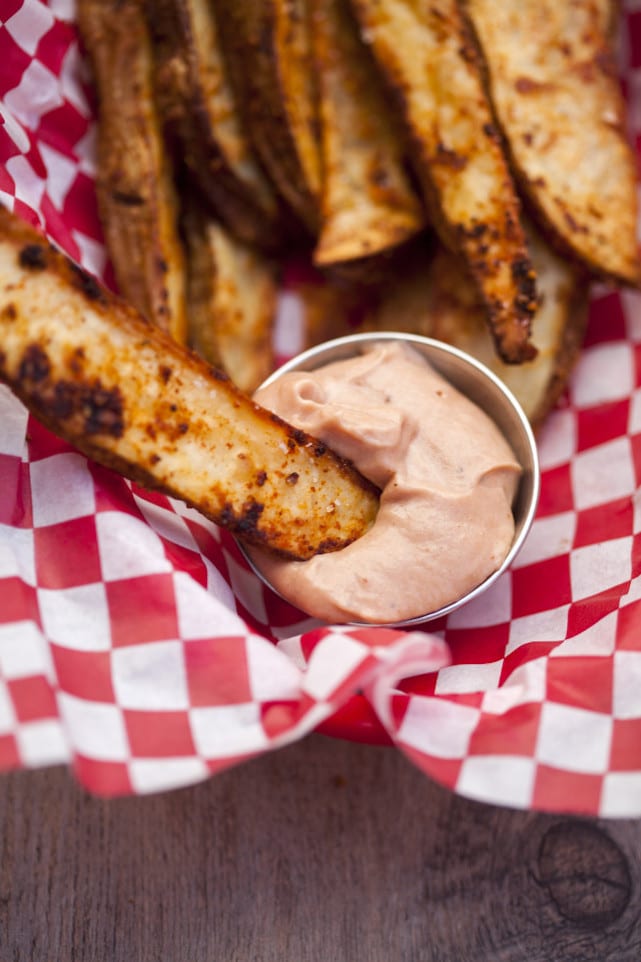 These wedges couldn't be any easier to make (you don't even have to peel them!), and they are a serious crowd pleaser. I took these to a party, and I was shocked at how quickly they were devoured! The outsides are nice and crispy from the parmesan cheese and spices, and the insides are fluffy and delicious.
I paired these tasty wedges with a sauce that has only two ingredients: low-fat sour cream, and BBQ sauce! Whenever I go to a certain burger restaurant, I always get their "campfire sauce" to go with my fries. I tried to somewhat recreate that here, and I think I like my version even better! Not only is it healthier, but the tang from the sour cream pairs perfectly with the potatoes (I mean, who doesn't like baked potatoes and sour cream??).
If you're looking for a bit more potato-y inspiration, check out this amazing recipe video that I can't wait to make myself! Potato paired with squash and sage in a frittata? Yes please, and thank you!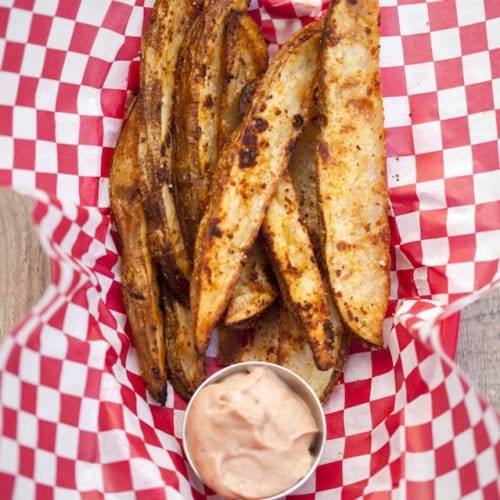 Spiced Potato Wedges and Campfire Sauce
Rachael Dart
Skip traditional french fries and make baked potato wedges crusted in a parmesan and spice mixture. Serve with a sweet and tangy campfire sauce.
Ingredients
For the potatoes:
1

and ½ to 2 lbs Russet potatoes

washed and scrubbed

1

tbsp

roasted garlic olive oil

or sub regular olive oil

1

tbsp

grated parmesan cheese

1

tsp

granulated garlic

1

tsp

sweet paprika

kosher salt
For the campfire sauce:
2/3

cup

low-fat sour cream

1/3

cup

+ 2 tbsp favorite BBQ sauce
Instructions
For the campfire sauce:
Mix the sour cream and BBQ sauce together in a small bowl until smooth.

Cover and place in fridge until ready to serve.
For the potatoes:
Preheat oven to 400 degrees. Wash and scrub the potatoes.

Cut the potatoes in half lengthwise, then cut each half into quarters (producing long, skinny wedges---like giant fries).

Turn the wedges onto a large baking sheet, and toss in the oil. Sprinkle the cheese, granulated garlic, paprika, and a big pinch of kosher salt over top, and toss to coat. Spread the wedges out so they are not touching each other.

Bake for 15 minutes. Remove from oven and flip wedges with a metal spatula. Continue baking for 20 more minutes, until golden brown and crispy.

Serve immediately with campfire sauce!
Rachael Dart
Rachael Dart is a freelance writer and food blogger living in Seattle. After earning her BA in English from the University of Washington, she quit her short stint as a Technical Content Writer to focus on food full-time! On her food blog, Spache the Spatula, she shares recipe creations and adaptations with personality and attitude.