Spiced Peanut Pumpkin Stew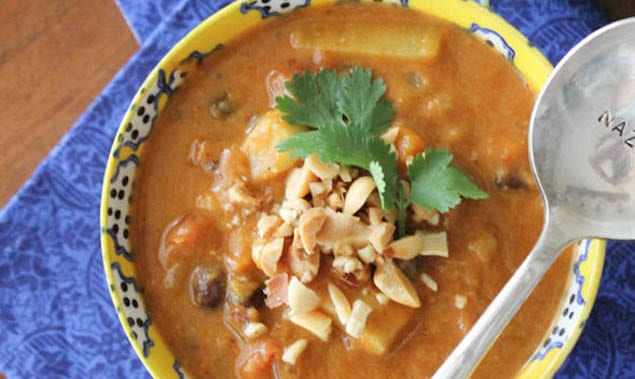 Serve this hearty, vegetarian stew over quinoa on cool fall day. Curry and pepper flakes bring heat to yams and pumpkins and make this an exciting peanut soup.
By Robin Runner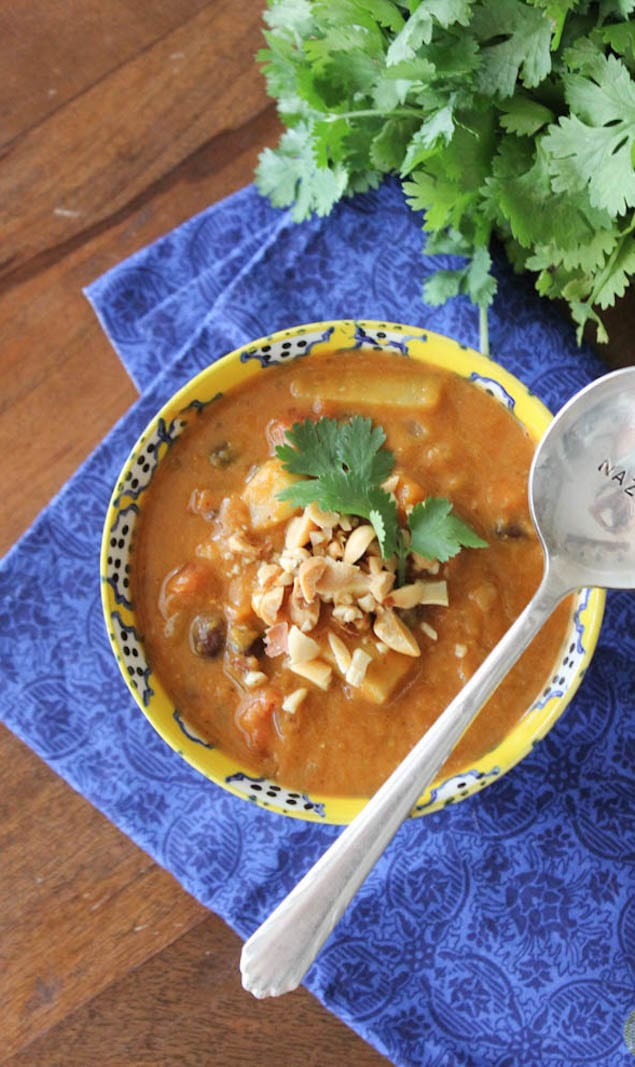 Vegan. Gluten free. On a pumpkin kick here in my kitchen. It's September… it's pretty much my ritual. I made this stew for my husband and I to have all week in my cooking frenzy yesterday and the day and my ingredient list got ahead of me and I was missing some black beans for a taco recipe I was going to whip up for the rest of the family. We all ended up enjoying a bowl of this on a stormy night. Everyone enjoyed it tremendously… I'm convinced you can get any kids to buy in when peanut butter is involved. It would also be delicious served over toasted quinoa, rice or your favorite pasta as well.

Spiced Peanut Pumpkin Stew
Serve this hearty, vegetarian stew over quinoa on cool fall day. Curry and pepper flakes bring heat to yams and pumpkins and this an exciting peanut soup.
Ingredients
Olive oil to drizzle your Dutch Oven
1 small yellow onion, diced
2 carrots, diced
1 yam or sweet potato, diced
1 – 28 oz can of fire roasted tomatoes, crushed
1 small can of pumpkin (16 oz)
⅓ cup of creamy peanut butter (I recommend organic)
3 tablespoons of Bragg's Liquid Aminos or soy sauce
3 teaspoons of curry powder
1 teaspoon of hot pepper flakes
2 cups of vegetable broth
1 can of beans – I used black but kidney or chickpeas would also work Salt and pepper
Garnish: Fresh cilantro leaves and chopped peanuts
Instructions
Place your Dutch oven over medium heat and drizzle about a tablespoon or more of some olive oil in your pan. Heat up and then add your chopped onions, carrots, potato and cook for about 6 minutes.
Then add your tomatoes, pumpkin, peanut butter and liquid aminos or soy. Give a good stir and let simmer for 4 minutes.
Then add the spices, broth and beans. Reduce the heat and cover. I let this cook anywhere from 1-4 hours stirring occasionally. Taste and add salt and pepper as necessary. Serve immediately with your choice of garnishes.
Robin Runner
Robin Runner is the blogger behind www.kneadtocook.com. She grew up around two of her greatest inspirations, her Italian grandmother and her aunt. Both believed in farm to table foods, purity in nature and love as the main ingredient for anything on their menu. Today, Robin is a strong advocate of farming and buying local ingredients, as well as composting to help repurpose food scraps into rich soil for our garden.