Tossed with a tomato sauce made of chilies, spring onions, garlic, and soy sauce this spaghetti takes on a hint of Asian flair. Add the crispy, pan fried paneer at the end for delicious, salty bites.
By Anita Mokashi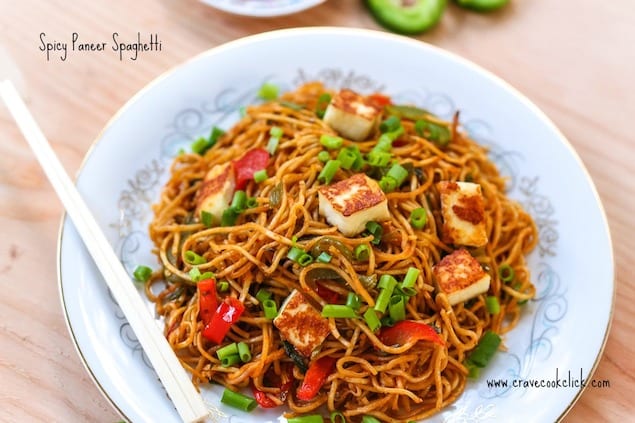 Spiced Paneer Spaghetti
Spaghetti tossed with tomato sauce made of chilies, garlic, and soy sauce. Add the crispy, pan fried paneer at the end for delicious, salty bites.
Author:
Anita Mokashi & Rricha
Ingredients
2 packs of spaghetti
Paneer cubes chopped in square
1 capsicum sliced (green and red)
2 bunch of spring onions
2 tomatoes slice
4-5 green chillies
4-5 garlic pods chopped fine
1 tbsp vinegar
1 tbsp hot sauce
½ tsp soya sauce
Salt as per taste
Instructions
Boil spaghetti and keep it aside.
In a large pan, heat oil.
Add half of the chopped garlic, let it become brown. Add half of the chopped spring onions, tomatoes and chillies.
Now add all the sauces. Add salt.
Let it cool a bit and grind into a paste.
In another pan, heat oil and shallow fry paneer cubes.
In a big pan, heat oil and sautee garlic.
Add the veggies and paste.
Sautee everything well.
Finally add salt, spaghetti and chopped spring onions.
Mix well and add paneer at the end.
Anita Mokashi
Anita Mokashi is based in California, but born and brought up in Mumbai, India. Her blog Crave Cook Click is mostly about Indian cooking, but occasionally she shares recipes from other cultures and cuisines too. Anita is also the publisher of a popular photography blog.