Perfect Snack – Spiced Mixed Nuts Recipe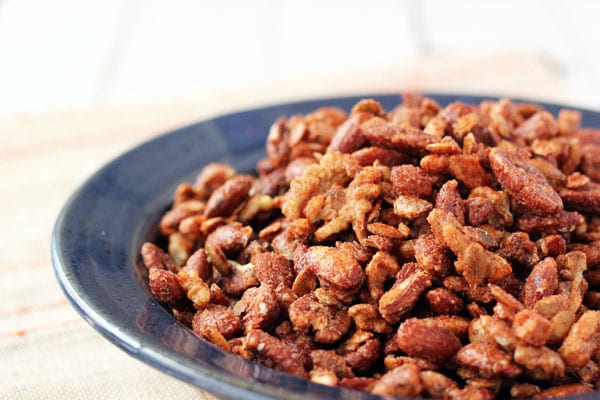 In four very simple steps, you can create a perfect spiced mixed nuts snack.
By Brittany Everett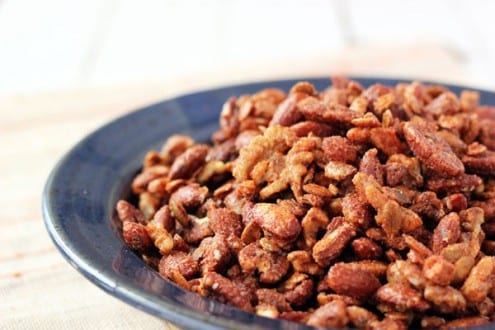 Step 1: go to a grocery store that sells bulk goods and buy an assortment of nuts. Whatever kind you want! Whatever proportions you want!
Step 2: mix together some spices, sugar, and salt. Again, get wild! This is your show!
Step 3: throw them in the oven and go relax for a while – you earned it!
Step 4: pull those beauties out of the oven and give yourself a high five, a pat on the back, or whatever your style dictates.
Then take a moment to reflect: you just made an awesome snack that is way cheaper and healthier than anything you would buy pre-made in the store, AND you made it exactly how you wanted to! No picking out stupid filler nuts or wishing they were spicier. No high-fructose-partially-hydrogenated-whatever-the-hell either.
This recipe is endlessly customizable. You could make sweet ones and add holiday spices like cinnamon, clove and nutmeg. Make them chili flavored with things like chili powder, garlic powder and onion powder.
The recipe below is a great starting point. A little sweet, a little smoky, a little spicy. These are always a hit at parties – Superbowl, anyone?
Perfect Snack - Spiced Mixed Nuts Recipe
In four very simple steps, you can create a perfect spiced mixed nuts snack.
Author:
Brittany Everett, adapted from Food Netowrk
Ingredients
1¼ teaspoons cayenne pepper
1 teaspoon kosher salt*
1 teaspoon cinnamon
1 teaspoon ground ginger
1 teaspoon mustard powder
1 teaspoon smoked paprika
½ cup granulated sugar
1 large egg white
4 cups mixed roasted salted nuts*
Instructions
Preheat the oven to 250 degrees F. Line a baking sheet with parchment paper.
Mix the cayenne, salt, cinnamon, ginger, mustard powder, smoked paprika and sugar in a small bowl. Whisk the egg white in a large bowl until frothy. Toss in the nuts, then add the spice mixture and toss until well coated.
Spread the nuts on the prepared baking sheet; bake until dry, about 45 minutes. Let cool completely on the baking sheet.
Notes
* The amount of salt you need depends on the kind of nuts you use. For this recipe I used roasted & lightly salted almonds and pepitas, but raw walnuts and pecans. I find that for types you wouldn't otherwise eat raw (raw almonds - ick), you need to use roasted ones for the recipe, since they won't really be roasting in the oven, just drying out. Adjust the salt content for the kind of nuts you bought.
Brittany Everett
A graphic designer by day, Brittany enjoys cooking, eating, photographing and discussing food with every other waking moment. She created Kitchenette, a food blog dedicated to making delicious comfort foods from scratch and with love.