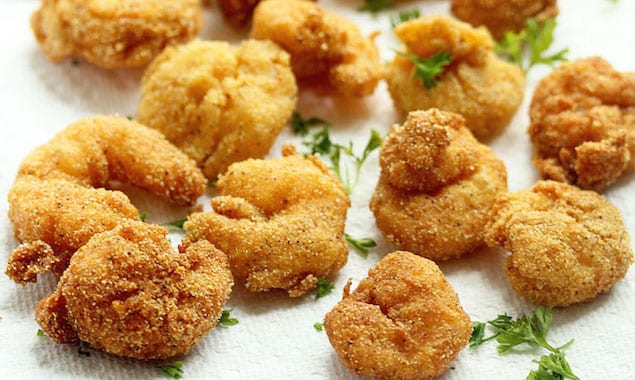 Crispy fried shrimp is seasoned with a flavorful cornmeal flour and is perfect as an appetizer, inside of tacos, or as a fish fry star.
By Jocelyn Delk Adams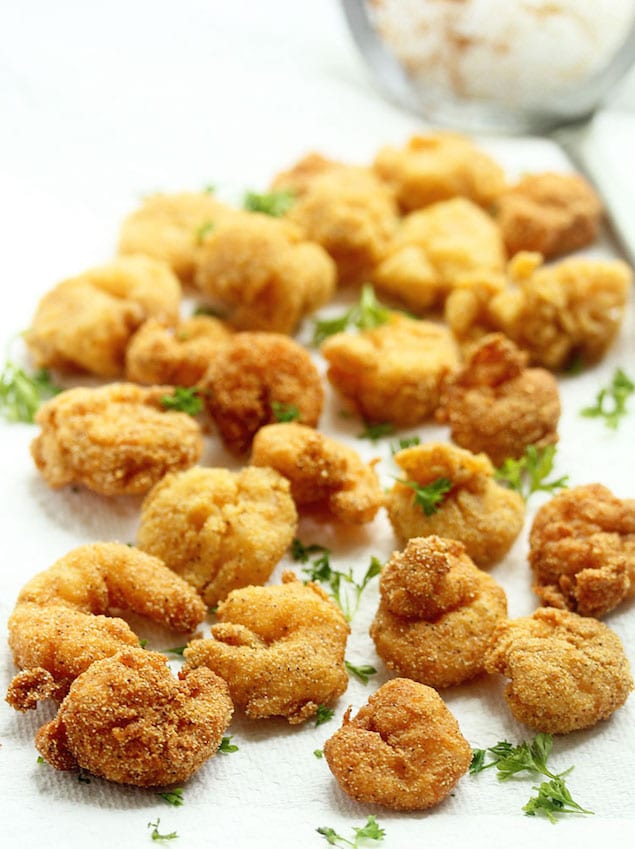 I know most would assume Southern fried catfish or maybe even perch or hush puppies should be my favorite thing that is served at a family fish fry, but nope, it is classic fried shrimp my friends. Those little morsels of seasoned and crunchy deliciousness are beyond sensational, and I can't get enough.
This recipe is quite simple and includes a cornmeal flour batter that you can make a huge batch of and store away for your future fish fry needs. The flavors come together perfectly with a bit of a spicy kick.

Spiced Fried Shrimp
Crispy fried shrimp is seasoned with a flavorful cornmeal flour and is perfect as an appetizer, inside of tacos, or as a fish fry star.
Author:
Jocelyn Delk Adams
Recipe Type:
Appetizer, Main, Side
Ingredients
⅔ cup yellow cornmeal
¼ cup all purpose flour
2 teaspoons salt
½ teaspoon black pepper
½ teaspoon cayenne pepper
½ teaspoon lemon pepper
¼ teaspoon paprika
2 large eggs
2 teaspoons hot sauce
1 pound deveined shrimp
Instructions
In a brown bag or ziploc bag, add cornmeal, flour, salt, pepper, cayenne, lemon pepper, and paprika and shake together.
In a deep pie plate or large shallow bowl, whisk together eggs and hot sauce.
Dip shrimp to beaten eggs then add back into the cornmeal breading and shake liberally to coat well. Place coated shrimp on a baking sheet.
While coating sets, add 2 - 2½ inches of oil to a deep pot and heat over medium high heat.
Fry shrimp until golden brown but don't fry too long. Shrimp doesn't take too long to cook.
Drain on paper towels and serve.
Jocelyn Delk Adams
Jocelyn Delk Adams is the founder of Grandbaby Cakes, a food blog inspired by her grandmother devoted to classic desserts and savory recipes, modern trends and showcasing the pastry field in an accessible way. She is a brand ambassador and writer for top brands such as Pillsbury, Better Homes and Gardens, Parade Magazine, Safest Choice Eggs, KitchenAid, Dixie Crystals Sugar, Jif Peanut Butter, and many more. In the short span of 2 years, Grandbaby Cakes has been featured in Better Homes and Gardens, Ebony Magazine, The New York Times Online, Refinery 29, Cupcakes and Cashmere, The Kitchn, Fox News, WCIU, Chicago Social Magazine, the Chicago Sun-Times and Splash Magazine, among others. She is currently writing her first cookbook which will be published in Fall of 2015, and is the founder of A Charitable Confection, an annual anti-violence dessert fundraiser featuring the top bakeries in Chicago. Jocelyn hopes Grandbaby Cakes will inspire a new generation of dessert enthusiasts to learn to bake and not feel guilty about enjoying dessert.