Eggplant can be a tricky, especially when you're learning to cook with it for the first time. Maybe you just need to learn a few more facts about this interesting veggie.
By Jules Clancy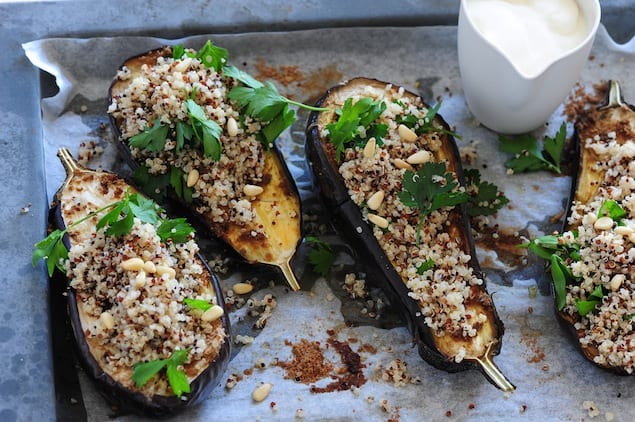 Here are 5 things you should know about eggplant.
1. Eggplant doesn't need salting
One of the intimidating things about cooking eggplant is when recipes call for salting the eggplant before cooking. They often talk about salting to "remove the bitter flavors" but in my experience, modern eggplants aren't really bitter. So I tend not to bother with salting. That being said, salting the eggplant can help minimize the amount of oil it absorbs when you're pan frying it. Again, I tend not to bother, but it's up to you…
2. Eggplant loves olive oil
Eggplant grilled without oil is an entirely different beast to the same vegetable fried in olive oil. The grilled version never develops the wonderful silky texture that only olive oil can bring. So if you are going to cook eggplant, be generous with the olio.
3. Eggplant loves the summer
While they are pretty much available year round, eggplant are in peak season from late spring to early autumn.
4. Bigger isn't necessarily better
Medium sized are usually best. Those that are smooth, shiny and heavy for their size are most likely to be the freshest and have the least seeds. As eggplants get old they go all wrinkly.
5. Eggplant shouldn't be eaten raw
I'm not sure why you'd want to, but thought I'd throw this in just in case. They contain the toxin solamine which can cause gastro problems among other things.
Healthy ideas for eggplant include grilling up those finger-shaped Japanese eggplant– just halve and grill on the BBQ. No collection of eggplant ideas would be complete without the fabulous Lebanese dip/spread called babaganoush. Charring the eggplant first can get a bit messy but it's totally worth it for the intensely smoky flavour for the spread. For vegetarians, the rich silky texture of cooked eggplant also makes a fabulous alternative to regular steaks.
It's up to you whether you eat the eggplant skins or just scoop out the tasty flesh.

Spiced Eggplant with Yogurt and Quinoa
Ingredients
2 large eggplant
2 teaspoons ground coriander
5oz (150g) quinoa
1 bunch flat leaf parsley, leaves picked
6-8 tablespoons natural yoghurt
large handful pine nuts, toasted
Instructions
Preheat oven to 400F (200C). Halve eggplant lengthwise then score the cut side by cutting in a chunky crisscross pattern. Place cut side up on a baking tray. Drizzle generously with olive oil and scatter over the ground coriander and a little salt and pepper.
Bake eggplant for 40 minutes or until very tender.
While the eggplant is cooking, bring a pot of water to the boil. Rinse quinoa and add to the boiling water. Simmer for 12-15 minutes until quinoa is just tender. Drain and toss with the parsley leaves.
When the eggplant is cooked, scatter over the quinoa parsley mixture. Drizzle with yoghurt and finish off with the pine nuts.
As a dairy free/vegan option you could make a tahini sauce to replace the yogurt by combining equal quantities of tahini, lemon juice and water. For meat lovers, go ahead and brown some ground lamb or beef in a pan and scatter over the quinoa.
Jules Clancy
Jules Clancy is a former Food Scientist turned Author and Simplicity Lover. She only writes recipes with 6-ingredients or less. She lives in Australia blogs about 6-Ingredient Dinners over at Stonesoup.