This delicious mildly sweet and mildly spicy dish with the aroma of clarified butter will send your senses spinning. The steamed balls are a fun side dish filled with vegetables and spices.
By Nandita Nataraj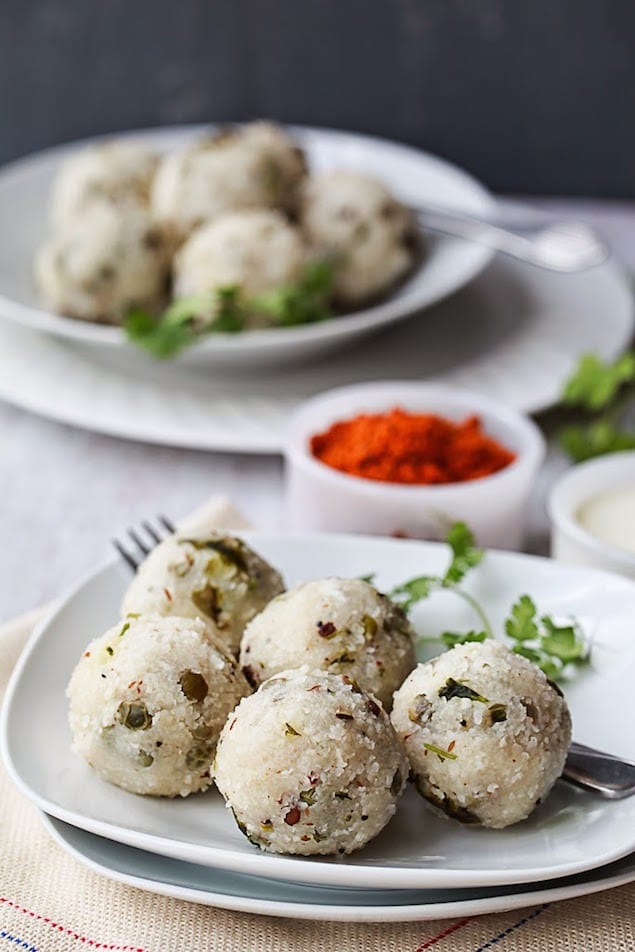 The Akkitari Kadubu is a classic Kannada dish that is almost like Upma. Only, it is twice cooked. First, the cream of rice is cooked with the tempering till it reaches the Upma consistency and then it is shaped in small balls and steam cooked for the second time.
The akki tari Upma and Kadubu tastes best if made with Avarekaalu or Hyacinth beans. If hyacinth beans are not available, then it can be substituted with equal amount of peas, pigeon peas or vegetables like carrot and french beans.
This delicious mildly sweet and mildly spicy dish almost always takes me back to the village that I had visited as a little girl. I must have been eight or nine years old when we visited this quaint little village called EG halli (halli means village in Kannada). The aroma of the avarekaalu (hyacinth bean) and clarified butter had sent my senses spinning. I think that was the moment when a upma hater like me turned into a Upma lover. Even after all these years, the scene of the Upittu being cooked on a rustic chulha (the brick and mortar stove) is still vivid in my mind.
See Also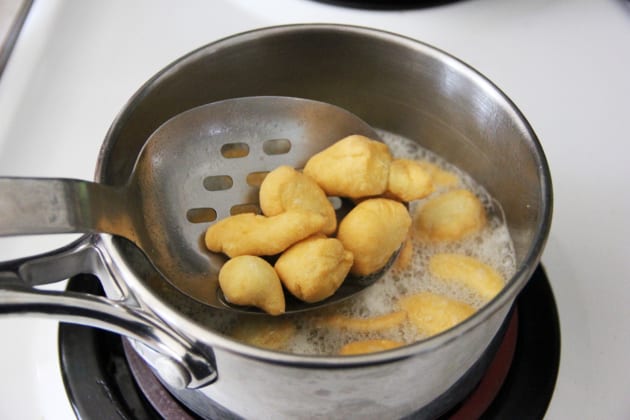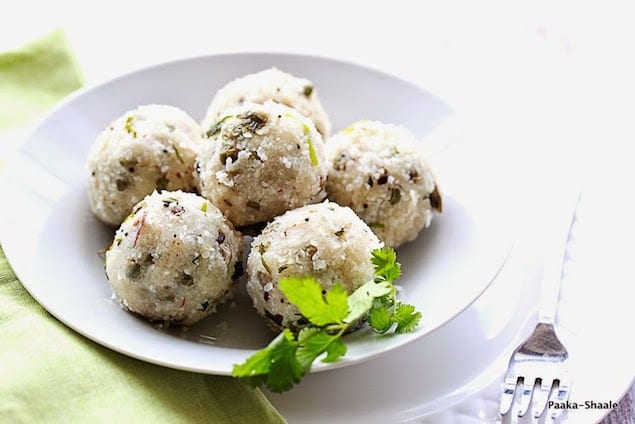 Spiced Cream of Rice Dumplings
A delicious, mildly sweet and spicy dish with an aroma of clarified butter will send your senses spinning. Steamed balls are a fun side filled with veggies.
Ingredients
Akki tari or Cream of rice- 120gm or 1 cup
Togari kaalu or pigeon peas- 1 cup, par boiled
Oil or ghee- 2tbsp
Mustrard seeds- ½ tsp
Cumin seeds- ½ tsp, coarsely crushed
Bengal gram or chana dal- 1tsp
Black gram or Urad dal- 1tsp
Asafetida- a large pinch
Curry leaves- 8-10
Green chili- 1, finale chopped
Water- 2-1/2 cups
Freshly ground black pepper powder- ½ tsp
Salt- to taste
Freshly grated Coconut- ½ cup
Coriander leaves- 3-4 tbsp
Instructions
Dry roast the cream of rice till fragrant (don not let it turn brown) and set aside to cool.
Heat oil or ghee in thick bottomed pan and add the mustard seeds.
Once it sputters add the crushed cumin seeds, channa dal, urad dal and fry till the lentils are brown.
Add the asafetida, curry leaves and green chilies and fry till the curry leaves are crisp.
Add two and a half cups of water and allow the water to bring to a gentle boil. At this point, stir in the par boiled pigeon peas, coconut and the roasted cream of rice. Mix well and cook covered on low heat for 5-10mins or till the liquid is completely absorbed.
Add the coriander leaves and take off the heat.
Wet your hands in cold water and scoop out ping pong sized balls of the upittu and shape them into balls.
Arrange the balls in a greased pan and steam bake the upittu for 5-10 in a pressure cooker.
Turn off the heat and allow the dumplings to cool for five mins. Serve hot with ghee and chutney of your choice.
Nandita Nataraj
Nandita was born, bred and spread in India, but right now lives in Tanzania where her quest for simple and exotic pleasures of food led to the creation of the blog Paaka-Shaale. She believes that food is not just a means to feed a body. But it is also meant to appeal the mind and satiate the soul.