This slightly spicy chutney works well with fried fritters of all sorts or spread inside a gooey grilled cheese.
By Rinku Bhattacharya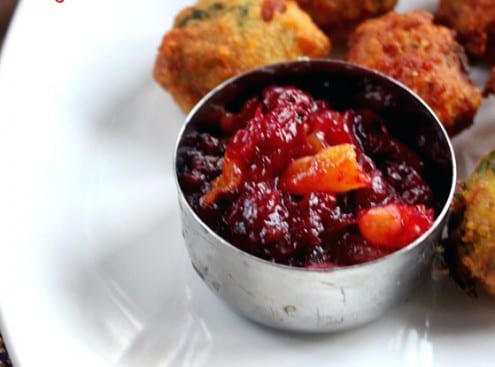 Spiced Cranberry and Apricot Chutney
This slightly spicy chutney works well with fried fritters of all sorts or spread inside a gooey grilled cheese.
Author:
Rinku Bhattacharya
Ingredients
11/2 tablespoons of oil (preferably mustard)
11/2 tablespoon very finely diced or grated ginger
1 teaspoon mustard seeds
½ teaspoon nigella seeds
1 cup of cranberries
4 bay leaves
11/2 cups of water
¾ cup of brown sugar
11/2 teaspoons crushed red pepper flakes
½ cup of slivered apricots
Instructions
Heat the oil and add in the ginger and saute lightly for a minutes.
Add in the mustard seeds and wait for them to pop. Add in the nigella seeds.
Add in the cranberries and the bay leaves and the water and sugar and the red pepper flakes.
Bring the mixture to a simmer and cook for 15 minutes until the cranberries pop and soften, you will actually hear the cranberries pop! My kids have a lot of fun with this.
Stir in the apricots and cook for another 5 minutes.
Cool and serve. This can be stored in the refrigerator for up to 6 months.