Spiced Cider Holiday Cocktail
This spiced cider cocktail from Brittany Everett is the perfect drink for the Holidays.
By Brittany Everett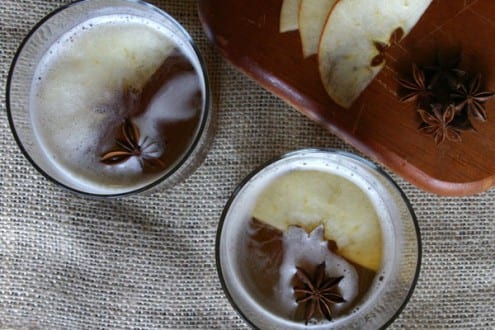 I don't drink cocktails too often; I'm more of a beer and wine kind of gal. However, there's something wonderful about being handed a beautiful, seasonally appropriate cocktail as you arrive at a dinner party or holiday gathering. And if the cocktail is strong… well now we're really getting a party started.
I don't mean I want my cocktail to taste like straight booze, either. I want its flavor to remind me that there is alcohol in the drink, but really, are we putting all this effort in to mixing a drink for it to taste like alcohol? I know I'm not. So for me there has to be a balance between the punch of booze and its supporting cast of flavors.
This particular cocktail was born from a need to use up some delicious apple cider and – let's face it – an apparent desire to spend my afternoon drinking. Anything in the name of research, right? Thankfully for my liver, this recipe didn't require too much tinkering. You really can't go wrong with the combination of bourbon, apple, and warm wintery spices.
To start, I made a simple syrup with two of my favorite whole spices: star anise and cloves. Their flavors work well in both sweet and savory dishes, so why not in a drink? I love any excuse to make a really flavorful simple syrup; the leftovers are great stirred into yogurt, drizzled over fruit or added to tea as a sweetener.
The first attempt at making this drink was good, but I knew it was missing something. I quickly reached into the darkest corner of my liquor cabinet and dug out the long-forgotten hero of many a drink of yore: bitters. Specifically: Angostura bitters. If you don't have this in your collection you're missing out. It might not be for everyday use but when called for, this stuff really takes a drink over the top.
With the Holidays here, I say it's time for a dinner party with good friends, great food, and a spiced cider cocktail.

Spiced Cider Holiday Cocktail
The perfect cocktail for the Holidays
Ingredients
3 oz apple cider
2 oz bourbon
1 oz spiced syrup, recipe below
2 dashes Angostura bitters
apple, thinly sliced, for garnish
star anise, for garnish
lemon or lime juice, for garnish
For the spiced syrup:
1 cup water
1 cup sugar
3 star anise
4 whole cloves
Instructions
Prepare the garnish. Cut an apple in half lengthwise, then cut into thin slices. If you use the slices from the middle of the apple you'll get that pretty star shape from where the seeds were. Put the apple slices into a bowl of ice water with a squeeze of lemon or lime juice. This will keep them from turning brown.
Fill a cocktail shaker with ice. Add apple cider, bourbon, spiced syrup, and bitters and shake with a fury for about 10 seconds. Strain into a short glass and garnish with an apple slice and star anise.
For the spiced syrup
Combine water, sugar, star anise, and cloves in a small saucepan. Bring to a boil over medium heat and cook, stirring occasionally, until the sugar is dissolved. Take off heat and allow to cool. Strain out spices.
Yields: 1 drink
Brittany Everett
A graphic designer by day, Brittany enjoys cooking, eating, photographing and discussing food with every other waking moment. She created Kitchenette, a food blog dedicated to making delicious comfort foods from scratch and with love.