Spiced Chickpea and Avocado Salad with Tahini Dressing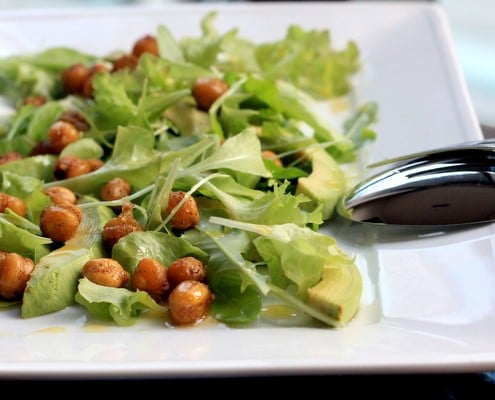 The combination of crisp chickpeas, creamy avocado, and flavorful tahini dressing make this salad the star of even the simplest of dinners.
By Jessica Smith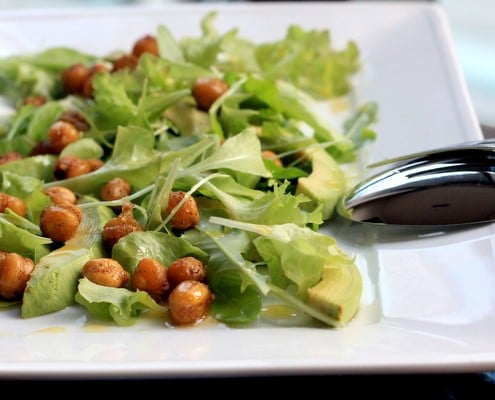 Something remarkable happens to chickpeas when they are tossed in spices and pan-fried over high heat.  They become crisp on the outside, smooth and creamy on the inside.  They become something impossible to resist eating straight out of the pan.
There are hundreds of ways to serve spiced chickpeas, but this simple salad is a worthy place to start.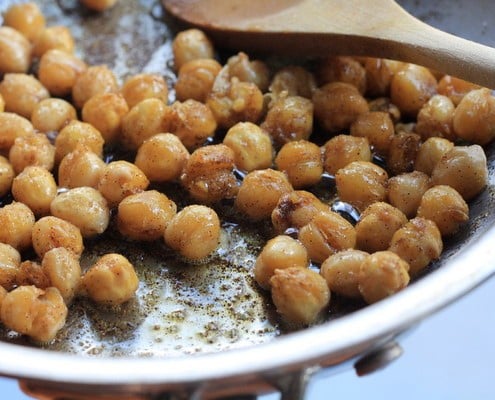 Although the recipe that follows calls for sautéing a small amount of chickpeas (just enough for the salad), a larger quantity of chickpeas can be easily prepared by roasting.  Simply toss cooked chickpeas in olive or vegetable oil and any combination of spices.  Spread them out on a baking sheet and place in a 400 F (200 C) oven.  Shake the pan occasionally to help them to cook evenly, and remove when they are golden brown and crisp, about 30 minutes.
Odds are, no matter how many spiced chickpeas you prepare, they will be gone before the day is up.
Spiced Chickpea and Avocado Salad with Tahini Dressing
The combination of crisp chickpeas, creamy avocado, and flavorful tahini dressing make this salad the star of even the simplest of dinners.
Ingredients
2 cups (450 grams or 1 16-oz can) cooked chickpeas
2 Tbsp. olive oil, divided
2 tsp. paprika
2 tsp. ground cumin
1 tsp. white sugar
pinch of cayenne pepper (optional)
salt and pepper, to taste
10 oz. (285 grams) mixed salad greens
2 ripe avocados, cut into slices
for the dressing:
¼ cup olive oil
juice squeezed from half a lemon
2 tsp. tahini
2 tsp. honey
1 clove of garlic, minced
salt, to taste
Instructions
Rinse and drain the chickpeas. Place chickpeas between towels and rub gently until very dry.
In a medium bowl, toss the chickpeas with 1 tablespoon of olive oil. Sprinkle the chickpeas with paprika, cumin, sugar, cayenne, salt, and pepper, tossing to coat evenly.
Heat the remaining one tablespoon olive oil in a medium saute pan over medium-high heat. Just as the oil begins to smoke, add the seasoned chickpeas to the pan. Cook, stirring frequently, until the chickpeas turn an even golden brown, about 5 minutes. Spread the chickpeas on paper towels to cool.
Right before serving, combine the cooled chickpeas, salad greens, and avocados.
Whisk together the ingredients for the dressing until smooth, adding salt to taste.
Drizzle the dressing over the salad as desired and serve immediately. (Reserve any remaining dressing in the refrigerator for up to three days.)
Notes
Chickpeas (also labeled as garbanzo beans) can be bought dried or pre-cooked in cans. In this recipe, the chickpeas can be prepared a couple hours ahead of time, but will not remain as crisp if stored overnight before serving. The salad dressing can be prepared in advance and stored in the refrigerator for up to three days. Store in a sealed container and shake vigorously before serving.
Jessica Smith
Jessica Smith is a native of the American Midwest, currently living in Thailand where she writes about food and travel throughout Southeast Asia. Jessica believes that the best way to understand a place is through its local cuisine.