PARTNER POST: Discover the nutritious and versatile wonders of watercress with these tasty recipe ideas.
Sweet butternut squash combines with cumin and smoky chipotle pepper and chickpeas to make for a deliciously balanced and filling watercress salad.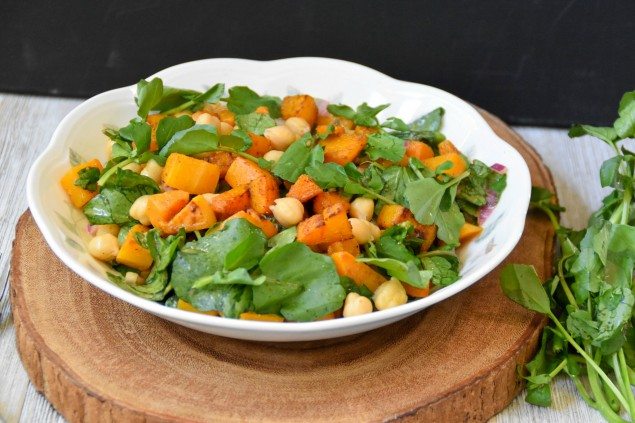 Salad is frequently served in our house; my version is entirely different from my hubby's. He makes his more often with vegetables only. However when I try to add in roasted vegetables or chickpeas or coconut.This time I made my salad with watercress topped with spiced, roasted butternut squash.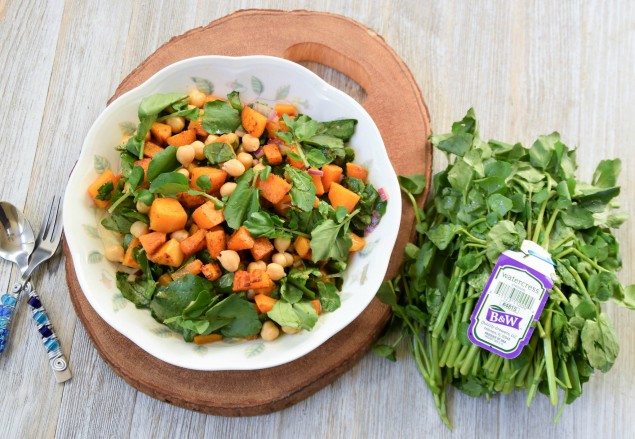 This salad is really filling and is lightly spiced with cumin and chipotle pepper which perfectly match the sweet butternut squash and cooked chickpeas that blend very well with the peppery watercress. Do you know watercress is a cruciferous plant grown for centuries? It has been around since the time of Socrates and is one of the healthiest leafy vegetables on the planet.
It has a delicious taste that stands out from many of the muted flavors other salad greens provide, with wide variety of culinary versatility. Watercress contains vitamin A, vitamin B6, vitamin B12, iron, magnesium, calcium, phosphorus all of which are required for a healthy body. Watercress also contains the antioxidant alpha-lipoic acid, which has been shown to lower glucose levels, increase insulin sensitivity, and prevent oxidative stress-induced changes in patients with diabetes. Because my hubby is diabetic and his blood sugar is controlled with medicine and food, I am always enthusiastic about any veggies or other natural products that can help controlling diabetics.
Click HERE to get the recipe for this salad.
See Also
Make sure to enter the giveaway below for a chance to win $50 Visa gift card.
Swathi Iyer
Swathi ( Ambujom Saraswathy) loves to explore cuisines from all over the world, and write about the ones that she and her family enjoyed on her blog Zesty South Indian kitchen. She loves to gives an Indian touch to several of the world cuisine, and has weakness for freshly baked bread. She is also a mom to two wonderful young kids who gives a up or down vote to the food she creates.