During the winter months, soup-making is second nature to Chitra Agrawal. Enjoy this spicy butternut squash and dill soup recipe.
By Chitra Agrawal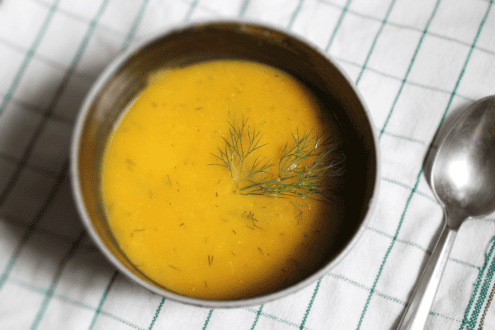 Spicy Butternut Squash and Dill Soup
Ingredients
1 butternut squash, roasted
2 tablespoon ghee or oil
2 leeks, chopped
2 garlic cloves, minced
1 inch ginger, grated
2 green chilis or 1 jalapeño, chopped
1½ teaspoon cumin powder
⅓ teaspoon turmeric
1½ teaspoon coriander powder
6 cups water
2 tablespoons dill, chopped
salt to taste
2 teaspoons lemon juice
serve with dollop of yogurt (optional)
Instructions
To roast the squash:
Preheat oven to 400 degrees fahrenheit. Cut butternut squash in half and remove the seeds and stringy stuff. Coat the squash with about 1-2 tablespoons of vegetable or canola oil and put them face down on a baking sheet. Cook the squash for about 25-30 minutes, or until they are soft to the touch.
Scoop out the inside of the squash and set aside.
In a pot, heat 2 tablespoons of ghee or oil under medium-high heat. When hot, add in the leeks and fry until translucent and fragrant. Turn the heat to medium and stir the garlic, ginger and green chills in for 30 seconds.
Add in the cumin powder, turmeric, coriander powder and mix well. Immediately add in the butternut squash and stir well. Next add in the water and salt and stir again. Bring to a boil and then simmer for 15-20 minutes. Turn off the heat.
Using an immersion blender or a regular blender, puree the soup. Mix in the dill, lemon juice and salt to your taste.
Serve with a dollop of yogurt on the top.