Perfectly moist, spicy and flavorful, this apple coffee cake has a rich and tender crumb, perfect for breakfast, brunch, or dessert. The sweet vanilla glaze adds a touch of flavor, perfect with a big mug of coffee.
By Erin Mahoney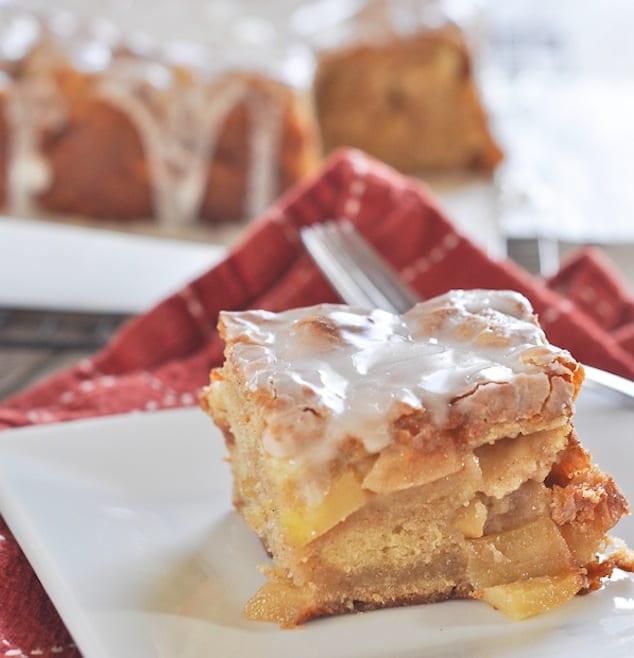 This frigid weather is definitely motivation to turn on the oven and bake, and this is the perfect recipe to warm you right up. There's just something so warm and comforting about apples and cinnamon. Wait until you see the batter for this cake. It's slightly tangy from the cream cheese, but it's silky and smooth and velvety, you really won't be able to wait for it to come out of the oven. Your house will smell fantastic, and the only thing that will help you deal with the torture of waiting for it to finish baking is that your will be rewarded with a delicious piece of cake.

Spiced Apple Coffee Cake
Adapted from William Sonoma Muffins Cookbook
Ingredients
1 and ¾ cups all-purpose flour
1 and ½ teaspoons baking powder
¼ teaspoon salt
3 tart cooking apples (Granny Smith, Braeburn, etc.) or 1lb total weight, peeled cored and coarsely chopped
2 Tablespoons freshly squeezed lemon juice
⅓ cup packed brown sugar
1 teaspoons cinnamon
1 teaspoon ground cardamom (don't have it? just double the cinnamon)
½ cup unsalted butter at room temperature
8 ounces cream cheese, at room temperature
1 and ½ cups granulated sugar
1 teaspoon vanilla extract
2 large eggs at room temperature
Glaze
¾ cup powdered/confectioners sugar
2 Tablespoons milk or cream
½ teaspoon vanilla extract
Instructions
Preheat oven to 350 degrees (F).
Prepare a 9x9 baking pan with cooking spray and parchment paper. Allow flaps of parchment to hang over the side of the pan to help with removal. Set aside.
In a small bowl, sift together flour, baking powder and salt.
In another bowl, toss chopped apples with lemon juice.
In a small bowl, whisk together brown sugar, cardamom and cinnamon. Pour over apples and stir to thoroughly coat. Set aside.
In a large bowl, combine butter, cream cheese and granulated sugar, and beat until light and fluffy. Add eggs, one at a time and beat each until fully incorporated. Add vanilla, and beat to combine.
Slowly add dry ingredients, beating until just incorporated. Don't overbeat.
Use a spatula to fold the apples into the batter.
Pour batter into prepared pan and spread evenly.
Bake until the top is golden brown, about 60-70 minutes.
Check done-ness with a cake tester or toothpick, it should come out clean. If cake gets too dark on top, you can cover it with foil for the last 15 minutes or so.
Allow to cool on a wire rack in the pan for 10 minutes.
Use parchment paper flaps to lift cake out of the pan, and place on a wire rack.
Place the wire rack and cake over a baking sheet or a piece of parchment paper before icing to catch drips.
For glaze:
Combine powdered sugar, milk and vanilla in a small bowl and whisk to combine. Add more milk a few drops at a time if necessary, to reach a smooth and pourable consistency.
Pour over warm cake.
Erin Mahoney
Erin Mahoney is a food blogger from the Kansas City area. With a day job in the TV business and two little girls at home, this busy Mom spends her very limited free-time experimenting in the kitchen. While her culinary efforts tend to fall on sweet treats and comfort foods, her focus is on real, from-scratch food for her family and friends. Her blog, Lemon Sugar, is full of whimsical recipes and anecdotal stories that will warm your heart and make you hungry.