These pancakes are fluffy and the spelt gives hints of sweetness to each bite.
By Julie McAleenan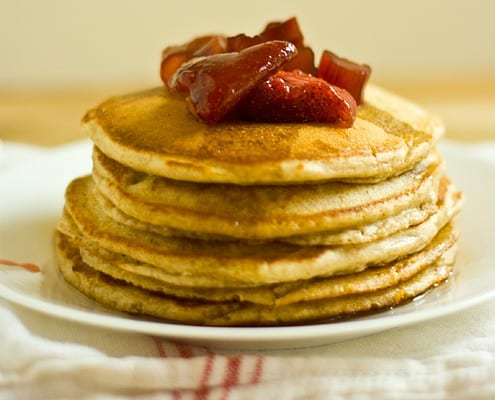 Pancakes are of my husband and mine's favorite breakfast meals. Slathered with maple syrup and served with bacon and a bloody mary on the side, Sunday morning never looked better.
I'd yet to cook with spelt flour, but attempting to stay away from gluten and high gluten flours, I thought we'd give it a try.  These pancakes are fluffy and the spelt gives hints of sweetness to each bite.  Even my picky nephew will have a few bites!  Rather than using maple syrup, we doused the pancakes in rhubarb strawberry preserves!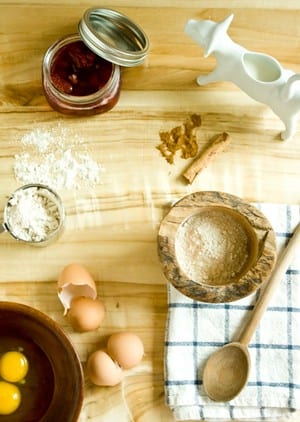 Move over Bisquick! These spelt pancakes are low gluten and delicious for any Sunday morning!
Ingredients
1 cup (120 g) spelt flour
¼ cup (30 g) oat flour
¼ cup (30 g) rice flour
1 tablespoon packed light brown sugar
2 teaspoons baking powder
¼ teaspoon baking soda
1 teaspoon salt
½ teaspoon ground cinnamon
1 teaspoon vanilla extract
1 cup (240 ml) whole milk
½ cup (120 ml) plain yogurt (whole milk)
3 eggs
3 tablespoons olive oil
2 tablespoons butter for the griddle
Instructions
First, mix all of the dry ingredients together in a bowl.
Then add in vanilla, milk, yogurt, oil, and eggs (make sure to mix eggs first in another bowl incase a piece of the shell breaks off).
Whisk together the ingredients until a smooth batter is formed.
Use a griddle over medium-low heat and melt butter.
Pour about ¼ cup batter onto the griddle (I have a large griddle and can cook three pancakes at a time).
Let cook for about 4 to 5 minutes.
Flip!
Cook on the other side for about 4 to 5 minutes or until golden brown.
Serve immediately!
Julie McAleenan
Julie McAleenan is the carrot behind Burnt Carrots, a cooking and food photography blog. Her writing focuses on the daily adventures of a decidedly unprofessional chef. A camera never leaves her side as she seeks to capture the story behind real, honest food.