It's never too late to enjoy the flavors of the season. Spelt Orecchiette with Spring Peas combines the fresh taste of peas with a healthy take on pasta.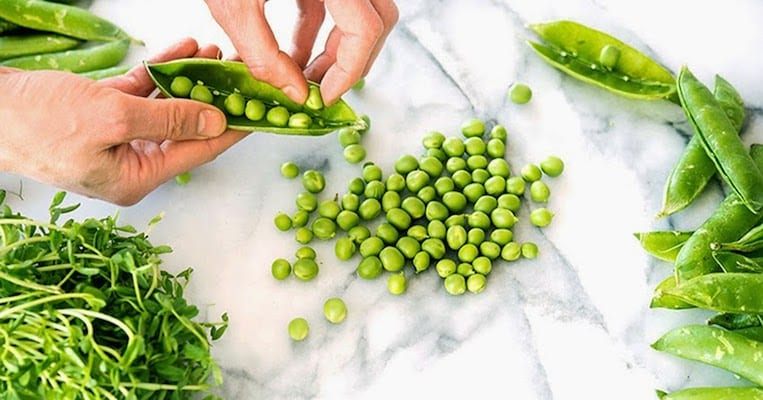 This is a pea galore pasta dish that celebrates fresh produce. The base is a simple pea puree (either from fresh or frozen), mixed with a pea stock made from the discarded pea pods (alternatively, substitute vegetable stock, chicken stock, or even a little pasta cooking water); just thought, why waste the pea pod shells when they make a wonderful stock with whatever other vegetable scraps you might have on hand. To round things out, some crispy speck (pancetta or smoked bacon would also work nicely), green garlic, and some spicy arugula went into the pasta.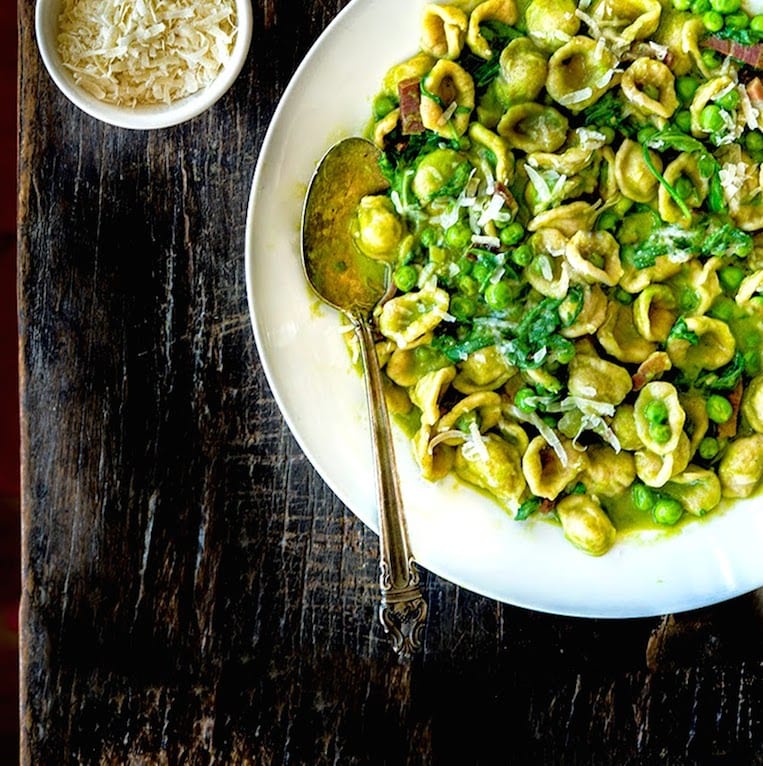 Of course, you can use store bought pasta for this dish. I just happen to have a 'thing', a 'fixation' let us say, for homemade pasta. Orecchiette is one of my favorite pasta shapes to make. It does't require any special equipment. Neither a KitchenAid mixer nor a pasta machine/roller was used in making this pasta. Just flour(s) and water (and a pinch of salt). All done by hand, the old-fashioned way.
Making the orecchiette takes a little bit of time, but once you find your rhythm the process goes pretty fast. The orecchiette freeze well. Just let them air dry (in a single layer) and then you can package in ziplock bags and store in the freezer.
I decided to experiment today and substituted spelt flour in place of half of the 00 flour; semolina comprised the remainder.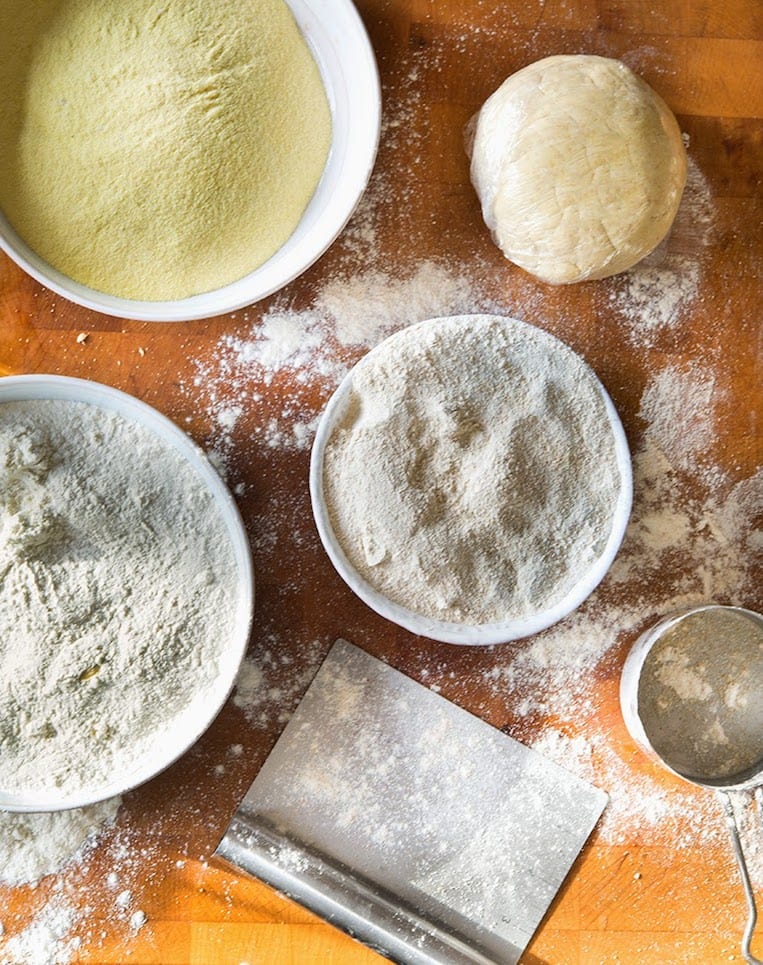 Print
Author:

Linda Schneider

Yield:

4

Servings

1

x
Category:

Primi
Pea Puree
2/3 cup

5 ounces peas (fresh or frozen)

1/2 cup

lightly packed pea shoots or

ten

drils
salt to taste
~1/4 cup water
Pea Stock (Optional)
pea pod shells (leftover from the pea puree)

1/2

white onion

1

clove of garlic

1

small fennel bulb (halved (plus a few fennel fronds))
zest of a lemon
few black peppercorns

1

bay leaf

1

small Parmesan rind
Spelt Orecchiette
makes

1

lb of pasta

1 cup

semolina flour

1/2 cup

spelt flour

1/2 cup

00 flour

1 teaspoon

sea salt
~3/4 cup tepid water
To Finish
1 tablespoon

olive oil

3 ounces

thick cut pancetta (speck, or smoked bacon, cubed)

1

to

2

tablespoon green garlic or 2 to 3 cloves of garlic (minced, more or less to taste)
~1/2 cup pea stock (vegetable stock, chicken stock, or pasta cooking water)

5 ounces

shelled peas
pea puree (from above)

2 tablespoons

butter
spelt orecchiette (from above or *1 pound store bought pasta)

3

to

4

large handfuls of baby arugula
squeeze of lemon
sea salt and freshly ground black pepper
Parmesan (freshly grated)
Instructions
Pea Puree
Bring a pot of water to a boil. Prepare an ice water bath. Drop the peas and pea shoots/tendrils into the boiling water. Boil for a minute or two, then using a slotted spoon transfer to the water bath. Drain.
Place the peas and pea shoots/tendrils in a blender jar. Season with salt. Add enough water to blend to a smooth, thin puree.
Pea Stock (Optional)
Place all ingredients in a soup/stock pot and cover with water. Bring to a boil. Reduce the heat and simmer for 30 minutes. Cover and steep for another 15-20 minutes. Strain.
Spelt Orecchiette
Mix the semolina flour, spelt flour, 00 flour, and salt. Transfer to a clean work surface and make a well in the middle. Add the water a little at a time, stirring with your fingers (or fork) until the flour is incorporated. Continue to knead. 8-10 minutes, until the dough is soft and springy. Cover with plastic and rest for 30 minutes.
Cut off a piece of dough. Keep the rest of the dough wrapped in plastic wrap to prevent it from drying out. Roll out the dough to form a thin log, about a thumb's width. Cut the log into small pieces ~1/2″ thick.
Place the dull end of a butter knife at the cut end of a piece of dough furthest from you and roll it towards you to form what looks like a hotdog bun (or cavatelli). Turn the cavatelli inside out and shape over your thumb to form a dome or orecchiette. Place on the tray lined with semolina. Repeat with the remaining dough.
At this point, you can let the orecchiette dry and then freeze them, or cook right away.
To Finish
Bring a large pot of salted water to a boil.
Heat the oil in a pan. Add the pancetta, speck, or bacon. Saute a minute or two until crispy. Add the green garlic (or garlic) and saute another minute. Add the stock and bring to a boil. Add the peas, pea puree, and butter. Stir to combine.
Drop the orecchiette into the boiling water. When al dente, just a couple of minutes is all it takes for fresh pasta, use a slotted spoon to transfer the orecchiette to the pan with the pea puree. Add the arugula and squeeze of lemon. Season with salt and pepper. Stir and take off the heat. Serve topped with freshly grated Parmesan cheese.
Notes
*If using store bought pasta, you'll want to start the pasta earlier and cook until just al dente.
Linda Schneider
Linda Schneider is the blogger behind Wild Greens and Sardines, an homage to her love for all things food and [Mediterranean] travel. What she enjoys most is seasonal, farm-to-table recipes that highlight local ingredients, farmers, and food artisans. She loves going to local farmers' markets, seeing what's in season, and sharing recipes with others.