Spatchcocked Orange Chicken with Garlic and Ginger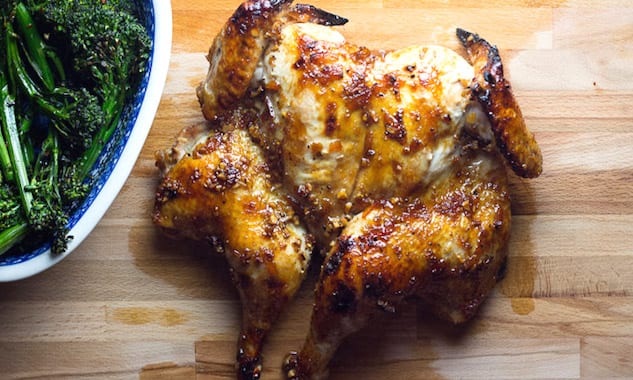 Spatchcock a chicken for a moist, juicy bird with perfect skin. This recipe uses soy sauce, marmalade, ginger, and garlic for a bittersweet glaze that caramelizes in the oven. Serve with a side of roasted broccolini and maybe a bit of rice to get all the sauce of the skin.
By Sonja Bradfield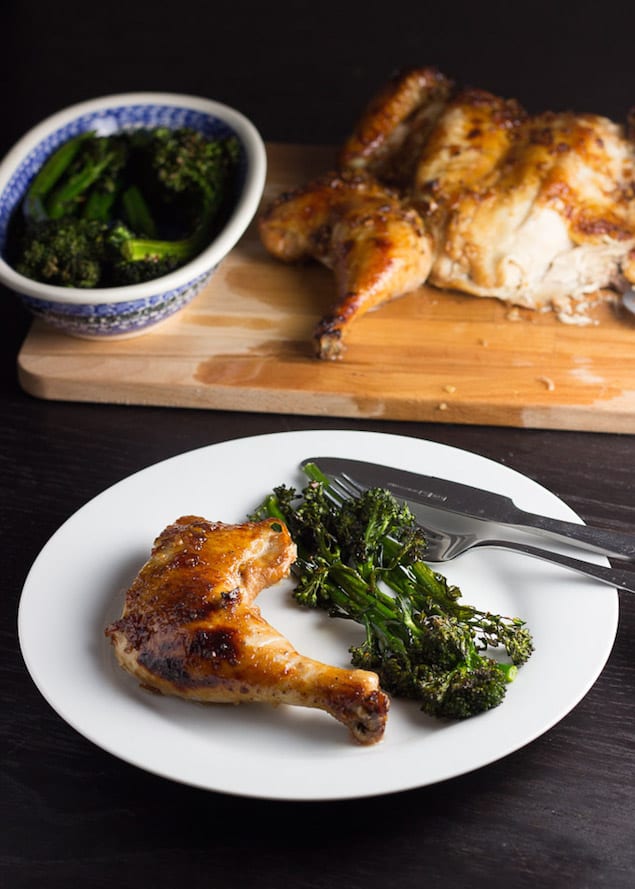 A roasted whole chicken is the ultimate comfort food for many people. To be honest, chicken is my least favorite kind of poultry after turkey (it's so dry!) and well seasoned and/or crispy skin makes or breaks poultry for me. It's all about the skin. I'm ashamed to say that at Thanksgiving, I'm only eating a bit of dark meat and mostly skin.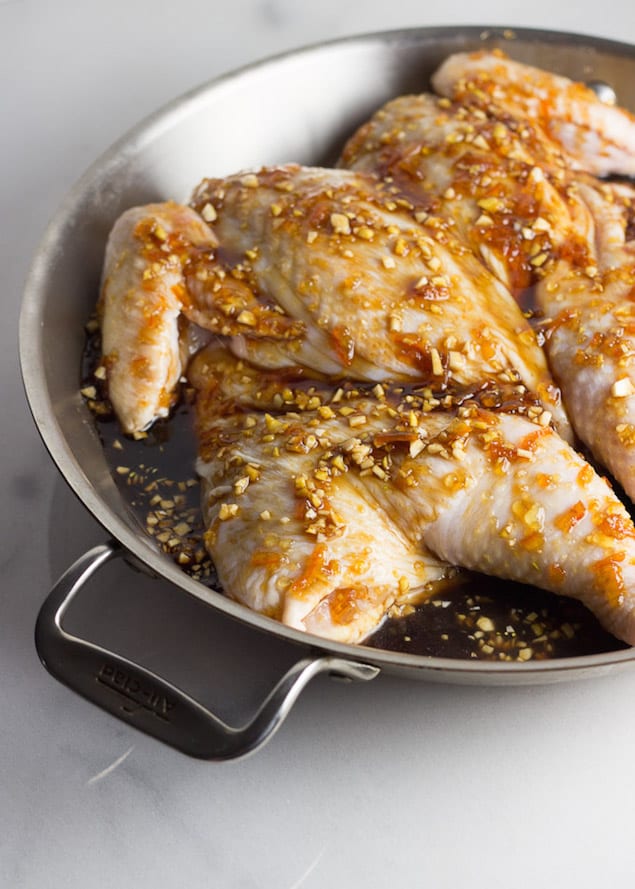 See Also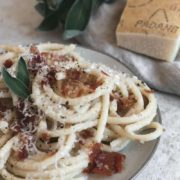 However, in the past year I've enjoyed roasting whole chickens by spatchcocking them. You cut out their backbones, flip them and crack down on the breast and cook the chicken in one flat layer. Make sure to save the backbone to throw in a pot later to make some stock. Spatchcocking has two great advantages: the chicken cooks evenly since it's all about the same size and the maximum amount of skin can be exposed to the heat of an oven, leading to the most flavorful outer layer. Gone are the days of unseasoned skin hidden beneath the bird and overcooked breast meat. This method produces a moist, juicy bird and delicious skin. This time I basted it with a combination of soy sauce, marmalade, ginger, and garlic. The bittersweet quality of the marmalade mixed with soy sauce creates a beautiful golden glaze that gets caramelized in the hot oven. Serve it with a side of roasted broccolini and maybe a bit of rice to get all the sauce of the skin.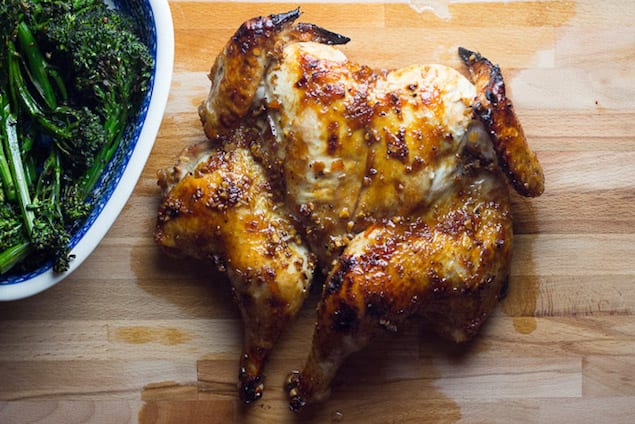 Spatchcocked Orange Chicken with Garlic and Ginger
Spatchcock chicken for a moist, juicy bird with perfect skin. This uses soy sauce, marmalade, ginger, and garlic for a glaze that caramelizes in the oven.
Ingredients
1 4-5 pound whole chicken
4 tablespoons of soy sauce
½ cup of marmalade
2 tablespoons of rice vinegar
2 tablespoons of minced garlic
1 tablespoon of minced ginger
freshly ground pepper
toasted sesame seeds (optional)
Instructions
Turn on the oven to 425 degrees.
Remove the packaging and the Place chicken breast side down and take sharp kitchen scissors or a knife and cut out the backbone (save for another use like making stock). Trim any excess skin hanging underneath the chicken and throw away.
Flip over the chicken and press down on the breast bone to make the chicken flat. Twist and tuck under the wings. Put it in a snug oven safe pan (around 12") or casserole.
Whisk together the soy sauce, marmalade, vinegar, garlic and ginger. Pour over the chicken making sure every bit of the skin is coated.
Grind fresh pepper all over the chicken and put in the oven, basting every ten minutes or so with the marinade at the bottom of the pan.
Cook for about 50 minutes or until a meat thermometer inserted in the thickest part of the breast reads 165 degrees and the skin is dark and golden.
Sonja Bradfield
Hello there! My name is Sonja and I love food. I'm food obsessed, actually. I moved back to the US last year after living in Seoul, Korea for five years. I hope to share what I've learned about good eating from my time in Korea and traveling Asia. I focus on recipes that are influenced by my Korean heritage and experience as an expat in Seoul which inspired cooking recipes from home, as well as the ever changing food scene in DC and Virginia.