Spanish-Style Chorizo and Romesco Burgers with Manchego Cheese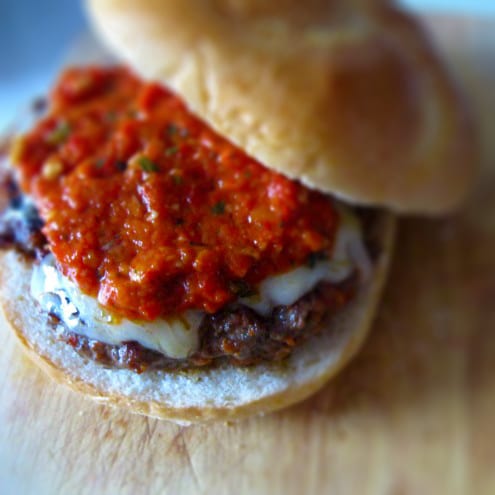 A Spanish spin on your classic burger featuring chorizo, Manchego cheese and a zesty Romesco sauce.
By Kara and Marni Powers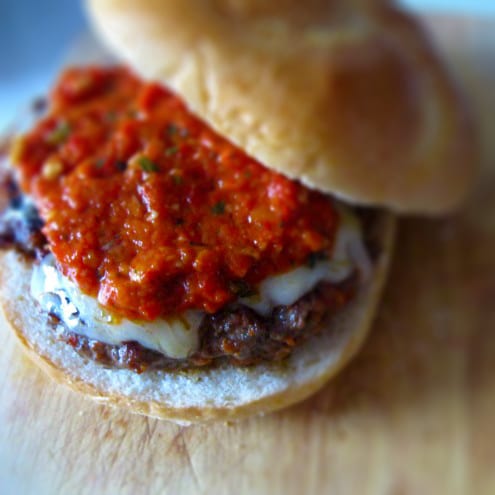 While living in Madrid, it was always entertaining to frequent the many fruterias, verdulerias and carnicerias for specific ingredients. Spanish markets abound with traditional groceries that define the unique, Mediterranean-inspired cuisine. Like in any city, it's exciting and important to work on improving your accent while bonding with the local merchants. We often became "regulars" at many shops abroad while purchasing the freshest catch of the day, picking out olives, or sampling salty cured meat. Back in the US, we use many Spanish staples namely, chorizo, Manchego cheese and roasted peppers, in our own cooking and entertaining.
To add a Spanish spin to a BBQ, we created a burger featuring these three key ingredients. We add a smoky intensity to a classic Angus beef burger with the addition of finely chopped chorizo. For toppings, we sprinkle a layer of sharp Manchego cheese and substitute classic ketchup for a staple in Catalan cooking, Romesco Sauce. This harmonious pesto of roasted red peppers, spices, and olive oil can be used in many ways to liven a dish.
Spanish-Style Chorizo and Romesco Burgers with Manchego Cheese
A Spanish spin on your classic burger featuring chorizo, Manchego cheese and a zesty Romesco sauce.
Author:
Kara and Marni Powers
Recipe Type:
entree, grilling, burger
Ingredients
Romesco Sauce
4 roasted red peppers, skins removed, chopped
¼ cup sliced almonds
¼ cup chopped fresh flat leaf parsley
1 garlic clove
½ teaspoon paprika
2 Tablespoons olive oil
2 Tablespoons water
salt and pepper
½ pound chorizo, outer casings removed, cut into 1-inch pieces
1½ pounds lean ground beef
salt and pepper
1 cup shredded Manchego cheese
4 fresh rolls (we used Brioche) toasted, if desired
Instructions
Romesco Sauce
Place all ingredients in a food processor and process until smooth. It should have the consistency of a thick pesto. If too chunky, add more water.
Preheat grill to medium-high heat.
Place the chorizo in a food processor and process until finely chopped and crumbly.
Transfer to a large bowl with the ground beef and loosely mix together with your hands.
Form the mixture into 4 (1-inch) thick patties and sprinkle each side with salt and pepper.
With your thumb, make a small indentation in the center of each burger, this will allow for even cooking.
Grill the burgers to desired doneness, approximately 5 minutes and then flip over for another 4 minutes for medium.
Divide the shredded Manchego cheese among the patties and cook for 1 minute longer until the cheese melts.
To assemble, place the Manchego-covered chorizo patties atop the bottom rolls with a generous dollop of the Romesco on top.
Kara and Marni Powers
Kara and Marni Powers are twin sister cooks, dining and blogging their way through Boston's North End and beyond. They see the act of cooking and entertaining as a form of creative expression, an art that encourages the mixing of flavors, spices, techniques and stories. Their interest in cooking dates back to their Greek grandmother's open-arms approach, letting them taste her savory creations like her famous spanakopita. Kara and Marni's fascination with food and culture continued during their travels abroad in Europe where they saw firsthand the limitlessness of cooking.