Spaghetti with Marinara Sauce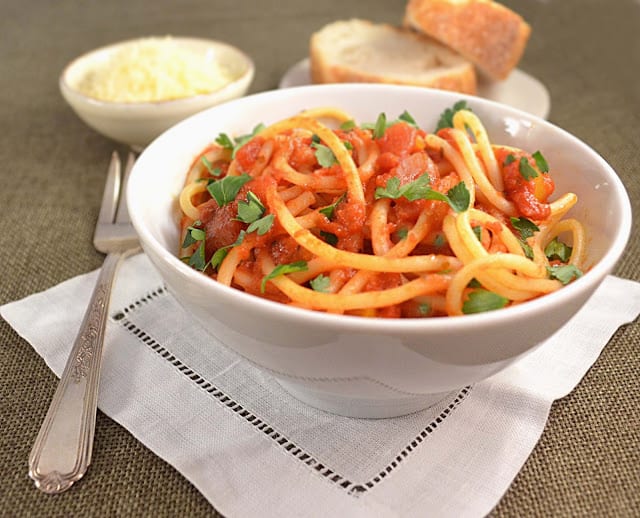 This bright, healthy marinara is made with one of best tomato products on the market. Pomi Tomatoes are pure 100 percent Italian tomatoes. It is delightful.
By Jill Nammar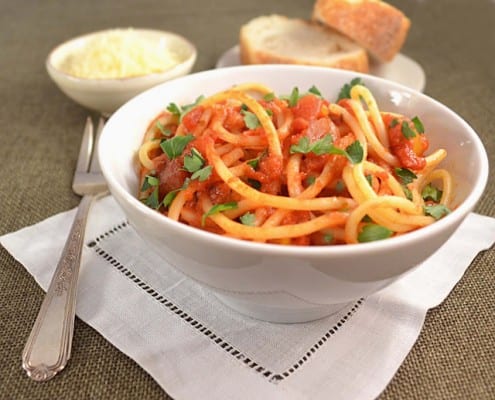 Biting into tangles of spaghetti around my fork with the sweet, bright, tangy marinara sauce is good eating. Throw some sauteed shrimp in the sauce for a delectable shrimp marinara. The sauce is great with light turkey or chicken meatballs and in eggplant and chicken Parmesan. Add some sauteed ground beef or Italian sausage to the sauce for a light meat sauce. Stir in a pinch or two of cinnamon and sauteed ground beef for a Greek meat sauce. Spaghetti with Greek meat sauce is another family favorite. This sauce is very versatile. Use your imagination and enjoy!
Spaghetti with Marinara Sauce
This bright, healthy marinara is made with one of best tomato products on the market. Pomi Tomatoes are pure 100 percent Italian tomatoes. It is delightful.
Ingredients
1 large onion, chopped
2 celery stalks, diced
½ bell pepper, diced. You pick the color.
1 large carrot, diced
1-3 garlic cloves, minced, depending on how much garlic you like. I used one and grated with a microplane zester directly in the sauce.
1 26.46 ounce box of Pomi Strained Tomatoes
1 26.46 ounce box of Pomi Chopped Tomatoes
¼ cup of red wine. I used an open bottle of Pinot Noir we were already enjoying that day. Use what you would drink.
1 teaspoon of dried marjoram, or herb of your choice
1 teaspoon of dried oregano, or herb of your choice
drizzles of honey or pinches of sugar to balance the acid in the tomatoes
2 dried bay leaves. Remember to remove them before serving.
sea salt or kosher salt to taste, fresh black pepper or red chili flakes to taste
fresh herb of your choice. I used parsley this time. But sometimes I use a little chopped rosemary or basil.
extra virgin olive oil for cooking. I used unfiltered.
16 ounces of dry pasta of your choice, cooked according to the package directions. I used De Cecco spaghetti
Parmesan cheese and extra virgin olive oil for serving
rosemary Parmesan flat bread for serving (recipe below the rundown)
Instructions
In large pot over medium heat, saute the onions, celery, bell pepper and carrot in some olive oil with salt and pepper until soft. Add the tomatoes, garlic, wine, marjoram, oregano, bay leaves, honey and more salt and pepper to taste. Bring to a boil. Simmer, covered on low for about an hour. Remove the bay leaves. Add the fresh herb of your choice, adjust the salt and pepper and toss with spaghetti. Serve with grated Parmesan cheese and a drizzle of extra virgin olive oil. Enjoy!
Jill Nammar
Jill has been cooking and serving meals for most of her life. As she was growing up, he parents owned a restaurant and an ice cream parlor where she became immersed in food. The kitchen is truly her comfort zone. Jill's recipes are influenced by France, the Mediterranean and Morocco, and often the bright flavors of Southeast Asian cuisine, too. She cooks to inspire others to whip up flavorful food in their own kitchens. Each recipe has a notes section with helpful tips, techniques and secret ingredients to follow. Taste and see how easy it is to create delicious meals.