Named after a Guns N' Roses album, Spaghetti Incident simply brings affordable Italian food with spunk to the Lower East Side late into the night.
By Annelise McAuliffe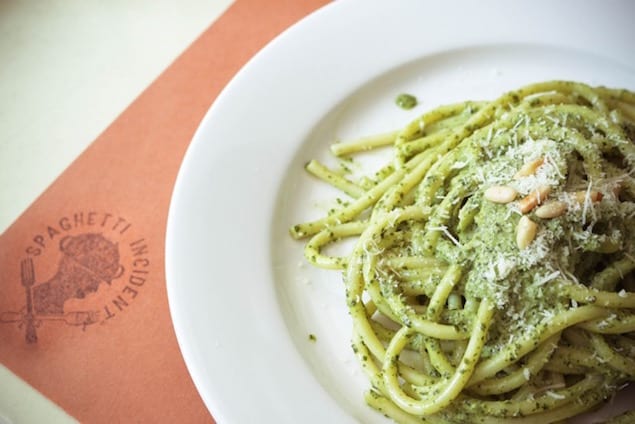 Head chef and owner, Emanuele Attala spent his summers as a young man working in kitchens along Italy's coast of the Adriatic Sea. Those seasons taught him the basics of Italian food and cooking and what the sea really meant to the cuisine of his country. In the past 21 years, Chef Emanuele has established two West Village Italian eateries with his third, Spaghetti Incident, opening in the Lower East Side just two months ago.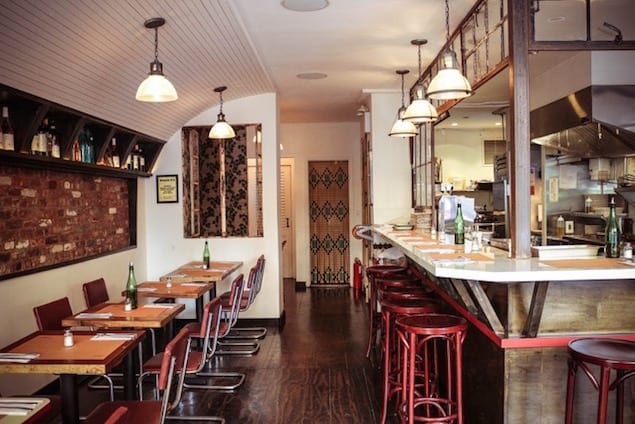 The casual 35-seat restaurant boasts an open kitchen, wide windows, and exposed brick. On the other side of the chef's counter, Emanuele and his team create a menu showcasing exclusively spaghetti pastas, a handful of seasonal salads, and three different arancini flavors. The menu features handmade fresh and dried long pastas in classic flavor combinations like carbonara or bolognese, but also ventures out of a typical Italian mother's recipe box to highlight Chef Emanuele's coastal training. A fresh squid ink pasta with clams, mussels, and calamari, jumped out from the specials menu during our visit, was a perfect example of his seaside flair. A personal favorite of the nine pastas that are always on the menu is a well-balanced bucatini coated in cream sauce and tossed with bitter radicchio, salty pancetta, and pine nuts. Kale pestos, a chitarra, and an amatriciana pastas offer even more options, there is something for everyone.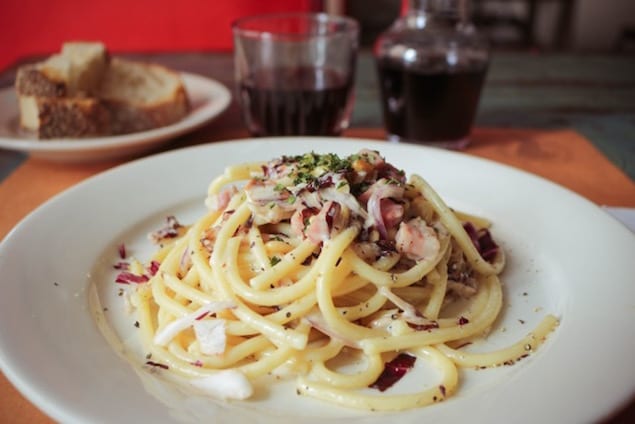 Next up on the menu are the salads, which at Spaghetti Incident are anything but an after thought. Emanuele let's the greens be his place to play, with bright ingredients like fennel, strawberries, hearts of palm, and pine nuts making up his signature Naked Woman spinach salad.
Last week, Spaghetti Incident launched their to-go window that allows passerby to grab the same menu items in a portable paper cone until late into the night. A dangerously tempting offer, especially for the LES bar scene.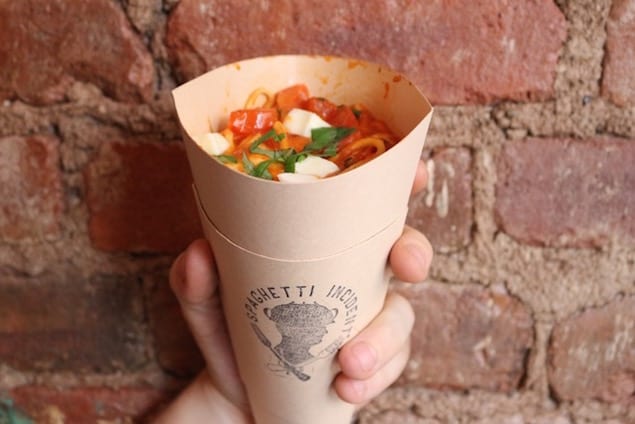 Besides having the option to take the pastas to-go, the best part of Spaghetti Incident may be its prices. Even with refined flavor combinations and fresh ingredients, all dishes are selling for less than $15 a plate and wines by the glass from $5 to $12. Be sure to save room for dessert as you cannot leave without trying a bite of budino, their signature panna cotta, or one of the specials freshly prepared that day.
To stay or to go, Spaghetti Incident is a perfect casual bite when only true Italian comfort food and a glass of wine will do.
Spaghetti Incident
231 Eldridge Street
New York, NY 10002
646.896.1446
All images courtesy of Sara Massarotto.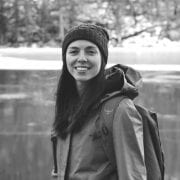 Annelise McAuliffe
Mandatory family outings to the Detroit farmers' market and nightly home-cooked meals cultivated Annelise's respect and curiosity for food. A graduate of The Culinary Institute of America, she spends her free time in New York City recipe testing, eating breakfast all day, and dreaming up international culinary adventures.