Soy Bean and Asparagus Salad with Honey-Ginger Salmon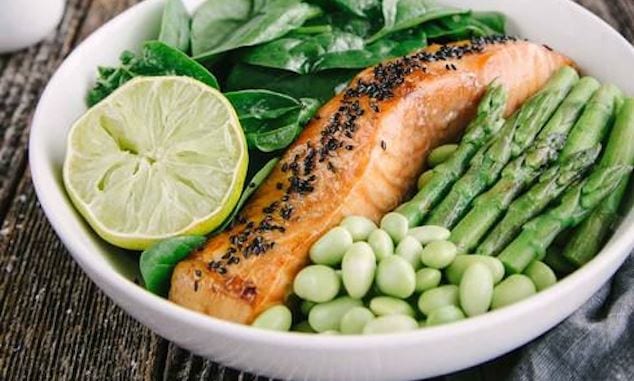 Oven-cooked salmon with a ton of flavor and color. Serve over a bed of quinoa for a complete fish and vegetable bowl.
By Christina Soong-Kroeger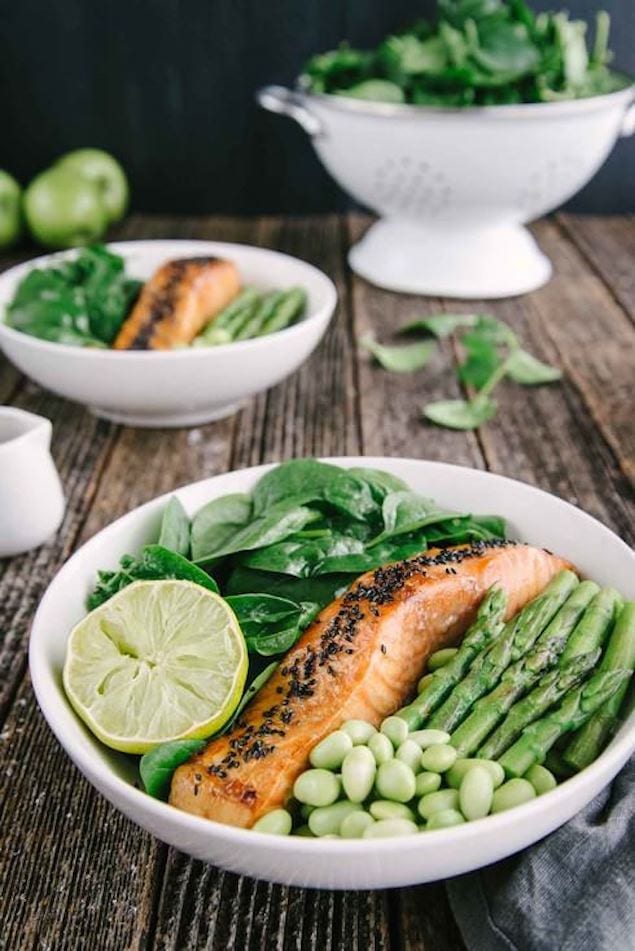 This oven-cooked salmon dish is healthy and it's also colourful, flavoursome and filling, too. If you're making this as part of a meal, you could serve it on a bed of cooked quinoa.

Soy Bean and Asparagus Salad with Honey-Ginger Salmon
Oven-cooked salmon with a ton of flavor and color. Serve over a bed of quinoa for a complete fish and vegetable bowl.
Author:
Christina Soong-Kroeger
Ingredients
2 salmon steaks
1 tablespoon light soy sauce
1 teaspoon ginger, finely minced
1 tablespoon honey
1 bunch asparagus, trimmed and cut into inch-long pieces
1 x 200 gram packet soy beans
60 grams baby spinach
1 teaspoon black sesame seeds (from Asian grocer)
1 teaspoon red wine vinegar
1 tablespoon olive oil
1 teaspoon honey
Juice of half a lime (1 tablespoon)
Salt and pepper to taste
Instructions
Preheat oven to 180 degrees Celsius.
Marinate salmon steaks in soy sauce, ginger and honey for 10 minutes in a small, oven-proof container
Place container into oven and bake for 12-15 minutes, depending on how well done you like your salmon.
Meanwhile, bring a pot of water to boil and then steam asparagus and soy beans for around four minutes.
When salmon is ready let it rest for 10 minutes to cool.
To serve, place spinach and soy beans into a bowl. Place salmon on top and garnish with sesame seeds.
Into the ovenproof container, whisk the vinegar, olive oil, honey and lime to make the dressing and add salt and pepper to taste.
Pour the dressing into a little cup or container so people can pour it over themselves.
Christina Soong-Kroeger
Christina publishes The Hungry Australian - a collection of recipes, reviews and stories about food - and is a regular contributor to Sumptuous. Her writing has appeared in the China Daily and That's Shanghai while her photography regularly appears on Foodgawker, Tasteologie and Photograzing. After eating her way around Shanghai, London, Hong Kong, Leeds and Melbourne, she now calls Adelaide, South Australia, home again.