Sweet wild-caught Georgia white shrimp pair with stone ground grits for a traditional southern shrimp and grits.
By Niki Fox
A week or so ago, I packed a bag, grabbed my camera and laptop, and climbed in a car with my good friend, Rachel. We drove five hours south of Atlanta to St. Simons Island, Georgia for three nights and two days at the King and Prince Beach and Golf Resort. Rachel and I have traveled together many times over the years, and I can honestly say this was one of the best trips we've ever taken.
It was a bit of a working vacation, as we had both been invited to attend a media trip focusing on the resort and their efforts to incorporate local and regional cuisine into their dining experiences. I was very impressed by the fact that, even though the trip was sponsored by the King and Prince, we were exposed to a myriad of local vendors, growers, producers and attractions. It really felt like an educational opportunity, and in that sense it was an extremely enriching experience. This is the first in a series of posts focusing on what I learned over the course of three days.
The King and Prince is a historic hotel, opened in 1935 as a seaside dance club. It has seen many iterations over the years, including serving as a naval coast-watching and training facility during World War II. In its current state, it is an elegant resort with multiple dining options, five swimming pools and it boasts the distinction of being the only beach-front hotel in St. Simons Island.
The rooms are spacious and comfortably appointed. Each room has a Keurig coffee maker, mini-refrigerator, free wi-fi, flat screen television and either one king or two queen beds. My room had a small balcony overlooking the pool and the beach and ocean beyond. There are a number of premium rooms available, as well as villas and resort residences.
When we arrived at the resort on Sunday, we were greeted by a light-filled lobby, a friendly reception agent and the hotel's publicist, Leigh Cort. We had time that afternoon to get settled in our rooms and then it was off on the Lighthouse Trolley for an excursion to the old Coast Guard Station and Maritime Museum. St. Simons Island has a storied past spanning the prehistoric and historic eras and rife with interesting tidbits related to Native Americans, Spanish explorers, Revolutionary war battles, rice and cotton plantations, Gullah Geechee culture, and German U-boats. The Coastal Georgia Historical Society offers a number of different programs related to the history and culture of St. Simons.
Upon our return to the hotel, we were treated to cocktails courtesy of 13th Colony Distillery, and an assortment of cheeses from Flat Creek Lodge Dairy. The hotel's Director of Food and Beverage, Vinny D'Agostino, is making a concerted effort to incorporate local and regional products into his various menus, and these are just a couple of the vendors with whom he's been working. Although he's only been with The King and Prince for a short while, he's making significant changes to their Food and Beverage Program, using wild-caught seafood, most of it from local and regional waters; incorporating prohibition-era cocktails utilizing spirits from 13th Colony; featuring Georgia vineyards on the Wine Menu; working with the Georgia Olive Growers Association to get the word out about their product; and partnering with a variety of other growers and producers to round out his offerings.
For dinner, we dined on shrimp and grits. The hotel's chefs did a cooking demonstration in the Solarium, and they were kind enough to share the recipe with everyone so that we could try it at home.
Dinner itself was lovely, both the food and the company. Although it was our first night together as a group, the conversation flowed as easily as the food. I'm sure some of that could be attributed to the abundant cocktails and wine, but I also think it has a lot to do with the setting and the simple act of breaking bread together. Food is the great equalizer (we all have to eat), and when you enjoy a meal together, you're sharing more than just the food – you're sharing stories and experiences that might not otherwise be revealed in a different setting. The fact that this trip centered on food gave us all an opportunity to get to know each other in a comfortable setting over delicious cuisine. Again, the wine and spirits didn't hurt matters at all.
My first experience with Shrimp and Grits was at Crook's Corner in Chapel Hill, North Carolina back in the mid-nineties. Since then I've tried a number of different variations on the same theme, but have not, until now, encountered Shrimp and Grits to rival those at Crook's. The version that Vinny and his team presented to us on Sunday night might just have surpassed them. The combination of cajun spices, tasso ham, whole kernel corn, stone ground grits, sweet white Georgia shrimp, and a rich cream sauce came together to create a well balanced combination of flavors and textures.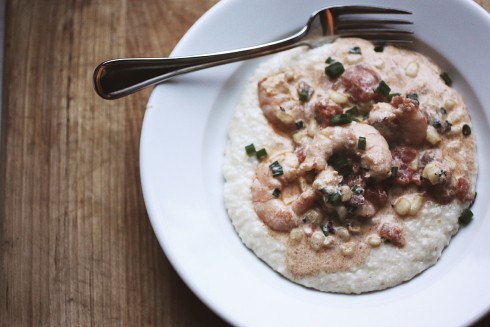 It was so good that I recreated it for my family when I got home. We will make it back down to St. Simons Island and The King and Prince sometime in the near future, I feel certain of that. In the meantime, I can share the culinary souvenirs that I brought back and spread the word about this quaint little island and all that it has to offer.
Sweet wild-caught Georgia white shrimp pair with stone ground grits for a traditional southern shrimp and grits.
Author:
Niki Fox - adapted from The King and Prince Beach and Golf Resort
Ingredients
1 pound wild Georgia white shrimp, peeled and deveined
½ cup tasso ham (I couldn't find tasso, so I used 4 sliced of uncured peppered bacon instead)
½ cup chopped green onions
1 cup whole-kernel white corn
1 cup diced tomatoes
1 clove garlic, grated
¼ teaspoon cayenne pepper
½ teaspoon dried thyme
1 cup half-and-half
1 cup asiago cheese, divided
4-6 servings of stone-ground grits, prepared according to package directions
Instructions
Prepare grits according to package instructions. For more flavor, replace the cooking water with chicken stock.
Chop meat (either tasso ham or bacon) into small pieces and saute in a large skillet over medium heat until crispy and all of the fat has rendered out.
Drain all but 1 tablespoon of the fat from the pan and add the green onions. Saute until wilted
Add the corn, tomatoes, garlic, cayenne and thyme. Stir to heat through.
Add the shrimp and saute until just cooked through
Add ¾ cup of the half-and-half and ¾ cup of the cheese. Stir to combine and remove from the heat.
Add the remaining half-and-half and cheese to the grits and stir to combine. Taste both the shrimp mixture and the grits for seasoning. Add salt and pepper to taste.
Serve shrimp mixture spooned over grits. Garnish with additional green onions and cheese.
Enjoy!
Disclaimer: While our accommodations and food were provided by the King and Prince Beach and Golf Resort, I was not compensated for the trip and the opinions in this post are mine. I was under no obligation to write about my experience, but I felt compelled given how much I enjoyed my stay. Thank you to our hosts and to the residents of St. Simons Island for a truly memorable time.
Niki Fox
Niki Fox is a Southern food blogger and storyteller, using her experience growing up between Mississippi, Georgia and Virginia to explore the connections between people and food. She has a passion for preserving traditional cookery arts and for showcasing local and sustainable ingredients in everyday food. She believes that a good meal prepared with care can do more than nourish our bodies, it can also nourish our souls. Niki can also be found on her own blog: life, in recipes.